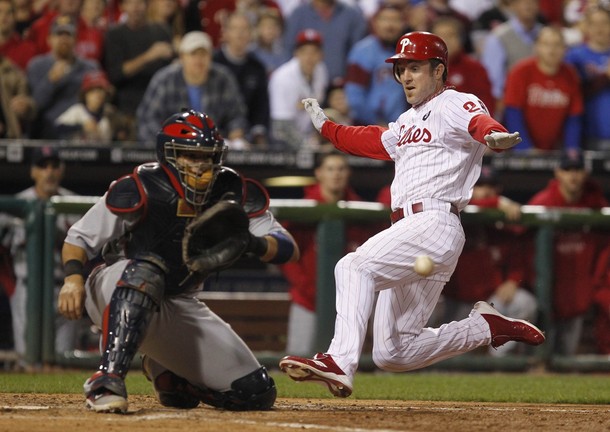 The Phillies decisive 11-6 win over the Cardinals was much thanks to contributions from their dynamic infield. Despite falling behind early, Philly was able to overcome Kyle Lohse, who throw three no-hit innings to start the game.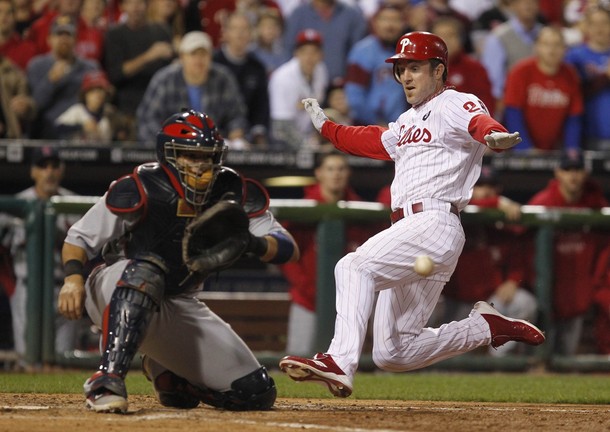 First baseman Ryan Howard made quite a statement in game number one with his three-run home run to give the Phils a 4-3 lead. It was a titanic blast at the end of a eight-pitch abat which changed the game and possibly the series. The Big Piece also drove in another run with a sacrifice fly to give him four RBI's on the night.
Second baseman Chase Utley, who was moved to second in the batting order because he no longer hits with the power of a number three hitter, showed that he still got some pop in his bat when took advantage of Lohse's first mistake and ripped a double over the out-stretched arm of Allen Craig and into the right field wall for Philadelphia's first hit of the game. Utley would come home on a Victorino single.
Jimmy Rollins started the rally in the sixth inning when he dribbled a seeing-eye-single up the middle. Philadelphia took advantage of Lohse's lack of composure and on the eighth pitch of a battle at the plate, Howard belted that letter-high change-up over the right field wall and into a sea of white towels.
Utley, Howard and Rollins were responsible for nearly half of Philly's hits (6 of 14). Manuel's middle infielders
table-set for Philly's own murderer's row all game and the results were flawless. Pence, Howard and Victorino combined for eight RBIs, six of those eight runs were scored by Utley or J-Roll.
This newly changed lineup broke the Phil's shortstop out of a career long post-season slump and has him looking primed to have a great Fall. Utley looked great at the plate as well with three hits on the day and was able to hit the ball hard even when getting out.
The only flaw in Philadelphia's infield was Placido Polanco. The third baseman was a non-factor in a night the Phillies didn't need him to be one. He struck out twice, but neither were during any big spots. When he did make contact it was nothing special, hi furthest hit was a can-of-corn to right field.
Unfortunately based off of Saturday night's game, expect to overlook Polanco this entire series because he played this game the same way he was playing in the post-season last year, with no fire. As long as Polanco keeps playing solid defense, he is giving Philadelphia everything they need out of him.
The Phillies need this to be the year Rollins steps up and solidifies himself as leader on this club. As long as the three-time all-star can continue to table-set for Manuel's lineup, the Phillies have nothing to worry about. If J-Roll can stay hot, the rest of the clubhouse will follow his lead and Albert Pujols will be heading home a little sooner than planned.