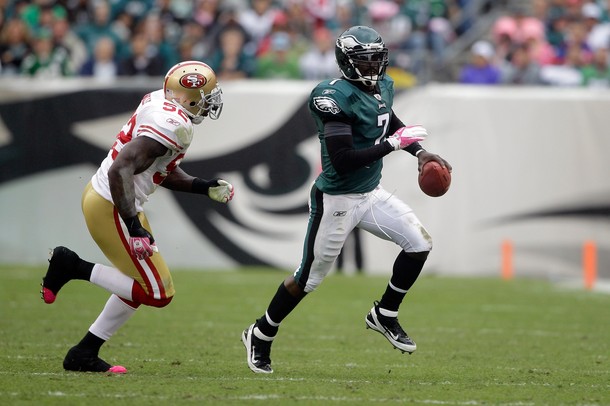 Gaining yardage wasn't the problem for the Eagles today. They went up and down the field all afternoon long. Eagles quarterback Michael Vick threw for a career high 416 yards and threw two touchdowns, as well as running for another 75 yards today, but it wasn't enough as the Eagles lost to the Niners 24-23.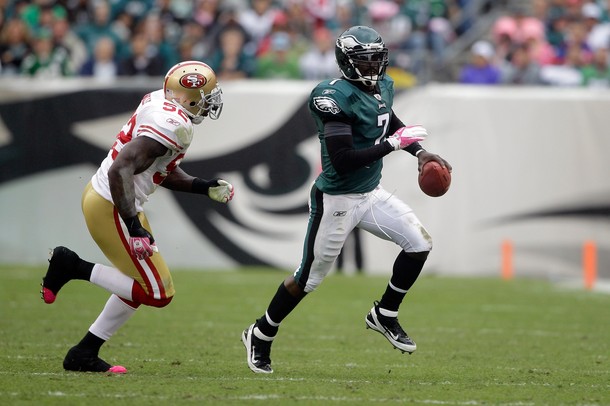 The Eagles couldn't get the ball into the end zone. They made costly mistakes in the red zone and scored only two touchdowns despite getting in position to score touchdowns seven times.
Games are decided by how many points you put on the board, not how many yards you rack up.
It's very clear that Andy Reid and Marty Mornhinweg don't have the answer for getting this team into the end zone. Their smallish offensive line can't push defenders off the line of scrimmage in short yardage or goalline. Maybe Howard Mudd's small offensive linemen will help in the future, but it's not helping this football team right now. They're being overpowered in those situations.
What were Reid and his coaches doing during the lockout? Last year they had this same red zone problems and they continue to damage this football team. The Eagles are able to move the football in between the twenties, but once they get in the red zone, they don't have the answers.
The best play they've run in the red zone is that shuffle pass to LeSean McCoy, which they've been running for the last six years. They used to run it with Brian Westbrook and now it's McCoy. Ike Reese and I were calling the play in the press box when they shifted from an I formation to a split back formation.
Running back Ronnie Brown turned the ball over once by trying to throw the ball to one of his teammates, while he was wrapped up by some 49ers defenders. Their rookie kicker Alex Henery made a few field goals but he also missed a couple of easy chip shots in the second half.. It was the type of game that Vick and the Eagles offense could have decided themselves, but they left the door open.
Turnovers was the next problem for the Birds and the Jeremy Maclin turnover proved to be fatal. I've said for years now that, Vick, McCoy and Maclin don't secure the football when they're running with it. Reid and his football team has been fooled by their big play ability. They think that's the answer to everything and it's not.
You don't have to be a great team to punch the ball in when you get in the red zone, but you have to be able to punch the ball into the end zone from the red zone if you want to be a good football team. This isn't a good football team.
Bad teams lose these types of games and right now, Vick is leading a bad football team. They can't run the ball when teams know they're going to run it, like in short yardage and goalline.
When asked whether Andy Reid had been too conservative in the second half, Vick defended his coach.
"Absolutely not", Vick said in the locker room afterward. "I don't agree with that. I mean there's three phases that you to excel each and every Sunday for 16 weeks – offense, defense and special teams. Offense, defense and special teams."
That comment sounded a lot like what Reid had to say afterwards about what specific area of the squad is holding them back.
"It's offense and defense", Reid said. "You can't sit on leads. You can't do that as a football team. That's what I did with our team here, and we lost the game".
The Eagles weren't sitting on the lead, they just don't have a good game plan for getting into the end zone after they get in or near the other team's red zone.
Although you and I might disagree with Vick, he didn't feel the coaching staff was at fault, at least that's what he said. He pointed his finger solely at himself and the other guys in the locker room as the reasons for their troubles.
"I think right now we just have to figure it all out" Vick said. "You know, you take the coaches out of the equation and you rely on the players, my teammates, to figure it out what needs to be done. Our coaches can only give so much. We have to take to into consideration ourselves, that we go out and make it happen and that's about it".
Vick had his middle finger come out of joint during the game, but the trainers popped it back in and he continued to play. Remember he had said this past week that that the only he was going to takeout of wwthey were going to
"I was just determined to finish the game, regardless of how I had to do it" said Vick. "And I did it. I wish the outcome could have been a little bit different but it is what it is."