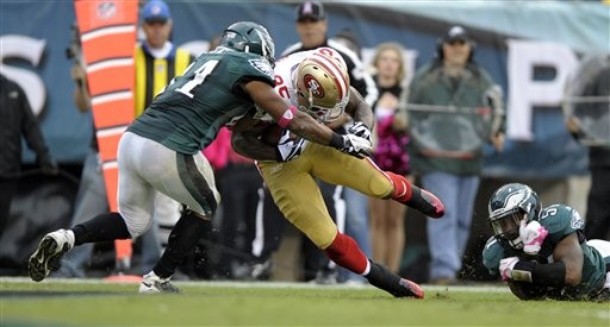 The 49ers didn't score on the first possession of the second half, but the fact that they were able to easily move the football down the field against the Eagles defense was an indication that they were going to be able to be successful in the second half against the Birds.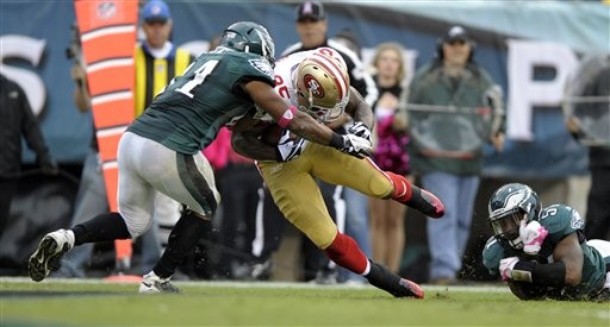 The first series of the second half began on the Niners 26-yard line to begin the second half. 49ers Head coach and offensive coordinator Jim Harbaugh showed his hand immediately on the first play of the second half.
He got in a one-back formation with two-tight ends to the right side and two-wide receivers to the left side in a stacked lineup. Here you had Pro Bowl cornerback Asante Samuel and Pro Bowl cornerback Nmandi Asomugha matched up against Joshua Morgan and Michael Crabtree.
Instead of having these guys locked up in a man-to-man on these mediocre receivers, Eagles defensive coordinator Juan Castillo had them playing a zone and the Niners mediocre quarterback Alex Smith was able to hit a wide open Morgan on a corner route for 26 yards. Both Samuel and Asomugha dropped off of the receivers in the zone.
Jason Babin was called for roughing the passer, so the Niners were put into field goal range on one play with what turned out to be a 41-yard gain.
This was clearly a case of the Eagles having the better players but not putting them into position to make the play.
The other successful strategy the Niners showed on that first series, which ended with David Akers having his field goal try blocked by King Dunlap, was getting backup tight end Delanie Walker matched up against slow Eagles safety Jarrad Page.
The put Walker on right side and threw a quick screen to him to get him matched against the poor tackling Asante Samuel. Samuel cut Walker's feet out from under him and the refs blew the whistle. I'm not sure that Walker's knee his touched the ground, but a ref blew the whistle. There was also a tripping penalty called on Anthony Davis, who was having a rough time with Jason Babin.
On the next play, which was a second and 17, the Niners simply moved Walker to other side of the formation and had him run a comeback route against the Eagles slow-footed safety Jarrad Page and he caught an 11-yard pass from Smith. You could see that a big part of the 49ers attack was to get the ball in Walker's hands as the Birds concentrated on stopping Pro Bowl tight end Vernon Davis.
On third down and six, the Eagles made a good play on a short throw to Michael Crabtree with Nate Allen and Dominique Rodgers-Cromartie making the tackle.
Dunlap blocked Akers field goal attempt and the Eagles recovered the football.