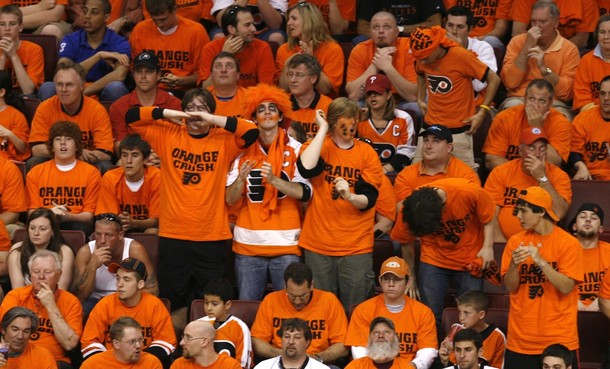 This fall has been filled with embarrassment for Philadelphia sports fans, Wednesday night the embarrassment continued when the Flyers faithful booed a stand up to cancer video that had the Pittsburgh Penguins Sidney Crosby in the video.
Flye fans are quick to point out that they were booing Crosby, not the video. In response to their defense I say grow up. There is a time and a place to boo an athlete a cancer video is not the time or place.
Thanks to the 20 thousand plus idiots on hand at the Core States, First Union, Wachovia, Well Fargo, Center last night Philadelphia sports fans have yet another black eye and are again a dart board for the national media.
There are a certain cult following of Flyers fans that are an embarrassment to the Philadelphia, the funny thing is they embarrass our great city, yet live in Jersey. This small select group root against the other sports teams of the city, they laugh and mock other Philly fans when the Phillies and Eagles lose.
Just last week after the Phillies were knocked out of the NLDS Facebook was lit up with happy Flyers fans mocking the rest of the city's sports fans. "Haha welcome to Orange October now baseball dorks!" "Yes, now its finally hockey season." I'd venture to guess those same type of fans are the morons who booed the cancer video.
"But it was Crosby man!"
Yeah, in a cancer video encouraging people to donate money and help find a cure for cancer-real good call booing him on that life choice.
Cult Flyers fans you do not hate the Phillies and you do not hate Sid the Kid, you are jealous of them. When was the last time the Flyers won a cup? 1975? It's borderline pathetic how the team finds a way each season to honor in some way shape or form a Broad Street Bullie. God love them, but how many times does one team have to be honored for winning two Stanley Cups 36 years ago.
Flyers fans are going to say I am "hating" for bashing them for booing Crosby, look in the mirror Cult Flyer fans you are the haters. You hate on the Phillies because they have won a title in your life time, and you hate on Sid the Kid, because he is not a Flyer and he is great. Stop it! Grow up, and fire witty comebacks at my article, after your team wins a cup.