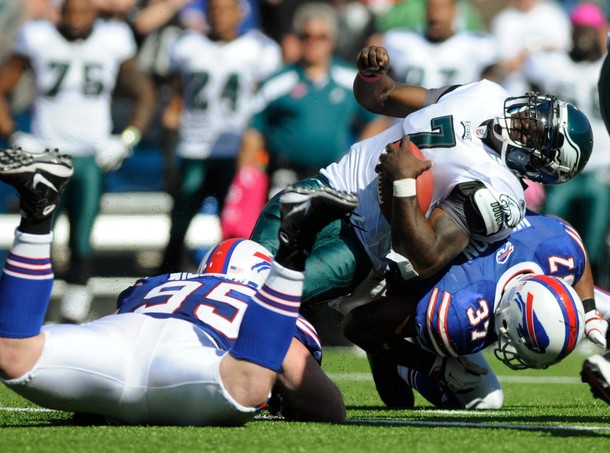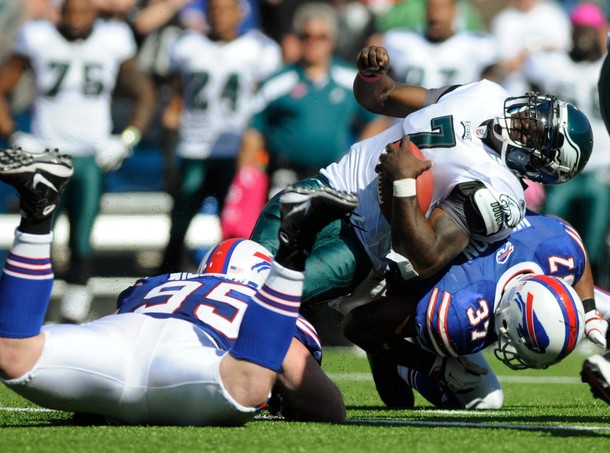 Last Week: 7-6
Overall: 50-27
Carolina @ Atlanta
The Carolina Panthers may be the most exciting 1-4 team in league history. Ron Rivera won't win coach of the year, but right he deserves to be in the conversation. He's taken a team that was literally the worst in the league a year ago, and instantly returned them to a respectable level. They're in every game, and aren't intimidated by their competition, they've given the Packers and Saints a pair of hard fought games.
The Atlanta Falcons played a tight game with the Packers, but couldn't overcome the Super Bowl Champions, losing 25-14. Quarterback Matt Ryan isn't having an impressive season so far, and threw for only 167 yards with two interceptions in the loss. Ryan now has six interceptions on the season, he threw only nine in 2010.
It's looking more and more like the Falcons won't be making the playoffs. In 2010 they were an explosive team, and were great at taking care of the football. This year they've been sloppy and have taken themselves out of games with their mistakes. Atlanta needs this win to stay alive, but I think that this is a week that the up and coming Panthers not only give a team a tough game, but claim a victory as well.
Pick: Carolina
Indianapolis @ Cincinnati
The Colts remained winless, blowing a 10-point halftime lead to fall at home to the Kansas City Chiefs. The Colts got off to a great start, scoring 24 points in the first half, but completely shut down from the third quarter and on. The lack of a reliable running game remains a major issue for Indianapolis. They're going with a running back-by-committee approach, and not one of the trio of Donald Brown, Joseph Addai, and Delone Carter has emerged as a consistent option.
The Bengals won another tough game on the road last week, putting up 17 points in the fourth quarter to earn a 30-20 win over the Jaguars. Andy Dalton threw for under 200 yards, but threw two touchdowns, and the Bengal defense came to life when they were needed most, sealing the game with a fumble recovery for a touchdown late in the game.
The Bengals are finding ways to win and the Colts are finding ways to lose. Indianapolis doesn't look like the disaster that they were in the first two weeks of the season, but they still haven't been able to play a complete football game, and now have now lost three tough games in a row. Cincinnati has to be feeling good about themselves at 3-2, and I believe they'll come out and find a way to pick up another win at home.
Pick: Cincinnati
Jacksonville @ Pittsburgh
The Jaguars lost a tough game at home to the Bengals last week, with several critical errors dooming the team in the fourth quarter. Veteran punter Matt Turk shanked a punt for 22-yards, which gave the Bengals a short field for the go ahead touchdown. On their ensuing possession, Jacksonville fumbled the ball away to seal their defeat. Rookie Blaine Gabbert had his best game as a pro, throwing for over 200 yards and a touchdown.
The Steelers bounced back from a disappointing effort against the Texans to blowout the Titans at home 38-17. Ben Roethlisberger threw five touchdown passes, and even got support from his running with running back Jonathan Dwyer cracking the 100-yard mark in the game.
Pittsburgh won't have much trouble winning this game. The rookie Gabbert had his best day as a pro last week, this week will be his worst. The Steeler defense will put him in over his head.
Pick: Pittsburgh
San Francisco @ Detroit
Is it time to start giving the 49ers a little recognition? They now sit in the driver's seat in the NFC West with a 4-1 record, and if not for a heroic effort from Tony Romo in Week 2, this team could be undefeated right now. They've shown great heart (as seen in their comeback against the Eagles in Week 4), and last week shocked everyone by annihilating Tampa Bay 48-3. Before the season started, I wouldn't have bet that the Alex Smith-led offense could have even generated 30 points at any time this season. All systems were go for San Francisco last week, Smith threw for three touchdowns, Frank Gore ran for over 100 yards, and the defense forced three turnovers.
Speaking of surprise teams worthy of recognition, how about the Detroit Lions? The undefeated, 5-0 Detroit Lions. They come off of another impressive victory, this time over the division rival Chicago Bears. Though they scored only 24 points, the offense was still incredibly explosive. Running back Jahvid Best gained 163 yards on just 12 carries, including an 88-yard touchdown run. Matt Stafford hooked up with Calvin Johnson five times for 130 yards and a touchdown. No team has had an answer yet for this young, powerful group.
As impressive as the 49ers have been, the Lions have been head and shoulders above every other surprise team out there. I don't see any way the 49ers put up even half of their 48 from a week ago, and I certainly can't see their defense coming up with a way to stop the Lions offensive attack.
Pick: Detroit
Buffalo @ New York Giants
The Bills became the latest team to upset the "Dream Team", outlasting the Eagles 31-24. Buffalo gameplanned well for the weak Eagles defense, and had a comfortable lead at halftime. They took advantage of various miscues and errors by an undisciplined Eagles offense, and finished the day with five takeaways. One thing to note is that quarterback Ryan Fitzpatrick has had two subpar performances in the last two weeks, throwing for under 200 yards in both games, and just one touchdown.
The Giants let a winnable game slip away in disgraceful fashion last week, falling at home to the lowly Seahawks 36-25. The Giants committed five turnovers, including one in the redzone at the end of the game that was run back 94 yards for a touchdown to give the Seahawks a victory. It was a terrible loss, one the Giants can't afford as they aim to stay in the NFC playoff picture.
I don't think the Bills are as good as their record indicates. They're clearly improved, but they don't seem legitimate to me in the same way that the Lions do. They've had a couple of games where they've caught some breaks and they've had a lot of things go there way. In the last two weeks, the offense hasn't been quite as explosive as it was to start the season. After committing five turnovers last week, I expect the Giants to come out much more focused this week. They won't suffer another home letdown for the second straight week.
Pick: New York
St. Louis @ Green Bay
It's likely that the Rams were grateful to have an early bye-week this season. They've suffered through an absolutely brutal schedule, and the rash of injuries they've had hasn't made things run any smoother. Making matters worse, the fact that the 49ers are off to a 4-1 start make it seem all the more likely that St. Louis won't be making the playoffs.
Wait, there's more good news for the Rams. The first team that they face off of their bye-week? The Green Bay Packers. Aaron Rodgers led his team to hard-fought road victory over the Atlanta Falcons, throwing for 396 yards and two touchdowns. The Falcons jumped out to a 14 point lead, but the Packer defense shut them down from that point on.
I pity the Rams, I really do. Whoever put together their schedule before the season really put them in a terrible position. They've got no chance to go into Green Bay and outscore the Packers on the road.
Pick: Green Bay
Philadelphia @ Washington
The Eagles look disorganized and undisciplined through five weeks. New defensive coordinator Juan Castillo is struggling to come up with a plan of attack capable of stopping any NFL offense, while quarterback Michael Vick and the rest of the offense sabotage their efforts every week with clumsy mistakes, turnovers, and ineffectiveness in the redzone. The result has been a horrid 1-4 start.
Before the regular season began, Rex Grossman claimed that the Redskins would win the NFC East. Well, so far so good for Mr. Grossman's prediction. The Redskins sit at 3-1, and are on top of the division through five weeks. They last played two weeks ago in St. Louis, winning an ugly game against the Rams 17-10.
Michael Vick returns to the field where he put on the best performance of his career on Monday Night Football almost a year ago. Now, Vick will look to rekindle some of that magic in order to preserve the remaining hope that the Eagles have to fulfill their lofty preseason expectations. I don't see it happening. This is a strong Redskins defense that has given the Eagles fits in the past. The Eagles claim that they're going to get better, and correct the mistakes and turnovers each week, yet there hasn't been much of an improvement. The Redskins will enjoy success running the ball, and as long as Rex Grossman avoids careless turnovers of his own, I think the Redskins win this game.
Pick: Washington
Cleveland @ Oakland
The Browns enjoyed a bye-week last week after getting blown by the Titans 31-13 in Week 4. Cleveland isn't a terrible team, but they just don't have any weapons other than Josh Cribbs that can scare an opponent. If they're going to win, they're going to do so by keeping a game close, hanging around, and waiting for the other team to break down and make a mistake.
The Raiders began the post-Al Davis era with a solid road victory over the Houston Texans. Jason Campbell threw two touchdown passes, and the Raiders took advantage of several Houston turnovers to edge their opponent. Safety Michael Huff intercepted Matt Schaub in the endzone on the final drive to seal the win.
Even though the Browns are fresh off of their bye-week, they just don't have the tools to beat the Raiders on the road. Expect Darren McFadden to rebound with a great performance after gaining just 51 yards on the ground last week.
Pick: Oakland
Houston @ Baltimore
In their first week without star receiver Andre Johnson, the Texans managed to gain over 450 total yards of offense. The problem was that they committed multiple turnovers, and had to settle for field goals on several of their long drives. The end result was a frustrating 25-20 loss at home. They missed an opportunity to gain some ground on the second-place Titans.
The Ravens were off last week after pounding the New York Jets in Week 4 34-17. The Baltimore defense has played several a superb game, forcing Jet quarterback Mark Sanchez into four turnovers, two of which were returned for touchdowns.
This is a bad spot for Houston. They're still going to be without Andre Johnson, and now they'll go on the road to face a team with a great defense that has made two playoff teams from a year ago (the Steelers and Jets) look pitiful. The Texans are prone to turnovers, and the Ravens are already good at forcing them. Look for Houston to go on their first losing streak of the season.
Pick: Baltimore
Dallas @ New England
Before the Cowboys headed for their bye-week, they suffered through an epic second half collapse against the Detroit Lions, blowing a 20-3 halftime lead to lose 34-30. Dallas saw the best and worst of Tony Romo in that game. While he threw for 300 yards and three touchdowns, he also threw three interceptions, which played a critical role in allowing the Lions back into the game.
The Patriots didn't have much difficulty knocking off the New York Jets last week. Tom Brady threw for over 300 yards and running back BenJarvus Green-Ellis rushed for a career-high 136 yards and two touchdowns. New England has just been a model of efficiency this season, and if not for their hiccup in the second half of the Buffalo game, they'd be undefeated right now.
Dallas comes into this game well rested, and a little healthier than they were two weeks ago. The NFC playoff picture is going to be a tight contest this year, and they know that they can't afford to go on any kind of losing streak. However, Brady and the Patriots represent too great of a challenge for them to overcome. The Dallas defense has had its share of struggles this season, and will be hard pressed to come up with an answer for Wes Welker and all of Brady's tools. The Cowboys give a strong effort here, but the Patriots will have an answer for them.
Pick: New England
New Orleans @ Tampa Bay
The Saints had all that they could handle last week while dealing with rookie Cam Newton and the Carolina Panthers. Carolina led the favored Saints by four in the fourth quarter, and it took a late rally from Drew Brees for the team to escape with a victory. Brees has a new favorite receiver in tight end Jimmy Graham. The second-year pro has had three straight 100-yard games, and 18 catches in the last two weeks alone.
Tampa Bay came up with a miserable effort on the road in San Francisco last week, and were completely blown away by a count of 48-3. Nothing for worked for the Bucs last week. Josh Freeman didn't have any magic in him, and threw for less than 200 yards and two interceptions. Running back LeGarrette Blount gained only 34 yards on 10 carries, and the defense was gashed all day by Frank Gore and the San Francisco offense.
Tampa Bay badly wants to forget about what happened to them last week, but they won't be feeling much better about themselves after this game. The Saints had such a close shave against Carolina last week that they won't be in any mood to letdown against another division rival. Regarding the Bucs, I've always thought they can only seriously contend with teams of average talent, any time they run into an elite team, they've got little chance.
Pick: New Orleans
Minnesota @ Chicago
The Vikings finally earned their first win of the season in Week 5, blowing out Kevin Kolb and the Arizona Cardinals 34-10. Adrian Peterson was the star in this game, and put on one of his most dominating efforts in recent memory, rushing for 122 yards and three touchdowns. The bad news for the Vikings is that Donovan McNabb continues to play at a mediocre level. The veteran completed only 10 passes for 169 yards in the win. In five games this season, his season high for passing yards is just 228 yards, and he's only thrown four touchdowns. Coach Leslie Frazier said this week that McNabb needs to stop playing the game cautiously, and take more chances.
The Bears suffered another loss last week, falling 24-13 to the Detroit Lions. Chicago is now 2-3 on the season, and facing an uphill battle to stay relevant in the playoff picture. Quarterback Jay Cutler hasn't necessarily been bad this year, but he certainly isn't doing anything spectacular to help his team find ways to win games. Running back Matt Forte is the team's most valuable player, and the only true offensive threat they have.
The Bears defense is going to have to find a way to limit Adrian Peterson this week after getting burned for 163 yards by Jahvid Best last week. It will be a much easier task for them now that they don't have to worry about a passing attack. For the Vikings to win this game, Donovan McNabb is going to have to turn back the clock and perform at the high level he displayed throughout his career in Philadelphia. I don't see that happening.
Pick: Chicago
Miami @ New York Jets
It's a pretty bad situation in Miami. Chad Henne has been lost for the season, the team is sitting at 0-4, and there isn't a lot of reason to believe that things will improve. They'll turn things over to former Carolina Panther Matt Moore as coach Tony Sparano searches for some kind of spark that could possibly save his job.
The Jets are in desperate need of a victory after losing three straight games. They've suffered humiliating and frustrating losses to the Raiders, Ravens, and Patriots. They can't afford to lose a fourth game in a row, to a winless Dolphin team.
Pick: New York