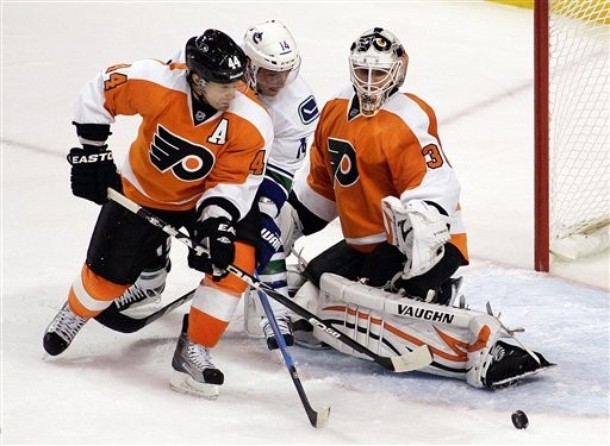 Is Flyers GM Paul Holmgren a genius? The new additions and familiar faces are coming together much faster than most of us could have imagined. The Philadelphia Flyers are off to a 3-0-0 start for the eleventh time in franchise history.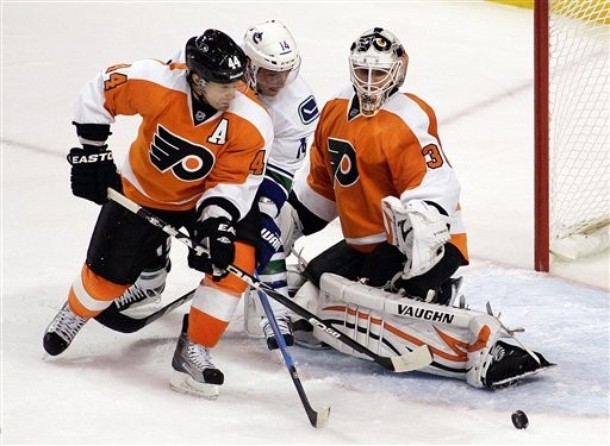 The chemistry of the team is definitely making Holmgren look like a genius in this early portion of the season. Most fans and even some players thought it would take at least 20 to 30 games to establish that chemistry with all the new faces on the roster. It looks like this team has been playing together a lot longer than just one month.
The new faces have stepped up and delivered early on. Jake Voracek and Sean Couturier, who were acquired in the Jeff Carter deal, are playing major roles on both the power play and the penalty kill. Voracek is playing on the second power-play unit with forwards Danny Briere and James van Riemsdyk. He has two goals in the three games, but both were when the team was at even strength.
Couturier is logging major minutes killing penalties along with free agent Max Talbot. Wayne Simmonds, acquired in the Mike Richards trade, has a goal and an assist. He is playing on the first power-play unit with Claude Giroux and Jaromir Jagr. Simmonds is the big body in front of the net that the orange and black lacked on last year's power play.
Jaromir Jagr, who was acquired in free agency, had been out of the NHL for three years. The chemistry between him
and Claude Giroux is something special to watch, and Jagr sure doesn't look like he's missed a beat yet.
The two young guys that are now the faces of the franchise have also stepped up their game. They are living up to the high expectations placed on them by the fans and the organization.
Those guys are Jagr's linemates, Giroux and James van Riemsdyk. JVR is playing more on the power play this year, but as a forward, not on the point like last year. He has one goal and one assist, while Giroux has a total of five points and has scored a goal in each of the team's first three games.
Ilya Bryzgalov, the best free-agent goalie available in the off season, has done his job. He makes the saves that need to be made as well as some of the more spectacular saves. The Flyers finally have a legitimate number one goaltender, who is proving he's worth the money.
It's early in the season and only time will tell if Holmgren was really a genius in making the moves he did in the offseason. It looks like the trades and free-agent signings are paying off right now.