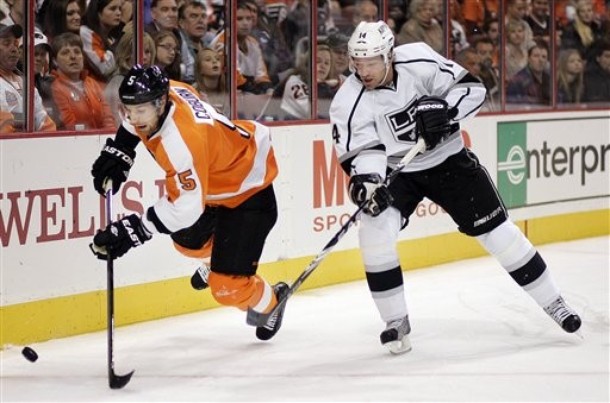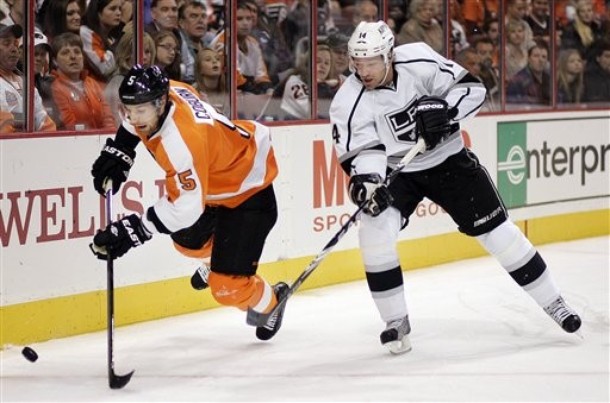 The following notes are my take on some of the news items that have circulated the NHL over the last day.  If a story has any relevance to the Flyers, it's here.
The Flyers travel north to take on the Ottawa Senators tomorrow night. Despite the Senators being a particularly bad team right now, the Flyers learned last season how easy it is to be embarrassed when you don't show up to play, having lost 5-2 and 4-1 in their last two meetings on the road. The Senators also rank 4th in powerplay success in the NHL.If the Flyers can limit the amount of penalties they take and light up goaltender Alex Auld, who will be starting in lieu of Craig Anderson, then they should be able to grab two more points.
Dave Isaac of Philly Sports Daily posted what his sources claim is the official look of the Flyers' 2012 Winter Classic Jerseys. There is still some question as to whether they are official, as "DC Visual Arts," the supposed designer of this jersey, is the same designer for the previously released photoshopped jerseys that combined the old Philadelphia Quakers jersey with Tony the Tiger.
Defenseman Braydon Coburn and his wife Nadine are celebrating the birth of their first child, daughter Rory Coburn!  I'd be even more excited if Braydon wasn't two weeks younger than me.
Tom Sestito spoke with Lindsay Kramer of the Post-Standard about the Phantoms game this past weekend against the Syracuse Crunch. Two gems:"[Mark Bell] took a two-hander to my leg. There will be repercussions. You can quote me on that. When you baseball swing somebody, you're going to be a fighter whether you want to or not." My reaction: That should go over well the next time Sestito finds himself in a punishable situation."I didn't think [my hit against Kurtis Foster] a hit to the head. It's a clean hit. He went into the boards awkwardly. He's 6-foot-4, he should be able to stand up." My reaction: That should go over well the next time Sestito… well, you get the idea.
The Columbus Blue Jackets have gotten off to a dismal 0-5 start and are steadily falling into a panic.  Blue chip prospects Matt Calvert and Cam Atkinson were sent down to the AHL while enforcer Cody Bass and AHLer Alexandre Giroux (great name) were recalled.  Jeff Carter is day-to-day with a fracture in his foot, further hurting the team's offense.  On top of that, starting goaltender Steve Mason has been pedestrian while back-ups Curtis Sanford, Mark Dekanich, and Allen York are all injured, causing the team to rely on an emergency-recall rule to bring up prospect Mathieu Corbell of the Sain John Sea Dogs (great name).In other words, the Blue Jackets could use a goalie. They only have $570K in cap space, so if the Flyers were to take advantage of this situation by offering one of Michael Leighton, Jason Bacashihua or Johan Backlund, then salary would have to come back. There are no obvious organizational needs for the Flyers right now, but they could perhaps acquire additional depth at the AHL level.
For the latest Flyers news and updates, you can follow me on twitter (@JoshJanet).