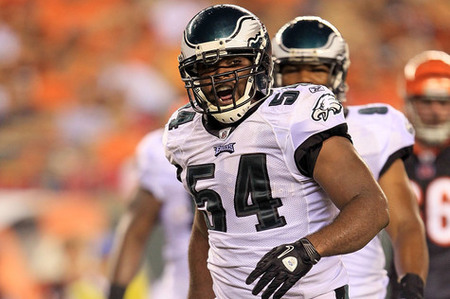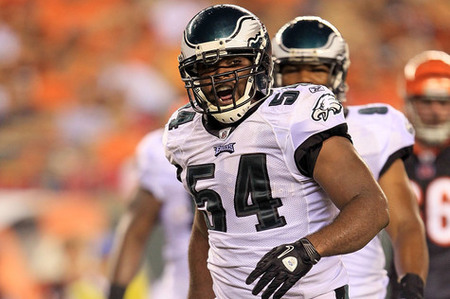 The Eagles have made the defensive end position one of their priorities in the both the draft and free agency the last couple of years. Once of the players that they added in last year's draft is second-year defensive Brandon Graham. He is recuperating from an ACL tear and micro-fracture surgery.
Andy Reid talked about him today and wouldn't guarantee what plans he had for him after the bye week, but you could tell from his conversation that the youngster is on his mind.
"He's worked so hard," coach Andy Reid said. "You can't help but be pulling for him. He spent so much time rehabbing and got out there running around and doing the things you need to do. He's coming off a tough surgery and we'll see how he does."
There have been reports that the Eagles are thinking about trading veteran defensive end Juqua Parker because of Graham becoming available in the near future. Reid didn't give us much information with regard to whether he would trade Parker or not. He did admit that they're getting calls from teams about possible trades.
They have until the 10th week of the season to take Graham off of the PUP (Physically Unable To Perform) list
"You have to be realistic about it and then go from there," Reid said. "We're looking for him to get back in the swing
and groove of playing football."
I don't think Reid and the front office are going to trade Parker because there's no telling how long before Graham is going to be able to line up and play. I think they will take their time in bringing him off the PUP list then have him work to show that he's ready to play.
They want depth at that defensive end position because it allows them to rotate them and keep them fresh.
The bye week will give Eagles defensive end Trent Cole some time to get healthy. Parker and Darryl Tapp will get the chance to get healthier and the defensive end rotation will be in business again.
The Eagles healthy players will be off until next Monday.