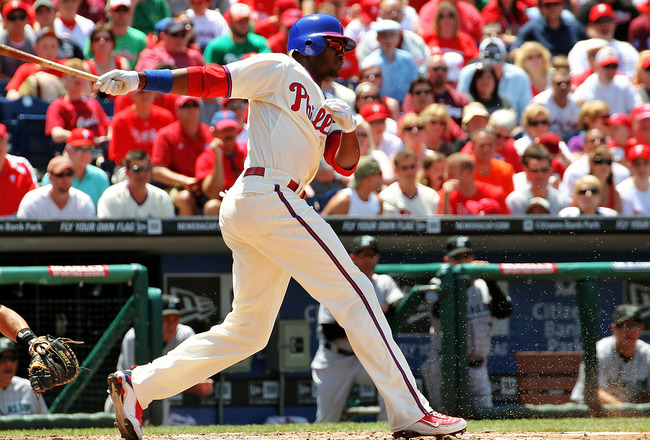 Earlier this week, I discussed possible changes and turnover within the Phillies after their early ousting at the hands of the Cardinals. I already touched on the infield so let's continue the trend and take a look at the outfield, shall we?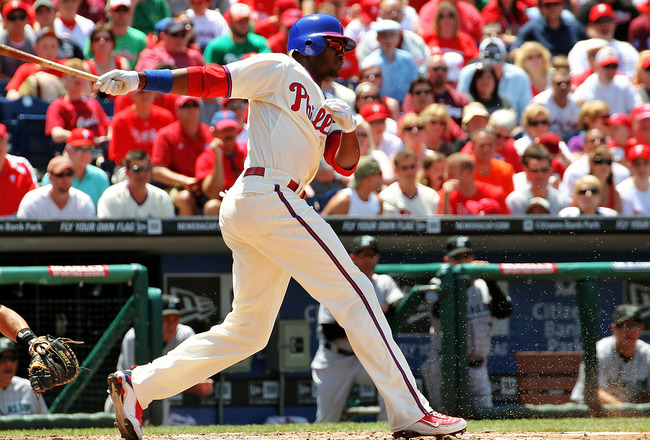 Let's jump right into it and look at the only unstable position in the Phillies' outfield: left field. Raul Ibanez's contract is up and I think it is pretty safe to assume that he won't be back in an everyday role here in Philadelphia. That isn't to say he won't be back at all. A short-term deal as a platoon or bench player isn't out of the question for the soon to be 40 year-old Ibanez, especially with Ryan Howard's injury. He keeps himself in excellent shape and still has some game left in him but not here everyday.
Ibanez's most logical replacement in left field would have been the promising John Mayberry, Jr. but Ryan Howard's torn Achilles' tendon muddles those plans, as Mayberry will likely be used at first base until the Big Piece is ready to return. So where do the Phils go from there?
As I mentioned earlier this week, the person Howard's injury most unintentionally affects is Domonic Brown. You would have to think, that with a hole in left field, Brown, who moved to left when he was sent back down to Lehigh Valley during the middle of 2011, will be given a serious shot to win the job during Spring Training.
I know some of you think he's not ready and has been overhyped, but think about it. While he hasn't necessarily shown them, he has the tools. If he puts it all together, who knows? There is a reason he has been considered one of the top prospects in the game.
If he has a good showing during the spring, how does it hurt the squad to start him on Opening Day in Pittsburgh? Remember, Ben Francisco was the Opening Day right fielder in 2011. It didn't work out so well so the team did what it had to do. Brown's left-handedness won't hurt the lineup as much with the power right-handed bats of Hunter Pence and the aforementioned Mayberry in place. Simply put, the kid deserves a shot.
Help from outside of the organization isn't out of the question either and there are some interesting names that could interest the Phils (http://mlbcontracts.blogspot.com/2001/04/potential-free-agents-for-2012.html). A report on Comcast Sportsnet on Tuesday specifically mentioned Minnesota's Michael Cuddyer, who Philadelphia has been linked to numerous times before. If they choose to go outside of the organization, it will probably be on a short-term deal for a proven veteran and not at a crazy dollar amount. Remember, this spot is eventually Mayberry's. Again, a short-term deal for Ibanez could make sense.
Centerfield is obviously set with Gold Glover Shane Victorino out there. The big questions about Victorino concern his offensive production. After batting over .300 for the majority of 2011 and even getting some MVP chatter, he fell off the cliff toward the end of the season and finished up at .279. That was up from 2010' .259 but down from previous years. Victorino will have to be more consistent and may have to hit for more power, especially without Ryan Howard around.
The interesting dilemma with the Flyin' Hawaiian is where he should hit in the order. I've never liked Jimmy Rollins in the leadoff spot and always thought Victorino would be the better option there. While hopefully we may see that later on in the year, it may not be feasible in Ryan Howard's absence. Shane's spot will depend on what happens during free agency.
The outfielder with the fewest questions surrounding him most certainly is Hunter Pence. Acquired at the 2011 trade deadline, Pence was extremely impressive during his half season in Phillies pinstripes. That is until the playoffs came around, but he wasn't alone and who really wants to talk about that anyway?
Without Howard, Pence could very well be this team's MVP in 2012. He will be fully healthy and eager and determined to put the playoff failure behind him. He will be the one most counted on to pick up that missing production and will likely be batting out of the ever-important cleanup spot. That is a lot of responsibility, especially here in Philadelphia, but Pence has the makeup to handle it. Plus, this crowd loves him and his work ethic. This trade could mean more than Ruben Amaro ever thought it would.
Speaking of Amaro, as always, we have to remember that he is the one running this show and may pull some crazy rabbit out of his Phillies red hat and make all of this a moot point.
My very early projected 2012 lineup (For argument's sake, let's assume that Jimmy Rollins and Placido Polanco are still here and starting.) Again, this all subject to change due to offseason activity:
1. Jimmy Rollins SS
2. Placido Polanco 3B
3. Chase Utley 2B
4. Hunter Pence RF
5. Shane Victorino CF
6. John Mayberry, Jr. 1B
7. Domonic Brown LF
8. Carlos Ruiz C
9. Roy Halladay SP