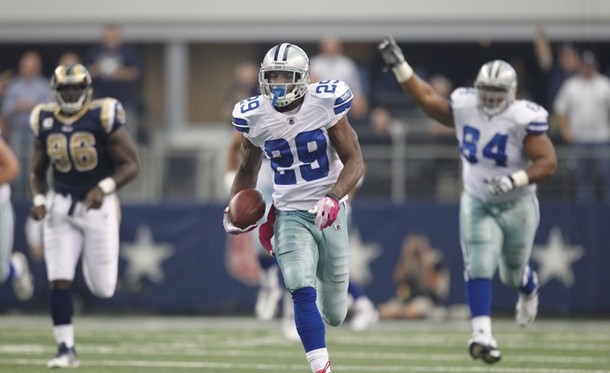 The Philadelphia Eagles and the Dallas Cowboys are two of the most talented teams in the National Football League, but one is 2-4 after six games and the other is 3-3. So far this season, these talented teams have found ways to beat themselves. Both offenses gain tons of yardage, then either turn the ball over or come up short in the red zone.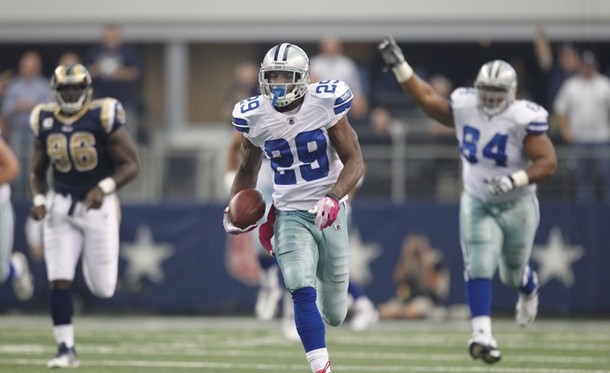 The Eagles defense must make sure that Cowboys quarterback Tony Romo is forced to make big plays throwing the football. That's going to mean stopping the Dallas running game first, then getting after Romo. They've shut down Cowboys running back DeMarco Murray, who ran for a Dallas single game record of 253 yards on Sunday against the St. Louis Rams.
Murray is a speed back who is capable to going the distance any time he touches the football. The Eagles defense has to get out of the "Wide Nine" on run downs like they did against the Redskins. If their run defense gets split and gashed like they did early in the season, it's going to be a long game on Sunday night.
"He's really fast and he's a guy that can make good decisions and find the right hole to go through", Jamar Chaney said today. "And the offensive line did a great job, too. I mean, they do a great job blocking and it's a team effort, you know, their wide receivers are down the field blocking. So it's not just him, it's a team effort. You know, even when [Dallas RB] Felix [Jones] was back there they have pretty much everybody that's supposed to be blocking, blocking — receivers, tight ends, running backs, all of them block."
"He's a hard runner", Mike Patterson said. "I mean, you guys saw it last week what he did. You know, he's just a hard runner, he's an explosive guy, and he doesn't just go down, he keeps his feet moving and runners like that, those are tough guys to take down. So you have to give him credit [because] he did a pretty good job when he came out."
The Dallas signal caller has been hot and cold against the Eagles. He's had outstanding games in the victories but terrible games during the losses. Romo says that the Birds are a completely different defense now than the one Jim Johnson and Sean McDermott put on the field. He's got some outstanding weapons to get the ball to.
Both of his starting wide receivers, Dez Bryant and Miles Austin, are big, strong, fast and capable of making the big play. I'm very concerned about either of them catching the football after a short pattern, then breaking tackles and turning it into a long gain.
I could see the Cowboys going after Pro Bowl cornerback Asante Samuel with quick screens and crossing routes.
If Samuel doesn't want to tackle smaller receivers, he surely has no interest in tackling these two big and physical wide outs. The 49ers talked about making the Eagles cornerbacks tackle and I think they were talking about Samuel. Dallas will go down the same road.
Pro Bowl tight end Jason Witten will also be a major target of Tony Romo's. The tight end will likely be singled up on Moise Fokou or Jamar Chaney. He could win either of those match-ups rather easily.
I don't see the Eagles shutting down the Dallas offense, they must play well in the red zone and force them to turn the ball over.