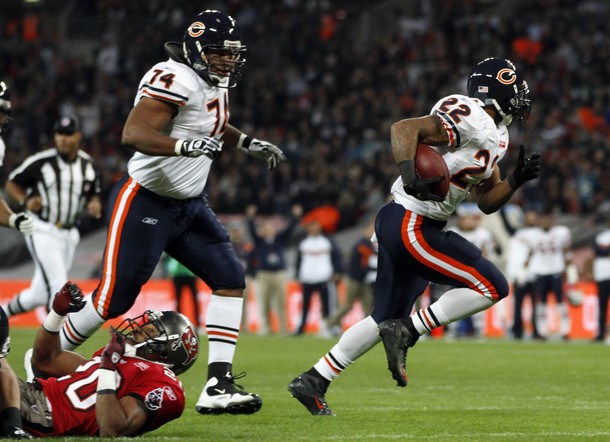 Heading into Philadelphia this week Chicago Bears on Monday Night Football, and after winning three of their last four games the Chicago Bears offense is riding high as of now. However, offensively the Bears are not as equipped to do any damage as last weeks opponent.
Quarterback: Jay Cutler
Jay Cutler is very inconsistent, but he has his moments of brilliance then he can have his moments of pure disappointment. This season he has 1702 yards passing, 9 touchdown passes, but his inconsistency shows in throwing 6 interceptions. He is also completing fewer than 60% of his passes, which should call for putting pressure on him causing him to make quick decisions.
Cutler isn't very mobile, so when pressure comes, you can basically count on a sack or a mistake on his part. With the great pass rush that the Eagles have you can bet Trent Cole and Jason Babin will be licking their chops to rush Cutler. Not only should they try to get to him, but once they get there, getting the ball out is just as important.
Cutler is a mistake ready to happen, if the Eagles defense plays up to its potential.
Running Backs: Matt Forte and Marion Barber
The Bears have a predominantly one running back system with Matt Forte getting most of the carries; however, Marion Barber is the short down and goal line back accounting for 3 touchdowns on 23 carries. Forte is having a great year so far. It's similar to the achievement he had
his outstanding rookie season. He's already gained 672 yards rushing on 124 carries. He's a big back who is very strong and deceptively quick with big play speed.
Forte is as good of a receiver as he is a rusher. The running back breaks a lot of tackles and it won't be an easy job to get him on the ground in the open field. He is the key to the Bears offensive attack. Forte is a workhorse who gives teams a handful on a weekly basis. With the Eagles poor rushing defense you could see Forte running a lot in this game.
The key to stopping the Bears is stopping Forte.
Wide Receivers and Tight Ends: Johnny Knox, Devin Hester, Roy Williams, Dane Sanzenbacher, and Kellen Davis
The phrase that describes the receiving core for the Bears is Non-Existent. They are barely noticeable when stepping on the field. The Eagles secondary should not have any problems containing them; however, the linebackers will have a workout though. Running Back Matt Forte is also leading the team in receptions and reception yards. Devin Hester and Johnny Knox are down field threats, but with three all pro corners they should be able to hold them under wraps pretty easily.
Overall the Bears offense is an up and down group with many challenges. I envision the Eagles being able to shut them down pretty easily because there is only one true weapon on the team and that is Matt Forte. You lock him down you kock down the entire offense.