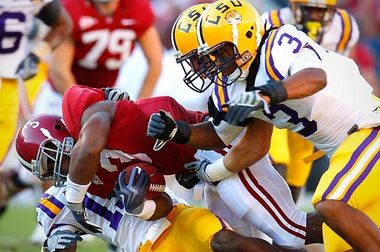 Of course everybody'a talking about the game between the two top-ranked football teams in the nation, Alabama versus LSU. The SEC has dominated college football for the last four or five years and this game shows us that there doesn't seem to be a sign that it's going to stop any time soon.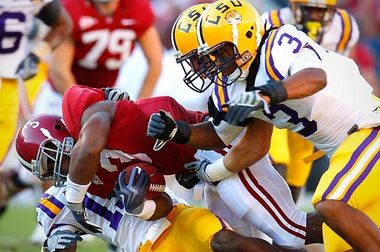 The Crimson Tide and the Tigers are so good that they could have a rematch in the BCS Championship game. It should be one hard hitting, knockdown drawn out affair.
Last week ( 7-2 ) 72%
This week :
Maryland +2.5
I have looked at these two teams and I can't see Virginia being worthy of laying points on the road. I like Maryland at home catching the 2.5. My serious degenerate buddies will buy the hook to make it a field goal. Final Score: Maryland 28 Virginia 27
New Mexico State +33
Sandwich game for Georgia coming off a huge win against Florida while Auburn waits in the wings next week. New Mexico State has a pretty good offense averaging 30 points a game. Give me two td's by new Mexico ( half of what they usually average) and it will be real tough for the Bulldogs to cover this one. Final Score: Georgia 41 New Mexico State 17
Northwestern + 17.5
Another sandwich where the Huskers come off a HUGE home win over Michigan State and have a showdown in Happy Valley against the Nits next week. Dan Persa seems to finally be healthy and catching these points I like a lot. This game is a lot closer then people think. Final Score: Nebraska 41 Northwestern 35
Texas Tech +11.5
Texas Tech coming off an embarrassing loss against IowaState last week. Let's face it no excuses they just played awful. But remember something this is the same red Raider Team who owned a top 5 team just the week before on the road. They went into Norman and took care of business against a very good Oklahoma squad. Texas has been outscored by the two Oklahoma teams 93-48 and although their numbers look good on paper, I'm not buying it. Texas tech is 3-0 on the road and they get right this week again. Give the check to Texas tech in this one. Final Score: Texas Tech 45 Texas 41
South Carolina +5
I think I may be the only one in the entire country backing the Gamecocks here. Since Marcus Latimore's injury they simply have not been able to score. Couple that with the last two years Arkansas has just had their number including a 41-20 home loss last year. Steve Spurier has had two weeks to prepare. I may be way out on a limb here but I am calling the upset . Final Score South Carolina 31 Arkansas 28
Iowa +4
As a Michigan Fan this one is painful. But it just sets up perfect for Iowa. Iowa played awful last week. Michigan comes in on a roll but I just don't fully trust Robinson on the road in this spot. Again I see another upset here: Final Iowa 34 Michigan 31
Finally The game of the year ::
I have been told by a few people that every "sharp player' in the country had laid the wood on Bama. Bama's defense is just flat out the best I have ever seen in college. The thing is LSU's defense is almost as good. I broke this game down literally position by position. Went over many different scenarios. The tide is home which means if any rematch were to happen, it would only if Bama were to take care of business at home. Part of me agrees with that. This game will be an instant classic. I literally have been waiting for this game for a month.
The outcome: Unlike some, I do believe this will go down to the wire. I think the two teams are so evenly match for a few exceptions with Bama having a large advantage at running back and LSU at Wide receiver. Where the game will be decided in my opinion is Special teams. And I think LSU has the edge. Give me the Tigers in an upset on the road.
Final Score: LSU 22 Alabama 20
Have a great weekend everyone !!