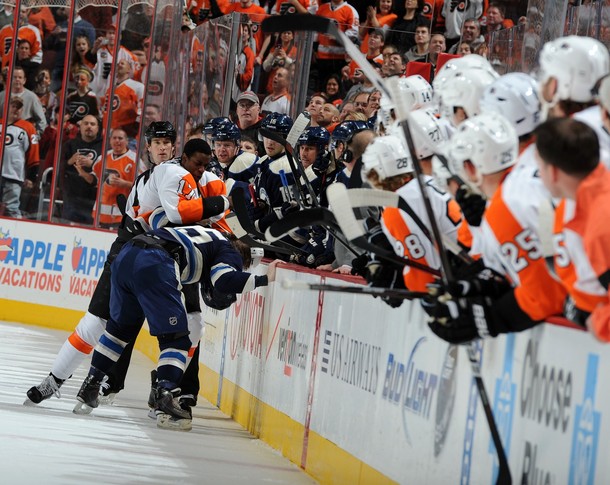 There are hockey games, and then there are events like Saturday night's 9-2 dismantling of the Columbus Blue Jackets at the hands of the Philadelphia Flyers. Had former Flyer Jeff Carter been able to play, it is unlikely the results would have been that much more favorable, as the Jackets' defense was nonexistent for 50 minutes of the game. Goaltender Steve Mason was actually decent when his team attempted to block shots or provide defensive coverage, but the Flyers had more room than an Ikea.
"We had a lot of time and space tonight," said Wayne Simmonds. "Obviously when you have a lot of time and space, and you have talented players, you put pucks in the net."
Eight players accounted for the nine goals, tying a franchise record, including Simmonds, James Van Riemsdyk, Jaromir Jagr, Claude Giroux, Max Talbot, Jakub Voracek (though his goal may have been re-directed by Eric Wellwood), Sean Couturier, and Matt Carle. Although much of the game can be considered a "throwaway" similar to the 9-8 loss to the Winnipeg Jets earlier this season, there are still a few salient points worth addressing.
For starters, the team acknowledged their lackluster efforts in second periods lately and made a conscientious effort to not sit back despite a 5-0 lead after the first period. They could have easily spaced out and allowed the Blue Jackets to creep back in, but they sustained pressure to add three more goals to their already bloated scoresheet. The third period wasn't as crisp as the previous two, but as rookie defenseman Erik Gustafsson noted, "Maybe we got a little lazy at the end there, but its hard to keep going through the whole 60 minutes when its an 8-0 game."
Regarding Gustafsson, Laviolette chose to put him on the ice for the game's first 4-on-4 and Gus paid him back for the decision by skating calmly into the Jacket's end and feeding the puck to a wide open JVR for the first goal of the game. Gustafsson led all Flyers in ice time with 23:00, a clear sign of confidence, and finished with a +6 record. The only criticism of his game that I have is that he needs to do a better job of clearing the crease when other teams begin to swarm, as he tends to allow others to take too much space. Aside from that, he has stepped up in his short time in Philadelphia and has a very good chance of replacing Andreas Lilja when Chris Pronger returns.
Both Simmonds and Voracek scored their first goals in eight or more games. Voracek was playing with a chip on his shoulder as a former Blue Jacket, but I'm not sold that he has turned a corner yet. Simmonds was much more open about his recent drought, though, and seems to know what he has to do to elevate his game. "Yeah, it's been awhile [since I scored.] I haven't been playing the way I should have been playing the last few games," said Simmonds. "I think I've just got to establish myself physically and get back to how I started playing in the beginning of the year and I'll be fine here."
Couturier also celebrated his first two-goal game in the NHL. His first goal was a shorthanded tally between him, Talbot and Braydon Coburn. It was remarkable how easy he made it look. C