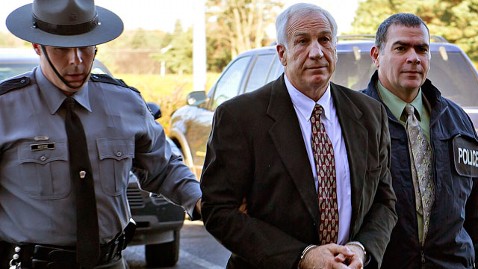 Former Penn State defensive coordinator Jerry Sandusky was arrested yesterday and arraigned for the sexual abuse of eight youngsters, who he gained access to them through, The Second Mile, an at-risk youth program. The attorney general has filed 40 criminal counts against him on this case.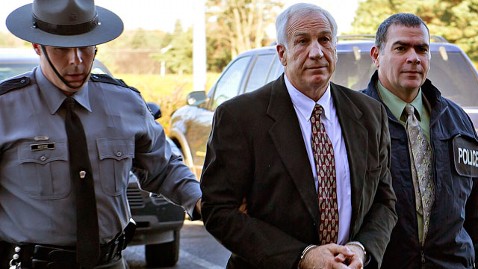 I read the grand jury presentment and it's disgusting. According to the Attorney General, Sandusky was seen having anal sex with a ten-year old boy by a graduate assistant. The graduate assistant told Penn State head coach Joe Paterno and he told athletic director Tim Curley.
Here's the way part of the Attorney General's official document "Sandusky Grand Jury Presentment" read:
"Approximately one and half weeks later, the graduate assistant was called to a meeting with Penn State Athletic Director Tim Curley and Senior Vice President For Finance and Business Gary Schultz. The graduate assistant reported to Curley and Schultz that he had witnessed what he believed to be Sandusky having anal sex with a boy in the Lasch Building showers. Curley and Schultz assured the graduate assistant that they would look into it and determine what further action they would take. Paterno was not present for this meeting.
The graduate assistant heard back from Curley a couple of weeks later. He was told that Sandusky's keys to the locker room were taken away and that the incident was reported to The Second Mile. The Graduate Assistant was never questioned by University Police and no other entity conducted an investigation until he testified in Grand Jury in December 2010. The Grand Jury finds the Graduate Assistant's testimony to be extremely credible."

You can go to ProFootballTalk.com and read for yourself.
Here you've got Paterno, Curley and Schultz being told of Sandusky having anal sex with a 10-year old boy and nobody reported this the police. I wasn't there and I can say what happened but this surely doesn't look good.
Curley and Schultz are legally required to report any incidents of abuse to the University Police or the Pennsylvania State Police within 48 hours. Paterno isn't legally obligated but how could he sleep knowing this hadn't been reported.
Check out the document yourself and explain to me how any of them did what they should have done. Here you have a ten-year old boy being raped and nobody tells the police.
I don't see how any of them can explain why they failed to make sure this incident was reported to the police.
The Grand Jury also found that another incident had been reported in the past with Sandusky and a youngster. He was found in a room wrestling with a boy.
The Penn State President Graham Spanier has come out with a statement of "unconditional support" for Curley and Schultz, who have been charged with perjury. Each of them told the Grand Jury that the Graduate Assistant didn't report Sandusky having anal sex with the 10-year old. They said the Graduate Assistant said Sandusky simply had "inappropriate contact" with the youngster.
"I have known and worked daily with Tim and Gary for more than 16 years. I have complete confidence in how they have handled the allegations about a former University employee," Spanier said. "Tim Curley and Gary Schultz operate at the highest levels of honesty, integrity and compassion. I am confident the record will show that these charges are groundless and that they conducted themselves professionally and appropriately. "