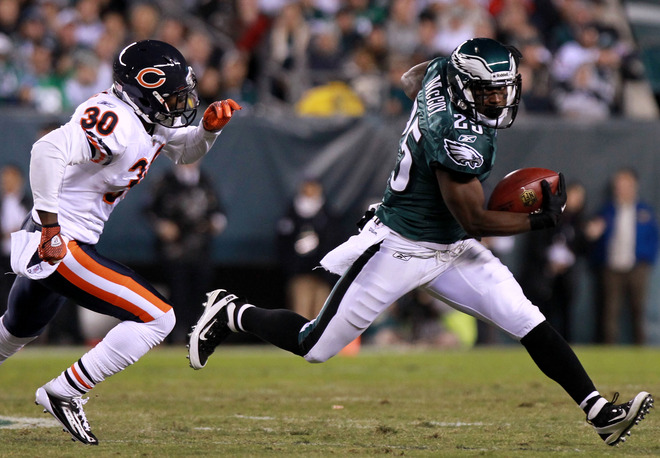 Most rushing yards. Most rushing yards per game. Most rushing touchdowns. Most first downs. Second most yards per carry. Seventh most rushing attempts per game. Despite have six running backs with more carries per game, LeSean McCoy is tops in the league in all the major rushing categories.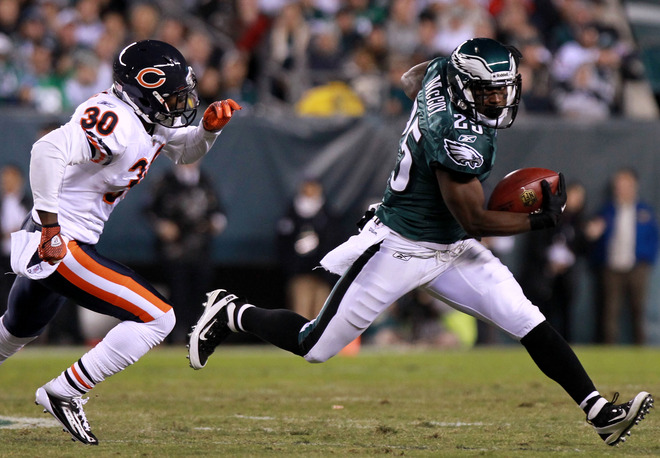 McCoy was second in rushing yards on the season heading into Sunday's game. The only player in front of him, Adrian Peterson, had a bye week and Shady took his opportunity to make up ground. With only 71 yards, number 25 took over the first spot (825 yards) with Matt Forte (805) and Fred Jackson (803) at second and third, respectively.
With his 33-yard touchdown in the third quarter of Monday night's game, McCoy tied Calvin Johnson for first on the touchdowns leader board with 11. Johnson has eleven receiving touchdowns; McCoy has nine rushing touchdowns and two receiving touchdowns.
Over 34 percent of Shady's carries go for a first down. With 52 rushing first downs, and 64 total, he is leading the league by a wide margin. Think about that for a second; hand the ball to McCoy three times, he's going to turn one of those runs into a first down. More impressively, 12 of his 28 catches this season have turned into first downs. That's 43 percent. It may not be a huge sampling only half way through the season, but McCoy clearly has a nose and a sense of where the first down marker is.
Out of the running backs that have had at least 100 carries this season, the Eagles running back is 0.2 yards behind the Texans Ben Tate, who is averaging 5.7 yards on 109 carries. With five less carries per game than McCoy, Tate doesn't carry anything near the load that Shady does. Of the top five rushing yardage leaders on the season, only Matt Forte and Fred Jackson have over 5 yards per carry along with McCoy.
He is putting together his career-year with more weapons on his offense than possibly any other offense in the league. With Michael
Vick (57 rushes), Jeremy Maclin (44 receptions), DeSean Jackson (29 receptions), and newly-re-introduced to the offense Brent Celek (27 receptions), McCoy is splitting touches with perhaps the most potent offense in the league.
Let's look at how this star-studded offense matches up with McCoy's running back peers. The Bears, with Matt Forte leading the offense, have Jay Cutler at quarterback. While the Eagles may have made him look like a superstar, Cutler is hardly above average. Their biggest weapon at receiver is Johnny Knox or Devin Hester, who both have under 23 receptions on the season. Forte leads their offense with 23.6 touches per game.
Fred Jackson is the running back of a team of misfits in Buffalo. Ryan Fitzpatrick is playing on a level he has never played before. After Stevie Johnson (42) and David Nelson (35) the Bills don't have many targets to throw the ball to. Jackson is carrying the load with 22.5 touches per game.
Adrian Peterson's Vikings are under the leadership of a new rookie quarterback. With only one receiver having more than 30 receptions, AP gets 22.8 touches each game.
Shady's 22.4 touches per game with the likes of Maclin, Jackson, Avant, and Celek is not a majority of the offense. With a head coach who just recently decided to start running the ball, McCoy has become more of a focal point in this offense. He is finding ways to lead the league in major categories with less touches than many of his fellow league leaders.
With his 825 yards on the season, McCoy now has the most yards through eight games by any Philadelphia Eagle in history. He is on pace to run for 1,650 yards, breaking a record held by Wilbert Montgomery by 138 yards. His 9 rushing touchdowns is also on pace to break the record of 15 in a single season, held by Steve van Buren. LeSean McCoy is among some elite company of Eagles running backs. Currently sitting at 13th on the Eagles all-time rushing list, McCoy could move to 9th on the list by the end of the season, one spot ahead of Donovan McNabb.
The Eagles running back is putting together a season many fans will remember. With the season playing out differently than many fans, and experts, expected, McCoy is giving Eagles fans something to look forward to on Sundays besides the frequent heartbreak given to them from the rest of the team.