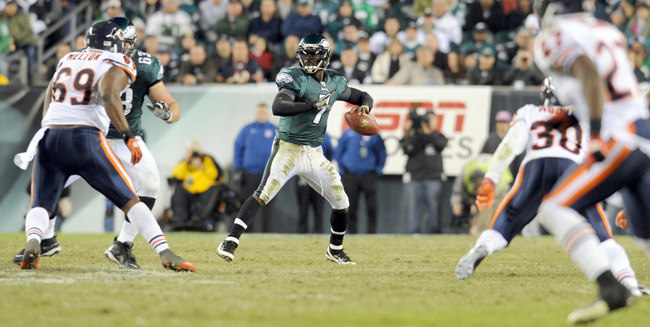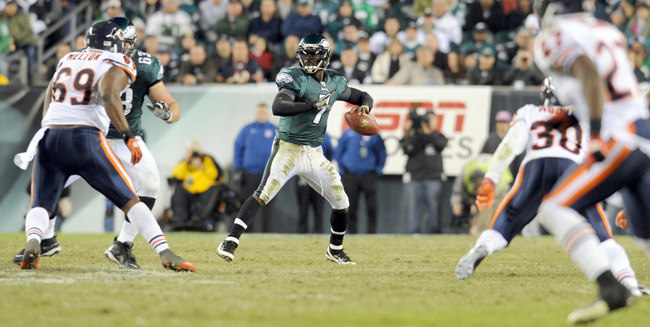 Eagles offensive coordinator Marty Mornhinweg couldn't help but address the number one weakness of the Eagles offense, turnovers. They've been able to move the ball on every team they've faced, but they haven't been able to kick the turnover habit.
The offense only committed one in the Bears game, but it probably cost them seven points in a game in which they lost by six. Vick threw an interception with the team in the red zone. DeSean Jackson added to the turnovers by allowing the ball to stripped from him when he tried to return a punt. I think those two turnovers are major reasons they lost to Chicago.
"Well we turned it over twice including on special teams", Mornhinweg said. "These turnovers – we don't talk too much about stats, but that's the one statistic that we do discuss on a regular basis because that's the, one of very few stats that really correlate highly to winning, is turnovers. So we have to take care of the football."
I think all the turnovers have occurred because this Eagles football team doesn't have the ability to focus the way they should. This starts with Michael Vick. He's not playing well and if he doesn't play well then the offense isn't going to excel. That interception he threw in the red zone on Monday night was terrible.
His throw to Jeremy Maclin on that crossing route was high. He was wide open and all he had to do was hit him in stride, but he didn't. Vick isn't seeing the field very well, which is a major problem. Teams have decided to take away the deep stuff and force the Eagles to prove they can be consistent.
I've talked about the way these carry the ball many times. You have to work on things in practice with precision and focus or you won't do it during the games. The later it gets in the game, the more you're prone to turnovers because of fatigue.
"The turnovers have been created by different situations and all individuals on the offense have had a part in that, and it's just a high level of execution", Mornhinweg. "And the other thing among some other thoughts, but another thing is there's been some once-in-a-blue-moon things have happened to us that really happen once every three or four years – well shoot, we've had about 10 of them happen to us. And so, some of them I took some calculated risks and they blew up".
At the end of his session with the media, Mornhinweg was questioned about the Penn State situation because he son Skylar, who is a All-American quarterback at St. Joseph's Prep School has signed a letter of intent to attend Penn State.
"Well, my son has advised me that he'd rather I have no comment on the situation", Mornhinweg said. "And I'm sure he'll come out and speak one of these days and I think it will be quite awhile. So we'll see."