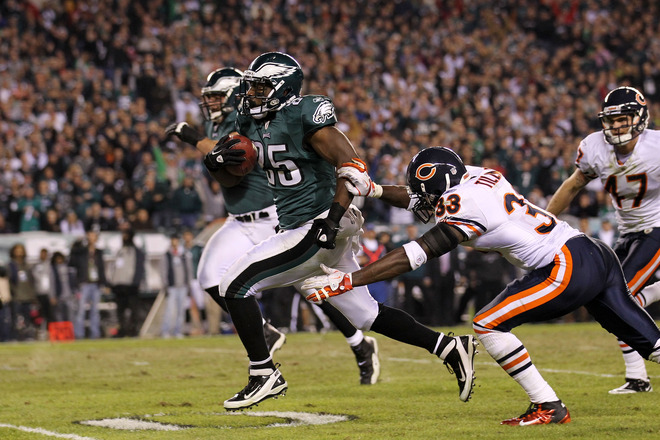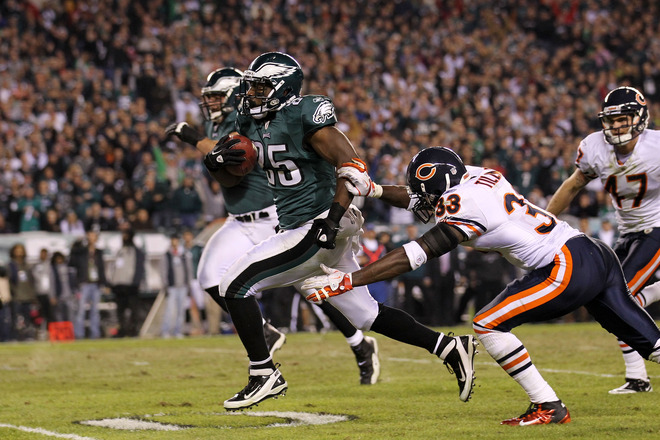 In a week that was expected to be overshadowed by Kevin Kolb's return to Philadelphia, a turf toe has settled the excitement. The Arizona Cardinals (2-6) are just another opponent ready to face the Eagles Nightmare Team (3-5). The Cardinals defense has yet to show anything positive this season. LeSean McCoy will be facing off against a rush defense that allows 117.8 yards per game.
McCoy is coming off of a 71-yard Monday night performance against the tough, physical Bears defense led by Brian Urlacher and Lance Briggs at the linebacker positions. Shady was consistently stuffed at the line but was relentless and eventually broke out for a 33-yard touchdown in the third quarter.
The Cardinals have allowed 11 rushing touchdowns this season, including 7 in their last 4 games. Against a running back like McCoy, who has had a nose for the end zone week-to-week, it is a statistic that favors the opposition.
In week five, Adrian Peterson ran for 122 yards and 3 touchdowns on the Cards defense. Lorenzo Booker, Percy Harvin, Toby Gerhart and Donovan McNabb added another 50 rushing yards, giving the Vikings 172 total rushing yards. McNabb also added a fourth rushing touchdown in the 34-10 Vikings win.
Three weeks later, the Cardinals played a close game with the Ravens in which they led 24-6 at halftime. The Ravens didn't shy away from the run and Ray Rice ran for three short touchdowns in the second half. Rice finished the game with just 63 yards but Ricky Williams and Joe Flacco put the Ravens over 100 rushing yards on the day.
However, the Cardinals worst defensive performance came against the Redskins, who own the 4th worst rushing offense in the league. In week two, Tim Hightower and Roy Helu combined for 170 yards rushing with a 5.7 yards per carry average. For a team that averaged 2.8 yards per carry and just 76 rushing yards in week one, the Redskins came in and had their way against Arizona's defense.
McCoy, who is averaging over 100 yards per game by himself, will have arguably his best matchup so far this season. The Cardinals defense doesn't have a DeMarcus Ware or Brian Urlacher who strike fear into opposing offenses. Paris Lenon is the Cardinals leading tackler and Calais Campbell is the "star" of the front four.
So far this season, out of the three games that McCoy has rushed for under 100 yards (not including last week), he has followed two of them up with 120 yard performances. Both of those games came against divisional opponents, the New York Giants and the Dallas Cowboys.
The league's leading rusher has only had at least 20 carries in a game three times through eight games this season. In those three games, he has rushed for at least 126 yards and a touchdown. McCoy has proven that he can carry the load and lead the offense when the opportunity is given to him.
Number 25 has a chance to break a franchise record against the Cardinals, adding more to his season accolades thus far. If he gets into the endzone during the week ten matchup, it will give him nine consecutive games with a touchdown, breaking Steve van Buren's record of eight consecutive games. Having already passed the Eagles mark for rushing yards through a half of a season, McCoy is rewriting the franchise's record books and doesn't show any signs of slowing down.
Given the Cardinals woes against the run, McCoy and the Eagles have a favorable game on Sunday. The patterns this year show that Shady may be in for another big day. With only 16 carries in Monday's loss to the Bears, perhaps Andy Reid will lean on McCoy again to be the offensive workhorse, as he has proved he can be.