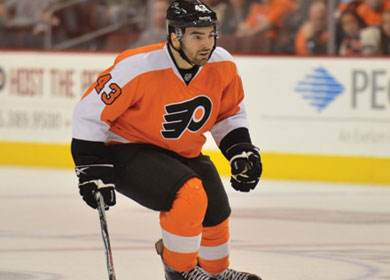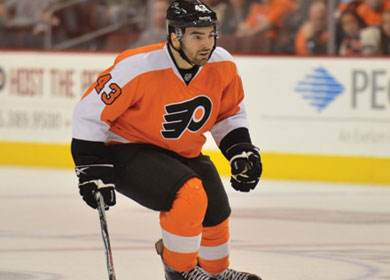 While it has only been 2 games for him in the NHL, and once Chris Pronger returns from illness he will probably be sent back to the AHL, 22 year-old Marc-Andre Bourdon has shown the Flyer's he is capable of playing in the NHL. The Saint Hyacinthe, Quebec native has shown a knack for playing the body in his brief NHL stint and has certainly not looked out of place at all.  During tonight's game with the Islanders, Bourdon won "Great check of the game award" on the Comcast Sportsnet broadcast of the game.
Bourdon's path to the NHL had a rough bump in the road last season.  After getting into a fight, Bourdon sustained a concussion and after a lengthy absence, returned to the Phantoms only to be sent down to the ECHL and play for the Greenville Road Warriors during the end of their regular season and in the playoffs.
During Flyers rookie camp this summer, Bourdon excelled at always being in the right position and his calm demeanor on the ice at such a young age were evident over that week.  Fast forward to his first cup of tea in the NHL and this has continued. Bourdon played over 15 minutes against Carolina and over 13 minutes tonight against the Islanders.  Not once did he look out of position and a few times he made some outstanding defensive plays while looking like he belonged in the NHL.  His size, 6' 225 lbs, are perfect for a shut-down defenseman at the NHL level.
While Bourdon may not play more than a few games in the NHL this season, his emergence, along with Eric Gustafsson and 2007 2nd round draft pick Kevin Marshall show the Flyer's that their defensive corps will be one of the best for many years.  These 3 young defenseman will be able to learn from some outstanding veterans. Get excited Flyer's fans— these young defenseman will be making a name for themselves in the orange and black right before our eyes!