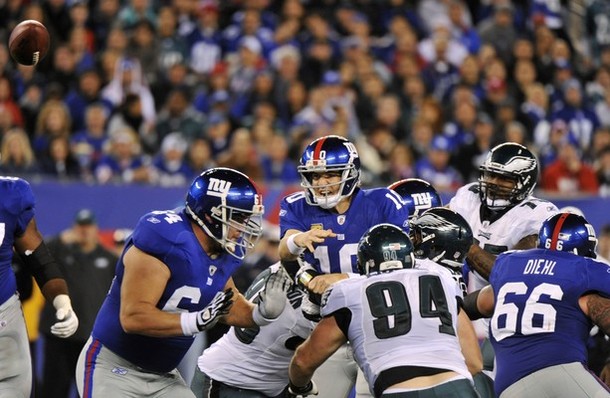 As if the Philadelphia Eagles didn't have enough to concern themselves with over the two broken ribs, which Michael Vick is nursing or having to wonder if their stellar wide out, DeSean Jackson will be able to bring the funk after suffering a foot injury, here come the 7-3 New England Patriots!
Surprisingly, the Eagles handled the New York Giants as Vince Young did a good job leading the offense against what everyone thought would be an aggressive defense. What's more the defensive line of Jason Babin, Cullen Jenkins, Trent Cole, Mike Patterson, Derek Landri, Trevor Laws, Darryl Tapp and Juqua Parker with the help of the secondary, did a great job against the passing attack of Eli Manning. They were shut down completely with the one exception – a 24 yard touchdown to Cruz – the Eagles kept what is a potent air attack out of the end zone.
Do the Patriots bring a more lethal passing game to The Linc on Sunday? Most certainly! Wes Welker, who only caught two balls for 22 yards against the Chiefs, still leads the NFL in receiving with 74 receptions for 1028 yards and 6 TD's.  Wideout comrade Deon Branch who added two catches for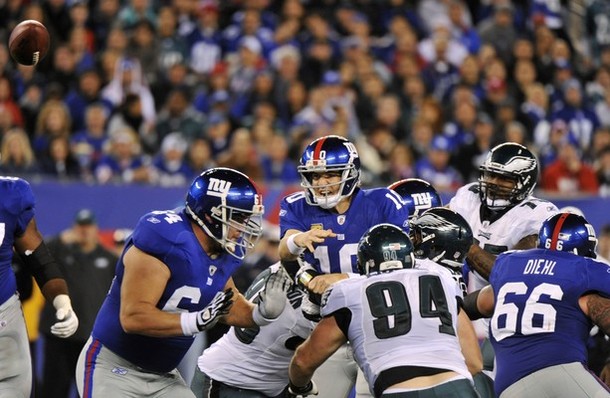 only 19 yards last week only has 39 receptions for the year with 4 TD's and 503 yards. It's that time of year when coach Bill Belichick seems to always get a championship effort from this "once dynasty" team.
Right corner, Nnamdi Asomugha didn't practice today after being carted off the practice field with a knee injury yesterday.  Either nickel back Joselio Hanson or former Giants practice squad player, Brandon Hughes will have to step in for Asomugha at the right corner position.  Right now it looks like it's going to be Hanson.
We all know, he's going to have his hands full on 3rd downs when he moves into the slot and tries to cover Wes Welker, who is leading the league in catches with 73.  I think the Patriots are going to utilize some no huddle offense to tire the Birds defensive line and prevent them from substituting so much.
The Eagles will need another great performance from the big boys upfront to put pressure on Brady to try to get in his head.  That's something few defenses have really been able to do, but that number has been growing this year. He's been sacked 19 times and has an AFC leading Q.B. rating of 102.5.
If anyone thinks he's lost a step and no longer is the "Super Brady" he once was (he's thrown 10 interceptions), think again. He's now working with two new threats as double trouble tight ends Rob Gronkowski, a massive blocker/receiver with great speed and Aaron Hernandez put pressure on the Eagles linebackers not only to cover but to tackle … well. Just ask Kansas City who was spanked 34 -3 last Monday night.
Look for Asante Samuel to play mind games with Brady since they know each other so well. Samuel played his first five seasons with New England and won a pair of Super Bowls. He and Brady will take turns trying to bait each other to bite. Will Brady throw the pick or will Asante give up the big play? Kurt Coleman and Nate Allen have to play hard and smart and not let Welker use his quickness to get into open field.
Look to see Jaiquawn Jarrett, who is a young, hard hitting rookie get some time on Sunday if Allen struggles at all. Jarrett, a personal favorite of mine might not be quite ready for prime time though.
The Eagles have a chance to stay alive in this do or die matchup for them. The schedule is not in their favor and they're going to need a lot of help. Help that they cannot count on. From here on out it's going to be what they make it. To beat a very good New England football team would give them so much momentum and a mental boost that could propel them through the remainder of the year. But will it even be enough? Let's see… we've got to win this "ONE" first.