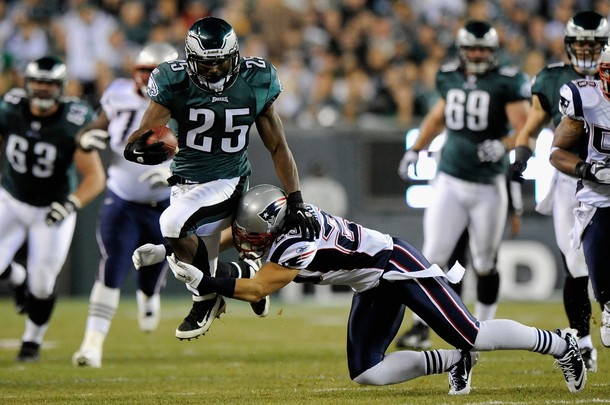 DeSean Jackson had a couple passes in his grasp that he couldn't reel in.  LeSean McCoy was not given the football nearly enough.  Jason Avant had a great statistical game but probably still wants us to boo the Eagles.
Let's humor him, shall we?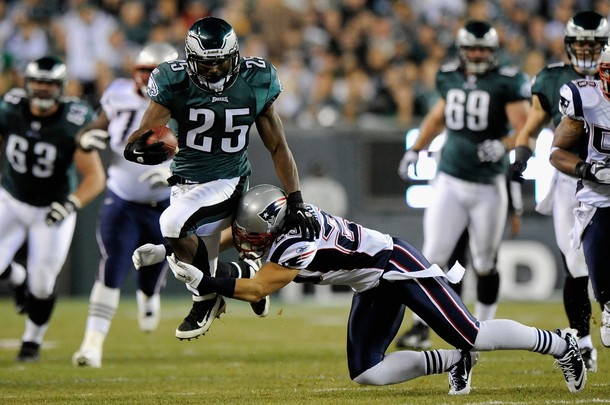 "Fire Andy!" chants broke out at Lincoln Financial Field yesterday during an embarrassing 38-20 clinic the New England Patriots put on the Philadelphia Eagles.  It was the first time audible chants have been heard as such at the Linc, and audible on TV and radio.  So much so that national reporters were tweeting about the chants on Twitter.
Andy Reid's game plan once again was to pass, pass, pass, but this time it seemed like a good game plan since the Patriots passing defense was ranked dead last in the NFL coming into the game.  However, on a 4th and 1 play where Reid opted for a play action pass instead of giving the ball to the NFL's best back, Shady McCoy, we all knew how this game was going to turn out.  Young tried to force a pass to a covered Brent Celek and it went out of the end zone.  Clearly, we knew it would become the game we all hoped it wouldn't become.
They made our team look downright silly.  Young said he played OK during the postgame press conference when he was asked to assess his performance.  He said that because he threw for 400 (hollow) yards and a touchdown and an interception.  What else would you expect against the last place Patriots pass defense?  Young also led his receivers into big hits; just ask Jason Avant, who got the wind knocked out of him on a ball that shouldn't have even been thrown.
Jackson was benched in the 4th quarter most likely because he dropped two perfect passes.  Jackson has certainly not had the season he was hoping for, and the last few weeks all but confirm he will be shown the door after this season.  We all thought the Eagles would lock up Jackson long-term, and now it seems like they can't wait for him to get out of sight.
Young's postgame comments prove the psyche of this team is not where it needs to be.  If your starting quarterback is worrying about how he is playing rather than taking the bull by the horns and taking over this team, the entire football team should be held responsible for this defeat.  The fact that Young wasn't seething about losing the game shows the lack of heart this Eagles team has.
How most of the players are asked about Andy Reid and the "Fire Andy!" chants and all they say is they back Andy and support him and put the blame on themselves, seems like a weekly ritual now.  These players aren't mad that they're losing.  Hugh Douglas was mad when we lost.  Ike Reese was mad when we lost.  I sure as hell believe Andy Reid is mad when we lose.
The killer instinct is gone.  These players have transformed into friends who play against each other.  Nobody gets pissed off at a loss anymore.  At least not on this Eagles team.  And I believe it starts with Andy Reid.  Reid didn't lose his players before.  But there's always time for something new.  And I believe Andy has lost his players.  Juan Castillo cannot coach defense.
Does anyone ever think that this defense is terrible because they have no faith in their coordinator?  That plays a large part in their struggles.  In this pass-happy NFL, winning is possible.  Look at Aaron Rodgers and the Green Bay Packers.  I'd venture to say without even looking up the stats that their offense passes more than the Eagles.  And that has a lot to do with their lack of a feature running back, but it can be done.  I think the Packers have a coaching staff second to none.  If Andy cannot put together a great coaching staff to coach with him, he will flounder.  If he hasn't already.
It's one thing for a coach to have his team unprepared for a game or two throughout the season.  Even in games they have won, the Eagles looked unprepared at times.  I thought Reid's gameplans were not terrible until now.  This swayed me.  His time is done.  But he'll be here next year.  He won't have the NFL lockout excuse.  He better get himself a new defensive coordinator who has coached defense before.  If Andy doesn't get the job done next year, he's gone.  For good.  It needs to be that way.  I can only hope.
When I see Tim Tebow carry his team to victory in amazing fashion every week, I get jealous.  We have one of the most dynamic teams in the NFL, or at least have the potential to be.  And Tebow is out in Denver winning games and in great position to take his team to the playoffs with a 6-5 record.  Would I rather switch places right now?  You bet.  Talk to me in a few months, and chances are I will have a different answer.  But it's a refreshing story that I'd watch more of instead of this putrid Eagles team.
Derrick Gunn reported on Eagles Post Game Live that Eagles defensive line coach Jim Washburn and offensive coordinator Marty Mornhinweg had a heated discussion on the sidelines during the game.  He was unsure of what it was about, but it's worth mentioning because it clearly seems like this team and its coaches are in disarray.  It's a Nightmare Team now.