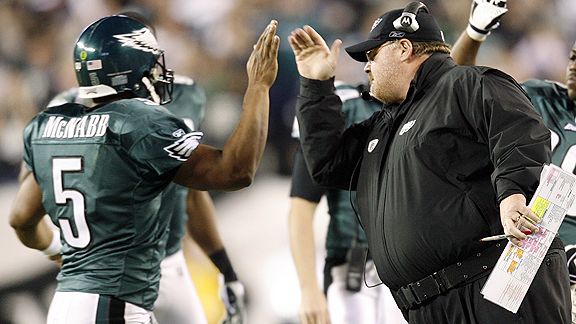 Every time there is a Philadelphia Sports debate involving the fans and management of one of the city's teams, ESPN needs to come in and tell us how we should act. Yo ESPN! Enough! Brett Favre just farted, go stand on his lawn for two months and cover that, in the mean time we will deal with our own problems.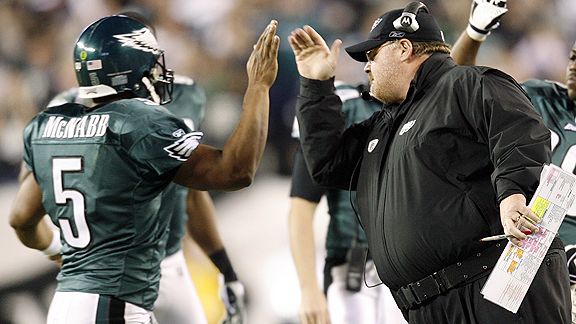 For years every time Donovan McNabb completed a pass it seemed the national commentators would bust out the B-Roll of the creepy shoulder pad, face painted guy booing McNabb at the draft and use it against Eagles fans "Can you believe they booed him?" Well, national guys, I am going to give you a taste of your own medicine. Didn't you tell us "barbaric Eagles fans" how stupid we were for wanting to move on from Donovan McNabb?
In 2009 Chris Berman literally wagged his finger and told Philadelphia Eagles fans they will "rue the day" Donovan McNabb is no longer an Eagle. Two years after Berman informed Eagles fans how ungrateful they are on Sport Center's the "Blitz" McNabb reminds Eagles fans more of an occupy Wall Street protester than a NFL quarterback, he's jobless, whines too much, and stinks. If Philadelphia fans are always chasing players and coaches out of Philly, the national media refuses to let them leave here.
Look, we get it Andy Reid made 5 NFC Championship games, but national guys YOU NEED TO GET THIS; He only won one of them! He hasn't won a playoff game since 2008 when Jim Johnson was still the defensive coordinator, not one of his draft picks from the last two draft classes could start on another NFL team. He spent big bucks on free agents that do not fit the team's scheme. He hired a defensive line coach who tells his defensive coordinator what to do, the only thing the wide nine did besides giving opposing running backs great fantasy football numbers was get Jason Babin an un-deserved Pro Bowl selection.
Ok, I just laid it out to you national guys, why we want him gone—best part is…I AM NOT DONE! On top of all I just mentioned, Andy Reid is an arrogant dude.  We constantly hear on Sports Center how Professional Football is an entertainment business, well ESPN, the customers want to be entertained, and we are not. The team has won one home game in the past YEAR! That's 1-8 in the last nine home games.
The average upper level seat is around 70 bucks, which translates to around $630 bucks per ticket for ONE win and EIGHT losses. So after, ONE win and EIGHT losses do you think what the fans who paid a minimum of $630 to the Philadelphia Eagles to watch those games live want to hear from their team's coach simply say "I need to do a better job?"
So with all due respect to Berman, Mort, Gruden, Wilbon, before you tell us how wrong we are to be angry with Andy Reid, go back to working blue collared salary jobs pay $630 bucks to the Eagles, go sit in the cold and watch the team win one game out of ten, then and only then can you offer an opinion on how right or wrong the fans of Philadelphia, thank you…Times Yours. Eagles fans remember this during the holiday season as you are out and about, every time a bell rings, a national commentator defends Andy Reid.