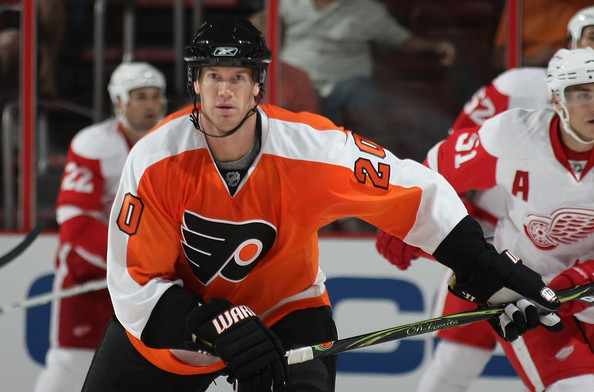 While the hockey community deals with the shocking news that Captain Chris Pronger will be out for the rest of the season, many are left wondering how can the game become safer.  While it is tough to protect players from situations where a stick accidentally clips their face ( Pronger ) or a teammate's knee ( Claude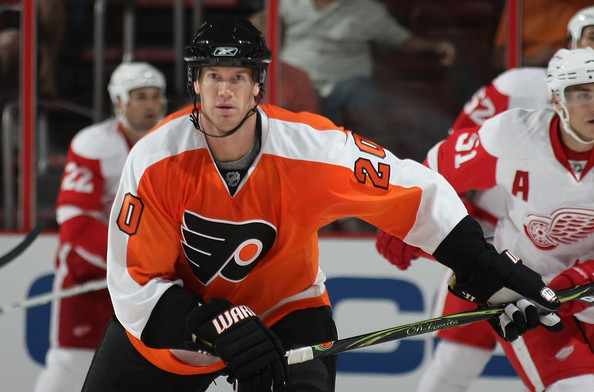 Giroux), there are plenty of ways of protecting those who sustain a concussion. While I am not advocating that all of the ways I mention should happen, just that the league needs to consider them.
First, years ago in the NHL players did not wear elbow pads with gigantic hard plastic protection over the elbow.  The elbow pads used to be smaller and lighter. While some would argue the harder elbow pads offer much more protection, cut down on the size of hard plastic or changing it back to the old foam pads would certainly help in minimizing concussions from errant elbows.
In addition to reducing the size of elbow pads, the NHL needs to start investing significant money in more protective helmets. Both the MLB and NFL have come up with helmets that are supposed to reduce the risk of concussion. This to me would be the biggest no brainer out there. Reduce the risk of a concussion just by changing the way a helmet is made? Slam dunk win.
Next up, how about reinstating the two-line pass? This would immediately cut down on incidents racing for a puck to cancel out an icing. Gone would be a lot of ugly injuries we have increasingly seen over the last couple of years. Detractors would clearly say that the two-line pass was abolished to increase offense. This would be hard to reestablish with Gary Bettman as commissioner, but should be strongly considered. It would not only cut down on concussions, but any sort of injury that could occur from such a play.
Another rule that should be revised is the fact that clutching and grabbing by defenseman needs to be allowed again. Without it, we see situations where speedy guys racing down the ice, instead of getting a quick grab to slow them down, fly freely by.  When a defensemen accidently trips them up, the results can be scary. Slowing down an incoming forward, momentarily, allows both the forwards and defensemen involved to still stay involved in the play. Once again, those against this proposal will state that offensive production may slip with clutching and grabbing being legalized again.
Finally, my most radical proposal—changing rink dimensions to the larger dimensions similar to those rinks in Europe.  In North America, rink size is 200 feet by 85 feet. European rinks are 200 feet by 98 feet.  An extra 13 feet in the width of the ice! This extra space would allow more room for all 10 skaters on the ice at one time. This extra space would also allow for players to escape from the punishment of violent contact. By no means do I want to see big hits gone from the game at all, but the added room will do wonders for protecting players while not changing the rules of the game. This change might even increase offensive output. I believe that while this is the most radical of the changes, it might be the most beneficial in terms of appeasing those who don't want to go back to any old rules abolished, but want to see more done about the concussion issue.