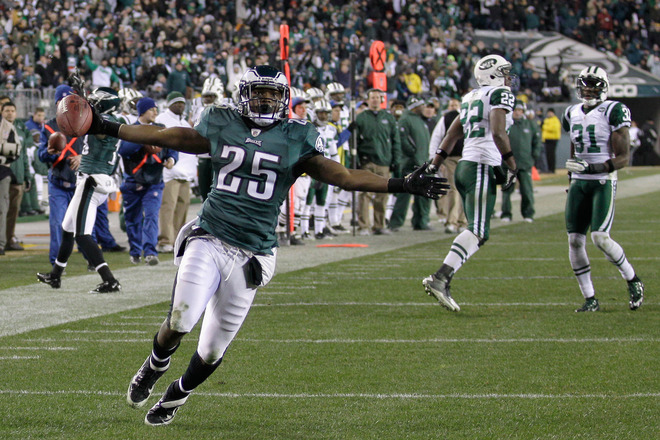 The Eagles kept their heartbeat going strong for at least six more days. Things are falling in place as the Eagles defense has found it's way and the Giants and Cowboys are helping out. The thing that has remained constant throughout the entire season has been LeSean McCoy. The young running back has broken team records and shows no signs of slowing down.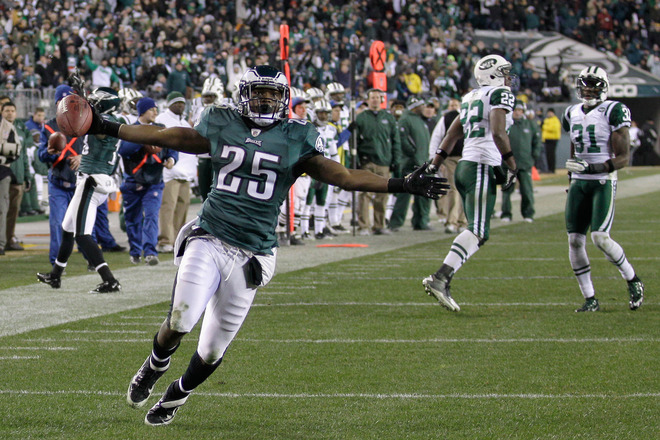 On Sunday evening, McCoy rushed for a career-high three touchdowns. After Juqua Parker returned a Santonio Holmes fumble 47 yards for a touchdown and Michael Vick delivered a touchdown pass to Brent Celek and ran in for another, the Eagles were up 21-0 and had the opportunity to use the run game. Unlike in weeks past, they relied on it heavily this time.
At the 9:57 mark in the second quarter, Shady took a shotgun handoff from Vick and ran it nine yards, untouched to take the 28-0 lead. In a season filled with broken and tied records for the running back, he added another to the list. His 18th touchdown on the season tied Philadelphia icon, Steve Van Buren for most touchdowns in a season.
McCoy's second touchdown was a run into the Eagles record books. With his 19th touchdown of the season, he passed Steve Van Buren for the single season touchdown record in Eagles history. It was a record that lasted 66 years and had hardly been challenged until this season. His touchdown came on a one yard stretch play to the right side, a play that has become automatic for McCoy and the Eagles when inside the five yard line.
On the touchdown record, McCoy gave a lot of the credit to his teammates. "I guess it just tells you that I am a pretty good back who has an outstanding offensive line", McCoy said after the game. "Those guys showed a lot of effort and made a lot of great blocks. It's definitely a team thing. No back is going to score a lot of touchdowns unless his line is blocking and his teammates are blocking downfield."
In the fourth quarter, as he often does, Shady put the final dagger into the Jets to make the 45-13 lead insurmountable with just under a quarter of football left to play. His longest and probably most impressive run of the day resulted in a 33 yard touchdown score. On a designed run to the left, McCoy was met by two Jets defenders in the backfield as soon as he got the football. He jumped back to make the first man miss then turned on the jets toward the right sideline and outran the rest of the defense after stiff-arming defender number two.
"I kind of just did my own thing there," said McCoy on the improvised cutback run. Doing his own thing is what has gotten McCoy to the point of national attention and serious MVP consideration. He has also a lot of scrutiny in weeks past for not following the called play. Against the Miami Dolphins, McCoy averaged a lousy 1.4 yards per carry after trying to make cutbacks in the backfield and "do his own thing" a little too much.
On just 18 carries, McCoy averaged 5.7 yards per carry and topped 100 yards for the sixth time in the season. Shady had another first on Sunday–a fumble. McCoy had his first fumble since week five of last season and his first lost fumble since week four of 2010.
With McCoy passing 19 touchdowns on the season, he joined some elite company. He is only the fourth running back in history to have more than 19 touchdowns in a season before his 24th birthday. The other three? Eric Dickerson, Gale Sayers, and Emmitt Smith. Dickerson and Sayers each had 20 and Smith had 19 in each of their 19+ touchdown seasons before their 24th birthday. Currently with 20 and with two games remaining, McCoy has a very good chance at passing that elite class at a very young age.
"He's played well", head coach Andy Reid praised him after the game. "He's done well in the run game and the pass game, blocking and catching.  He's an all-around good football player, and in this offense, you need that. My hat is off to him. It's not easy to play running back in this league because you take quite a few whacks. He's kept himself strong and in shape, and stayed aggressive with that."
Shady isn't worried about his personal accomplishments, though. He is all business and worried about keeping the slim playoff hopes alive. When asked if he has had time to step back and enjoy his accomplishments this season, McCoy simply said "No, not yet."
Like most of the Eagles fans, McCoy couldn't help but step back and wonder about how could this offense could be.
"I feel like each week we have a shot to be a great offense", McCoy said about the Eagles offensive attack. "We can throw, catch and run. We have some of the best athletes in the league. [TE Brent] Celek doesn't get a lot of attention, but he's great. Mike Vick is the quarterback, we have so many weapons. It does confuse me to think about how we got in this situation. I think about the turnovers that cost us, because it was never a problem to get down the field and getting an opportunity to score."