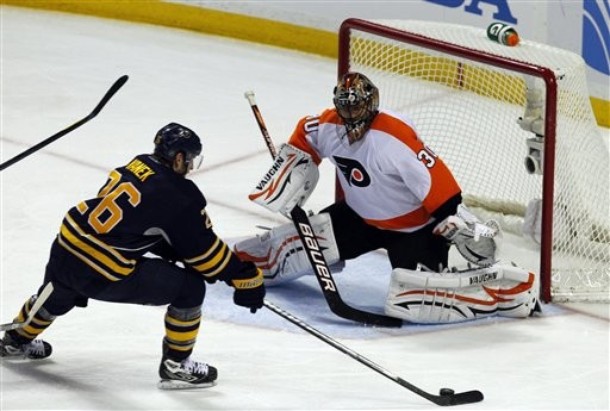 As 2011 comes close to turning into 2012, I thought it would be an interesting idea to give each Flyer a gift that will help them through the stretch run of the season and into, hopefully, the playoffs: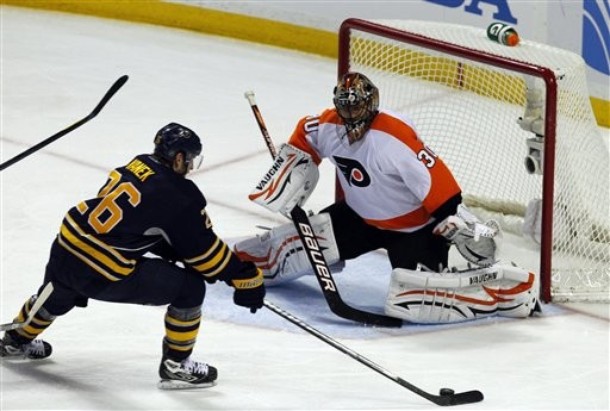 Ilya Bryzgalov: Consistency. "The astronomer" has shown flashes of brilliance so far this year, but has also left us wondering why we gave him such a large contract. I believe he'll show us why he is worth that 9 year pact.
Sergei Bobrovsky: A shutout. Bob still hasn't gotten an NHL shutout yet, but not because he hasn't played well. In limited action this year, he has continued to play well and a shutout would be a great reward for a young, promising goalie stuck behind now stalwart Ilya Bryzgalov
Chris Pronger: Rest and health. Unfortunately, at his age, this concussion issue won't resolve itself quickly. The Flyer's did the right thing by shelving him for the foreseeable future. The injury is eerily similar to the Ian Laperriere concussion from two years ago. A lengthy absence at age 35+ can signal the end of times for a battle tough player and that would be incredibly unfortunate to lose a second leader to a concussion.
Kimmo Timonen: Body armor. It seems that EVERY night Kimmo blocks multiple shots, hobbles off the ice, skates back on, and the cycle repeats. Every game he gives 110% and is an absolute warrior. Not only has he been outstanding on defense, he has contributed 22 assists on offense as well.
Andrej Meszaros: More shots. For a defenseman with a booming shot, you would Meszaros would have more goals or assists, especially on the powerplay. If the Flyer's can get him open on the point more, again, especially on the powerplay, the Flyer's will surely continue to stay atop the division.
Braydon Coburn: Confidence. When Coburn is at his best, he plays confident, using his size and speed to his advantage. At times, Coburn gets lazy and doesn't use his skills to the best of his abilities. If Coburn can maintain his confidence level, he will justify that extension he signed this season.
Matt Carle: Better decisions with the puck. While Carle has been very good most, if not all of this season, at times he has been a little careless in the defensive zone with the puck.
Andreas Lilja: Health. His veteran experience is going to be incredibly important during the second half of the season. While he isn't flashy, and isn't the fastest skater, his defensive positioning has been very good while he has been healthy this year and his veteran presence in a young locker room will be invaluable come April.
Marc-Andre Bourdon: Ice-time. Bourdon certainly has been impressive so far in his 14 games. Bourdon has not looked out of place at all in the defensive zone, while offensively he may be limited, he has not hurt the Flyer's defensive corps. The only way he will continue to grow is to get ice time in the top 6. If coach Laviolette decides to insert Matt Walker or acquire another defenseman, Bourdon would be best served getting ice time in the minors than being a healthy scratch.
Matt Walker: A new team. His contract is a burden when he's in the NHL and it is apparent there isn't room for him in Philadelphia.