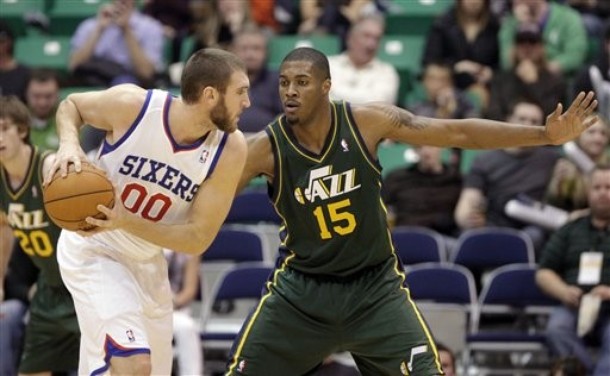 Last night the Sixers had an opportunity to gain momentum in this young but yet shortened NBA season. Instead Doug Collins' troops dropped a winnable contest against a Utah Jazz squad still searching for an identity 102-99.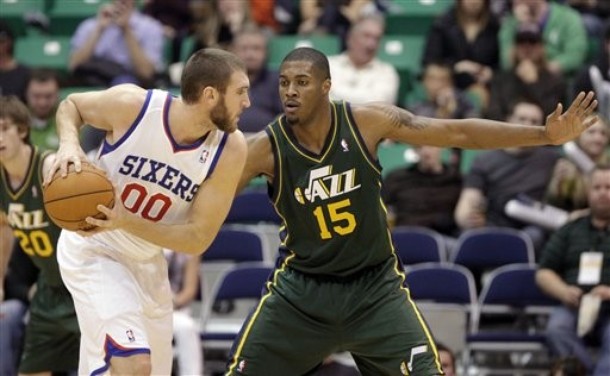 The Sixers blew a 13-point second quarter advantage to the Jazz who came into their home opener without center Al Jefferson and seemed to still be reeling from back to back double digit loses to open the season.  The Sixers were fresh off of a 20-point victory over the Phoenix Suns on Wednesday night. And despite running roughshod over an aged Suns squad the Sixers looked like a squad that had finally jelled together.
The Jazz got an outstanding game from Derrick Favors who filled in at center for Jefferson. Favors who was a favorite of Collins in the weeks leading up to the draft scored a career-high 20 points and 11 rebounds in 39 minutes of action. Jazz point man Devin Harris scored 19 points despite shooting 5 for 11 with four turnovers.
The Jazz are probably in search for more of a traditional point guard since Harris has more of a scorers mentality. Forwards Greg Hayward and Paul Milsap scored 15 and 14 points respectively. Milsap also pulled down 14 boards.
The visiting Sixers shot 48 percent from the floor, but struggled from beyond the arc going 4 for 13. Jrue Holiday continued to round into form with 22 points on 9 for15 shooting,
Andre Iguodala chipped in 16 points and 6 rebounds and knocked down two more three-pointers. Iggy is now 11 for 13 this season from beyond the arc.
Center Spencer Hawes recorded his third consecutive double-double with 15 points and 13 boards and added three blocked shots.
Lou Williams scored 11 of his 20 points in the final period as well as going 10 for 12 from the line for the game. Elton Brand finished with with 12 points and 7 boards.
The Sixers face the up-tempo Golden State Warriors tonight, who will be with out Monta Ellis who is home in Mississippi for his grandmother's funeral. This is another game that the Sixers should be able to pull out a victory.
This team must learn quickly that they are not going to sneak up on anyone and will be getting the maximum from thier opposition. They're not the only team looking to gain the slightest of advantages is this shortened season.