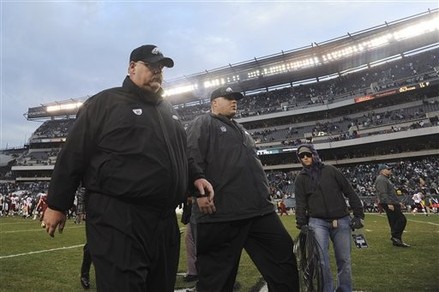 "I'll think about it when I want to think about it".  That was Andy Reid's response to the question of when he would start thinking about his future as the Philadelphia Eagles' head coach.  While it may have been a fair question to ask, Reid's response was very understandable.
The media is seeking immediate responses after a season that started with high expectations ended without a playoff appearance.  With nothing to look forward to but off season transactions, the last thing people wanted to discuss was a meaningless victory over the Washington Redskins.
Nationally, the endorsement for Reid to retain his coaching position has always been in place.  Locally, fans and media alike have resorted to the likelihood that he will return for 2012 whether they want him back or not.
One thing that has rarely been discussed is whether or not Andy Reid even wants to coach in Philadelphia for a 14th season.  Because of his track record, decision making power and relationship with the players it is assumed that he will be on the sidelines in 2012.
Listening to Reid's post game conference yesterday, he sounded like a man who has the final say on his own position this off season.  No "Fire Andy" chants, banners outside the NovaCare complex or media/radio personalities will have any influence on that decision and his demeanor yesterday was a reminder of that.
What will play a part in Big Red's decision are the conversations he will have with Owner/CEO Jeff Lurie and Vice President Joe Banner.  Reid may not like what he hears during these discussions.
During his tenure in Philly, Reid's success has resulted in a comfort zone and a level of power very few coaches get to attain.  How does he react if those things are threatened??  Does he want to coach in 2012 knowing it likely will be a 'win or else' season?  Is he willing to fire a defensive coordinator for the second consecutive year?
The ball is in Reid's court because he knows if he decides to leave the Eagles he'll need to hire a secretary to set up his immediate interview requests. It will be reminiscent of Larry Brown's decision to leave the Sixers after the 2003 season.
Lurie, Banner and GM Howie Roseman would be left with a core of disgruntled players who are devoted to Reid.  Just like Big Red must sell the lack of OTAs and ending the season on a high note, Lurie must sell the fact that the Eagles need him in 2012 even if it means keeping Juan Castillo as defensive coordinator.
I'm no Reid fan.  I've wanted him gone since that loss to Baltimore in 2008 and was disappointed when he signed an extension in 2009.  But, I understand that critical decisions require good timing and now is not the time to let Andy Reid walk.
The Eagles coaching staff and player personnel are constructed to his liking.  If Reid were to leave now, it would cause more problems than solutions from a business and morale standpoint.  It is up to Jeff Lurie to keep him interested in staying.