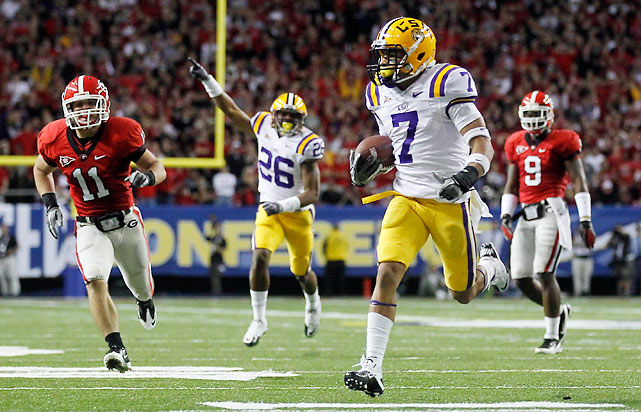 I went back and watched the tape of their first contest 3 times slowing it down and think I have zeroed in on key matchups that will dictate the outcome. To a guy who longs for the old school days of the Steel Curtain where defense was actually played, this is surely a match up for the ages.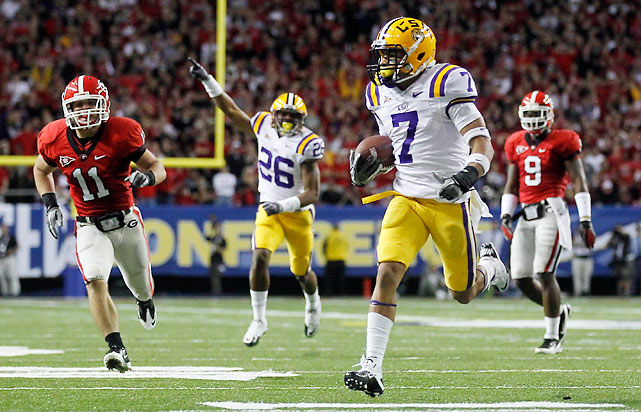 While the bowl games this year have featured high scoring air shows, it never fails that this years champion will be known for it stellar play on the opposite side of the ball. There is no doubt that the two best teams fro this year are playing for the right to be called BCS Champion. The best of the best. Lets see how I see this game playing out..
It seemed like it took LSU's defense well over a half to figure out the new blocking schemes installed to stop the heat from coming off the edge. Bama's offensive line did a remarkable job of keeping LSU ends Sam Montgomery, Kendrick Adams and Barkevious in tact. While it's the ends that get all of the national attention, I noticed exceptional play from Michael Brockers, Bennie Logan, Anthony Johnson and Josh Downs that kept the Tide's Trent Richardson in check and subsequently LSU in the ball game. LSU's game plan was simple. Contain Richardson, keep the score close going into the 4th quarter where it's running game special teams could make a play.
LSU cannot afford to fall behind 14 points like it has it's past two games against Arkansas and Georgia. Alabama is a different type of animal. To come back from that type of deficit would be a monumental task that I have my doubts could happen. So the  LSU quarterback Jordan Jefferson  must be mindful to be on point from the opening kickoff. It could mean a win or loss. The first five minutes are crucial to this contest.
If you are Alabama you are going to have to throw the ball on 1st and 2nd down much more to win. Bama obviously has confidence in AJ McCarron but I question the times they turn him loose during the game. They let him air it out 28 times last game but the majority was on obvious passing downs. They will have to keep the LSU defense on their toes with mixing in a lot of play action and deep passes aimed at wide out Marquis Maze. Which brings me to Key Matchup number 1.
Marquis Maze vs. Morris Claiborne
As I said above, its no secret for Alabama to beat LSU they will have to do it through the air. Watching the tape from game one, LSU will probably do what they did in the first contest and continue to load up the box with 7 or 8 defenders. This will make it difficult for Richardson to reach the 2nd level. It Is key that LSU have success with this because there aren't to many defensive backs that can bring Richardson  down one on one. Because of this LSU will play a lot of man coverage.
Alabama wide out Marquis Maze has a ton of talent. I looked at his numbers and you might not think at first glance but I think that is due to the quarterbacks rather limited ability to throw down field. Trust me, this guy is good. But Maze's assignment will not be easy because across the line of scrimmage will be the best cornerback in the country and a sure top 5 pick in this years NFL draft Morris Claiborne. Watch for this battle to heat up as the game moves on.
To get him the ball A. J. McCarron must have time to find him downfield which brings me to key match up number 2
D.J. Fluker and Barrett Jones vs  Sam Montgomery, Kendrick Adams and Barkevious Mingo
Two of the very best tackles in college football. They will have their hands full with the defensive front 10, yes I said 10 because they are so deep it's an insult to call three of these guys backups. In the second half of the first game LSU used stunts to free the D Ends and apply pressure to McCarron ultimately forcing him to throw a bad pick to help LSU seal a victory. It will seem like they have an extra player on the field at times so Fluker and Jones must give McCarron 5 chances to make big plays. If Mcccaron converts on three of them, you may just have an Alabama Win this time around.
When Alabama is forced to punt they must stop Tyrann Mathieu. Which is the final key matchup. Tyrann Mathieu vs Alabama special teams.
This guy is a game changer, and can break one at any time. If he gets loose, it's game over.
In my notes I have LSU played way too much zone in the first half of the last game. They need to play more man, stack the box and stop Richardson forcing McCarron to have to beat them up top.
Trent Richardson must get 27 touches and his back up Eddie Lacy 12 + touches. Bama needs to show McCarron they have unconditional trust in him and let him fire the ball early and often. That in turn will in reverse actually set up the run and force LSU to go back to zone if he is effective. Bama also needs huge games from Donta' Hightower and Courtney Upshaw. The D coordinator must move the Linebackers around in multiple blitz packages to confuse the LSU blocking schemes.
Bama runs a lot of that power ISO where the fullback and pulling guard lead Richardson through to the next level where he I shard to bring down.
LSU runs the power toss with not one, not two, but four different tailbacks. They say here we come, try and stop us.
Ok can analyze all  I want, but if I want to be the best at my craft, I need to be right and explain where I got my conclusion from:
PREDICTION :
Alabama will come out throwing. Yes throwing. They will let it all hang out. On defense they have the #1 ranked unit against the run , against the pass, and over all.
But I'll tell you what. LSU's defense is better. And they have played a much tougher schedule. So while Bama was fattening up on Georgia Southern LSU was playing Oregon and at West Virginia. In fact, nobody has ever had a tougher road to the championship. And the Tigers have dominated the entire way.
If LSU has a weakness its at the Quarterback position. But Jackson has had time to prepare. And his ability to run and scramble to pick up 1st downs with his legs makes the LSU the more unpredictable one of the two. This will force Alabama to cover the field laterally.
Final Score  LSU 23 Alabama 17
Everyone walks away knowing who the best team in the country is……