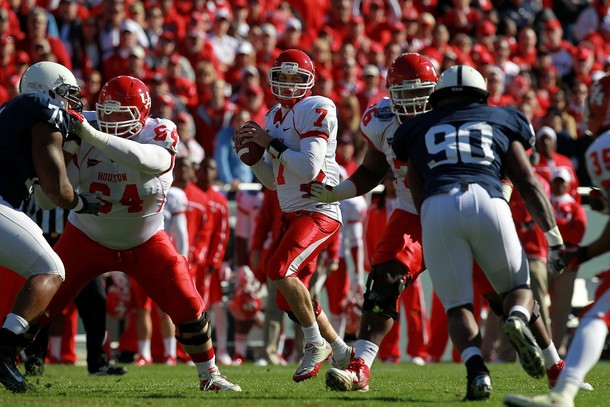 Former Head Coach of Penn State, Joe Paterno could not of been happy with what he was watching of his former team on Monday afternoon in Dallas.  Penn State was playing Houston in the Ticket City Bowl. The Nittany Lions had been by-passed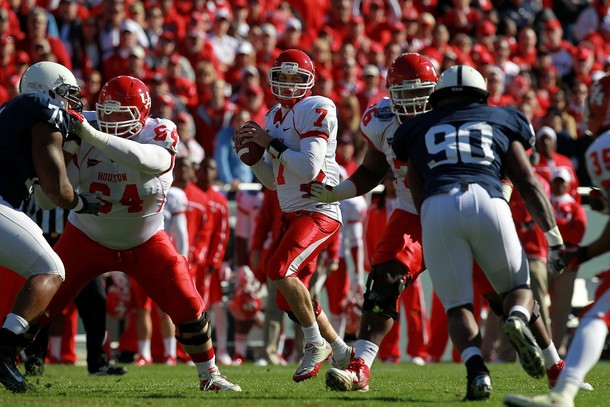 by other prominent bowls and some players wanted to by pass this bowl but the team decided to play it.  Well they probably should of just declined and had stayed home.
Houston totally dominated Penn State in beaten the NIttany Lions 30-14.  Penn State teams in the past under former head coach Paterno had the reputation of always being prepared and ready to play in a bowl game.
If you gave Joe Paterno a month to prepare for you he more times than not had his team ready and they had the answers.
Tom Bradley the interim head coach and a possible successor was completely outcoached and his team looked totally unprepared to answer Houston's star quarterback Case Keenum.  The team just looked totally outclassed and were dominated early by Keenum and the rest of the offense of Houston.
The majority of the fans in the stands in Dallas were from Houston.  The total attendance for the TicketCity Bowl was 46,817 at the Cotton Bowl.  The crowd got to see Keenum surgically operate against the Penn State defense.
The star quarterback ended the day 45 of 69 with 532 yards passing and 3 touchdown passes.  A trying season had finally come to an end with this lose by Penn State and the future of the program still remains in question.
The University still has to decide on a new head coach to take over for a legend like Paterno.  Bradley is one of many who are being considered for the position.  The University has said there is a handful of possible successors and they hope to name someone soon especially with recruits having to commit to schools in a month.
The 24th ranked Nittany Lions were totally picked apart by Keenum who threw for over half of his passing yards in the first half.  The Houston signal caller beat the Penn State veteran secondary with touchdown passes of 45 and 70 yards and built a 24-7 halftime lead.
This bowl game marked the first time that Penn State played a bowl game without Joe Paterno since the 1962 Gator Bowl against Florida.
Keenum hit Patrick Edwards for a 40 yard touchdown pass making it 7-0 Houston, 1:52 into the first quarter.  Keenum than hit Justin Johnson for a 8 yard touchdown pass with 2:35 left, making it Houston 17-0.  Keenum threw for 227 yards passing in the first quarter which set a bowl game record for most passing yards in a quarter.
He hit Edwards again on a 75-yard touchdown pass putting Houston up 24-7 at halftime.
Penn State quarterback Rob Bolden connected with Justin Brown for a 69-yard touchdown pass to cut the Houston lead to 27-14 at 2:38 of the third quarter.  The Penn State defense did play better in the second half but it was too little too late.
The defense held the Houston offense to two field goals in the second half.  The early quick start by Houston was too much for Penn State to overcome.  Bolden finished the day 7 for 26 and 137 yards.  Running Back Stephfon Green had 15 carries for 63 yards.
This tragedy and controversy of a season has finally come to an end. The future of this program is to be decided soon.  Who will guide the football program at Penn State into the future. Whoever it is has huge shoes to fill in replacing a legend like Joe Paterno but someone is needed to restore order in State College.