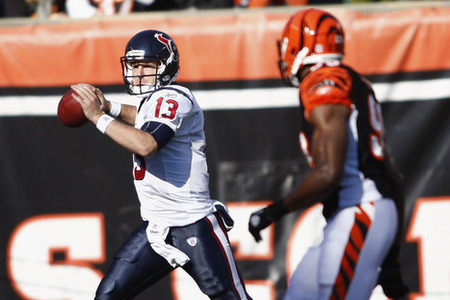 The 2012 NFL Playoffs kick off Saturday when The Cincinnati Bengals visit Texas, and the Houston Texans. Cincinnati finished ( 9-7 ) and needed help to get in while Houston ( 10-6 )  took advantage of a banged up division and earned the number three seed despite having a walking mash unit of their own with key injuries up and down their roster.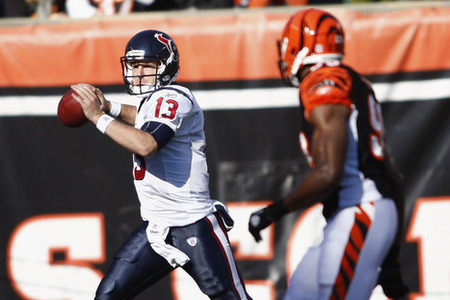 The two teams squared off less then a month ago with Houston walking into Paul Brown Stadium and walking out with a dramatic 20-19 victory. Both teams started rookie quarterbacks that day as will be the case this week. This will mark the first time in NFL History that two rookie quarterbacks have faced each other in the playoffs.
I just got finished watching their first meeting over again and I broke it down to a few key factors that I believe will determine the outcome this weekend.
1)       Which Quarterback will get that all important playoff victory under his belt ?
Quickly I think of Mark Sanchez when this question came into my mind. Sanchez began his career with road playoff victories against two of the NFL all time greats. He went into New England and Indianapolis and came away with victories over Tom Brady and Peyton Manning. Nobody can take those victories away from him; but since then Sanchez has not been able to get them to the big game and I say has digressed to the point where I think the Jets should consider a move.
Andy Dalton has had a very impressive rookie campaign. He has quickly turned around a franchise that has struggled for the better part of two decades. Dalton threw for 3,398 yards and 20 Touchdowns. He has overachieved even by the highest expectations set forth for him at the beginning of the year. It appears the Bengals have found their man to lead the team for the next decade.
T.J. Yates has had a much different journey to calling the signals for the Texans Saturday. Yates was forced into duty only after starter Matt Schaub and back up Matt Leinhart were shelved with injuries. Yates himself suffered a shoulder injury last week but is expected to under center when the game kicks off Saturday at 4:30 Eastern Time.
Advantage  Dalton
2)       Andre Johnson vs A J Green
Johnson, one of the best receivers in the game has been hampered with multiple hamstring injuries all season. He says he is healthy and ready to go. Watching the game back I think this is a VERY IMPORTANT factor. If healthy this will force the Bengals to play them straight up giving Houston's NFL 2nd best running attack a distinct advantage. If Johnson can stretch the field his presence alone will create opportunities for his teammates.
Green has been equally as impressive as his friend and quarterback Dalton this year. His 65 catches, 1057 yards and 7 td's instilled fear in defenses that they will be facing this duo for many years to come. But when I watched the game back, green at times appeared frustrated with the tight coverage Texan cornerback Jonathan Joseph gave him. Houston's pass defense is ranked 3rd in the league and Green may have an equally difficult time this week. Look for Tight End  Jermaine Gersham to play an important role in the game plan and passing attack.
Advantage  Johnson
Closing thoughts:
Cincinnati will stack the box and try and force Yates to beat them through the air. Even so, I think Houston can be effective enough to move the chains and create opportunities to put up points. I didn't realize until I slowed the game down how athletic Houston's defense is. I see the Texans shutting down the Cincinnati run game and applying enough pressure to force Dalton into a few mistakes. And I see the Texans booking a flight for Baltimore to take on the Ravens in round 2.
Final Score       Houston 23   Cincinnati  16