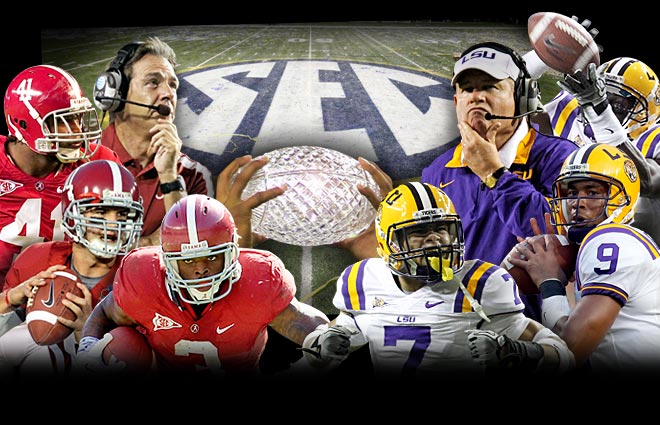 Here we are !  Less then 24 hours away from kickoff of what we have all been waiting for. Nine months from Spring ball to Summer Camp to non conference openers to conference play has all led to this one game for it all. For me, I picked LSU way back in August so there is some personal pride at stake in that I like being respected for being correct.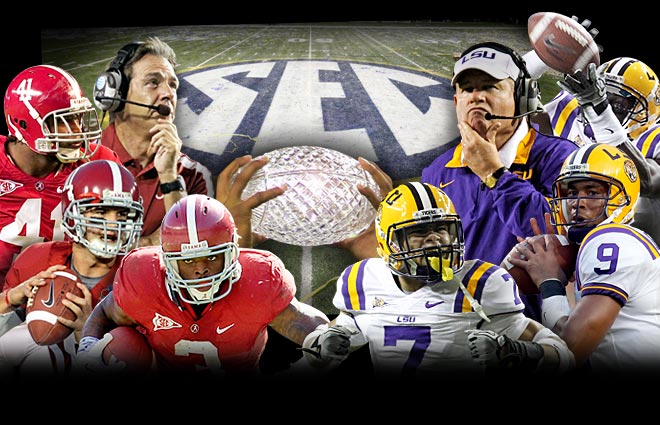 I don't know anyone who works harder to be as accurate as humanly possible. For this particular game, I went back and watched the 1st meeting 4 times. Then, even though I saw all of their regular season games I went back to a few and watched them over. I wanted a sample of beginning middle and end.
So for LSU, I picked Oregon, West Virginia and Georgia. For Alabama: Penn State , Arkansas, Auburn. And after hours and hours of processing information I came out with the write up last week that I believed LSU was still the better team and would win tomorrow evening.
But I just cant ignore the possibility that there is some omnipotent sports God somewhere in Vegas who knows more then all of us. And he gives us loud signs of who is going to win each contest. This week there were two games where if you looked at the x's and o's there was a clear separation on at least the winner of the contest yet alone covering the Vegas spread. But some unexplained Vegas line movements screamed that the other side was the correct side if you were looking for the winner And all of that film study and studying match ups were all for  nothing in these particular situations.
The first Game was the Orange Bowl : Clemson opened as a 3.5-4 point favorite in the game. When I first saw the Vegas line I couldn't help but think Vegas was giving us an early Christmas present. On one hand you had the ACC Champion who came storming in off a blow out win over nationally ranked Virginia Tech ( for the second time this year).
It appeared even to people who are around the game everyday that Clemson indeed had righted the ship and were poised to become a top 5 team heading into 2012. On the other hand you had West Virginia who won the Big East through a tie breaker and had to win its last three games just to get in. It also had a 26 point blow out los to Syracuse and a loss to Louisville on its schedule.
All of that aside here is where the story gets interesting:
81% of the public was going to the window in Vegas and betting Clemson  to win the game and 91% were betting the money line. SO basically 9 out of every 10 people who placed a bet on the Orange Bowl bet Clemson to win. Yet the Vegas line went from 4 to 3. An inverse line movement. Now some may say the sharps ( Professional betters ) were coming in and betting sizeable wagers on West Virginia but at those numbers it doesn't matter what they were betting the line should have gone the other way. It turned out you saw an absolute blow out like everyone expected. It just wasn't the correct team winning.
Game two ended a few hours ago. Denver was playing what most thought was a difficult task to say the least. Denver's quarterback Tim Tebow had struggled mightily the last 3 games having trouble even getting first downs against mediocre teams. It was thought by many Tebow may be pulled from the game today at some point and it was probably his last game as a starter. The Vegas line has gone from 7.5 to 9as of yesterday. Under double digits it seemed like a strong  wager thinking if Pittsburgh just scored double digits there was a chance they could cover the game easily.
At that high number the spread wasn't as one sided. 64% were betting Pittsburgh but it was the money line at 69%  where people thought there money was pretty safe. I mean all the heavily favored Steelers had to do is win the game. And if you asked anyone to pick one of the two teams with their dinner riding on it I am sure you would have got more like the same 9 out of 10 picking Pittsburgh. On paper this was a complete mismatch. Pittsburgh high ranked defense against the struggling Broncos. Two hours before kick off the Vegas line dropped from 9 to 7.
In the gambling world that is a monumental drop. It usually only happens when a star player doesn't play. In fact the talk on twitter was the Steelers Quarterback Ben Rothlisberger out ? He had hurt his ankle a few weeks back so it wasn't a crazy thought. What else could have made this line drop ?  Tebow has the game of his life. Throws for 30 yards and Denver wins the game and moves on.
Which brings me to tomorrows BCS Title game. LSU, who already beat Alabama in its home stadium opened up as a 1 point favorite. Since the line has come out. 62% of the public has have bet LSU on the money line. Over the last 10 days or so despite money pouring in on LSU, the favorite has now become a two point underdog. A again monumental line swing. Is someone hurt ? Was someone out the first game that Is back  did they change the venue back to Alabama from this basically being a home game for LSU ?
What does Vegas know ?   And have they always known ?  Let me say this. I do not think tomorrow nights game is fixed. But we would be naive to think that a game has never been tampered with. All we need to do is go back to the Arizona State point shaving scandal in the NCAA or Cardinal Ohara's own Tim Donaghy being involved in providing information on NBA games. Where there is human behavior there is deceit. Hey it's the world we live in. But it will be interesting to see if perhaps cracking the books on the x and o method I have uncovered Vegas's little secret.
Let's hope Not……….. Go LSU