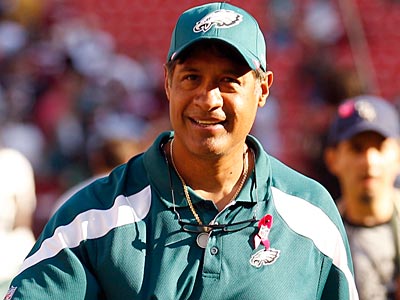 As Eagles owner Jeffrey Lurie said in his postseason press conference, only taking into consideration the last 4 weeks of the 2011 season is "fool's gold".  While the team did make significant strides, especially on the defensive side of the ball, we cannot forget the entire body of work that we witnessed over 16 games, much of which was hard to stomach.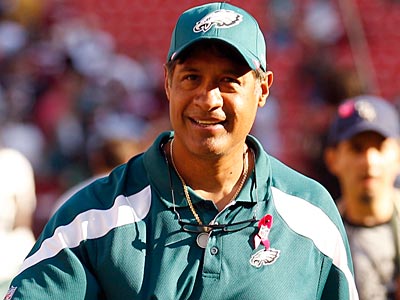 During the mid-point of the season, I was vehement that Juan Castillo had to go.  Players were not being put in positions where their talents could be maximized and the defense was getting decimated.  It seemed as if few adjustments were made to combat the opposing offenses strategies.
Then, everything started to turn around.  Granted, it was against relatively inferior competition, but this was an Eagles team that lost to Arizona, Seattle and Buffalo earlier in the year.  Therefore, any turnaround, no matter who the competition may be, was a good sign.  Many believe that the last four weeks of the season were enough to allow Defensive Coordinator Juan Castillo to be able to hang onto his job by the skin of his…teeth.
The strides that the team made throughout the season have been impressive, but as Lurie indicated, we must be careful not to be mesmerized by fool's gold.  The entire season must be evaluated and each game given the same weight, including epic collapses like we saw in the San Francisco game early in the year.
I hate to say it because from what I've seen, Castillo is an incredibly nice guy; but I think this Philadelphia team would be well served to bring in Steve Spagnuolo to take over the defensive coordinator position.  "Spags" learned the ropes under legendary defensive coordinator Jim Johnson and has been known to employ the same type of high-energy defense for which Johnson was so highly touted.
The only issue I can see with bringing in Spagnuolo is the fact that he might try to get rid of a wide-9 defensive scheme that worked relatively well for the Eagles this year.  They brought in players who they thought would succeed in that system, and if that system is replaced after one year, there is going to be a great deal of turnover on the defensive side of the ball which will hinder the chemistry the group is able to establish.  Also, if Castillo is replaced, does Reid get rid of Howard Mudd and move Castillo back to his old job?  This is a very fluid situation that will require a number of pieces to fall into place.  It will definitely be interesting to see what Andy Reid decides.
As far as the cornerback position goes, I have a feeling that Asante Samuel is going to be the odd man out in the Eagles cornerback trio.  The team is obviously not getting rid of their coveted free-agent Nnamdi Asomugha and the coaching staff has a great deal of hope for 25 year old Dominique Rodgers-Cromartie.  DRC looked pitiful when he was forced to play the Nickel position this year, with Asante Samuel and Nnamdi Asomugha on the outside.
However, when he moved outside to replace Samuel for whatever reason (injury, etc), we saw the skills from DRC that the Eagles were hoping he would showcase at some point.  I've been a huge Samuel fan since he came to Philadelphia, but the lack of tackling, or should I saw the complete unwillingness to even attempt a tackle has taken its toll.  Samuel still is near the top of the league as far as ball skills are concerned, but a cornerback needs more than that.  I believe the Eagles will put their faith in the younger, stronger DRC and try to get what they can for Asante.