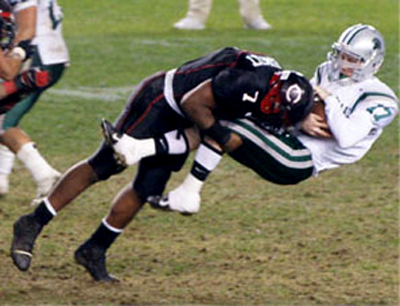 As each day comes and goes, it seems less and less likely that defensive coordinator Juan Castillo will return in the same capacity next season. Team owner Jeff Lurie did not give the first-year coordinator a convincing vote of confidence when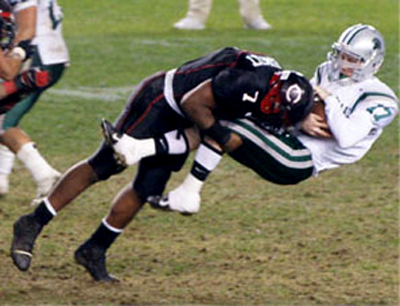 talking with the press last week; he just said it was Andy Reid's decision whether or not he would return.
Reid still has not made himself available to the media yet; the longest-tenured head coach in the NFL has been on vacation with family. There have been plenty of opportunities for the Eagles organization to say that Castillo would return next year. But they haven't. It certainly seems like the team wants to head in a different direction, at least partially.
With former Rams head coach Steve Spagnuolo looking for a job, Philadelphia may be the perfect fit. Spags is rumored to be coming to the City of Brotherly Love to meet with the team at the end of this week. Spagnuolo is familiar with the area. He was on the Eagles' staff from 1999-2006 and then became the defensive coordinator for the Super Bowl-winning Giants. While Castillo's lack of experience seemingly hurt the Birds in 2011, Spagnuolo's wealth of time on the sidelines could be a real asset.
I, for one, certainly believe Castillo should remain on the coaching staff even if it is not as coordinator.
When the Eagles fired defensive backs coach Johnnie Lynn, they gave themselves the flexibility to move coaches around and maybe find another spot for Castillo. The man is one of the hardest working coaches on the team, he cares for his players, and he has been here since Ray Rhodes manned the sidelines. Spagnuolo will certainly help bring out the best in this defense, but letting Castillo go completely would be a mistake. He improved during the year and was certainly not put in a good position to succeed by Reid. But Andy always fails to do that now doesn't he?
This defense is not far from reaching its potential of greatness. If Spagnuolo can come in and bring the squad together, watch out. A few personnel moves here and there and the Birds could easily find themselves in contention. The Eagles should trade Asante Samuel for draft picks if they can unload his salary, letting Nnamdi Asomugha and DRC play their more comfortable man-to-man coverage.
They should also attempt to sign a veteran free agent linebacker, like London Fletcher, who had a Pro Bowl year for the Redskins despite his old age. Then pair him with a stud linebacker coming from the draft. They should look at Arizona State's Vontaze Burfict. He is a hard-hitting and instinctive playmaker with a mean streak. Something this defense clearly lacked last year.
If the Eagles are smart and keep Castillo while adding Spagnuolo and a few other pieces, this team is primed to make a run at the Lombardi Trophy next year. But we said that before last year, too. Like always, you just never know with the Philadelphia Eagles.