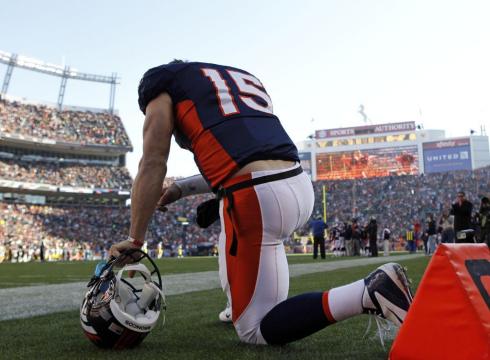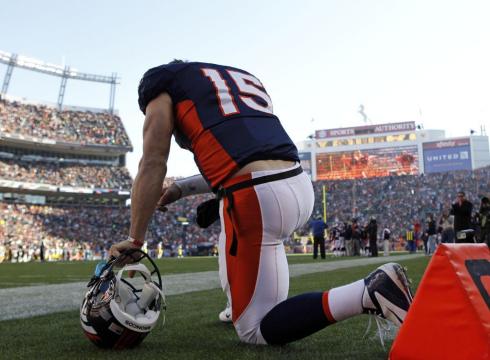 I know many of you have wondered what and why all the hype about Tim Tebow.  You're wondering what Tebowmania is really about. Why do so many people love him and why do so many other people hate him?
It's about football, yes, but it's more about the religious, political and cultural battle that's going on in our country.
Tebow is an evangelical Christian.  He believes that the Bible is literally true, so immediately that means he's on one side of the religious, political and cultural battle.
He believes that God helps people like it says in the Bible, so Tebow prays for help in everything he gets involved with.
He was in an anti-abortion Super Bowl commercial with his Mom and that means most of the people who disagree with him on that issue, hate his guts.  The people who do agree with him on that issue love him.
I don't know how he feels about other issues, but it's taken for granted by people on both sides of the cultural, religious and political divide that they know how he feels about issues like gay marriage, but he's never said anything about it as far as I know.
Right now, Tebow isn't a fundamentally sound NFL quarterback, but he's only finishing up his second season.  He's got to get quicker in his delivery.  His footwork needs to improve and he needs to get more acquainted with how to read and attack NFL pass coverages.
Despite his deficiencies, Tebow's positive outlook and competitive spirit make him a great leader and that has contributed greatly to the success the Broncos had.  I wouldn't be surprised at anything he accomplishes because he's got a great mindset and work ethic.
CBS is trying to bring him on the coverage of the rest of the playoffs and John Elway has said he will be the team's starting quarterback when they get to training camp in the summer.
CBS is making that move because he draws lovers and haters because of the religious, political and cultural battle going on in the country.
Elway didn't give him much of an endorsement by saying he'll be the starter when they come to training camp.  Notice he didn't say he'll be the starter for the first game of next season.
That's just about all there is to this controversy.