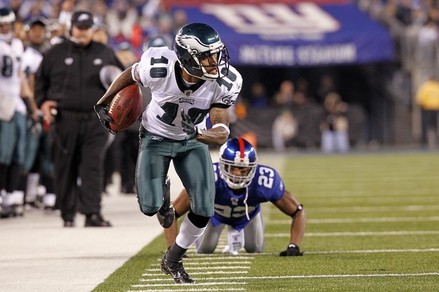 With Andy Reid returning for his 14th season as the Eagles' head coach, the front office has a pretty good idea of how the offseason plans will proceed.  Currently, Reid is figuring out how to re-structure his defensive staff.  This process has already begun with the no so surprising release of defensive backs coach Johnny Lynn.
While Reid is behind closed doors trying to figure out if his defense will be coordinated by Steve Spagnuolo, Juan Castillo or someone else, I'm going to take a look at the team's pending free agents.
There are twelve players scheduled to test the market.  Fortunately for the Eagles, only one of them could raise an argument that he must be re-signed.  Listed with each player is a 1-10 scale (1: very unlikely; 10: very likely) of whether or not they will return.
Victor Abiamiri-DE:  Abiamiri hasn't played since the 2009 season.  A 2010 microfrature surgery had him placed on the reserve/PUP list.  An attempted return in 2011 ended with a torn ACL during training camp.  I think it's safe to say Abiamiri's NFL days are over. (Chance of returning: -1)
Ronnie Brown-RB: Even with a pedestrian 3.2 yards/carry average, Brown will be forever known for his boneheaded goal line fumble against San Francisco.  His NFL career will continue elsewhere. (Chance of returning: 1)
Steve Smith-WR: During Week 3's loss to the NY Giants, Smith had a pass bounce off his hands and turn into an NY interception.  At the time, I wondered if he was still playing for the Giants.  His total of 11 receptions, 124 yards and 1 touchdown was not worth the $2.3 million paid for him.  Don't be surprised to see Smith back with the Giants in 2012.  (Chance of returning: 1)
DeSean Jackson-WR: I blame both sides for DeSean's contractual distraction.  The 2 time Pro Bowler could've handled it better, but the Eagles' front office knew this was a potential problem for a while now.  The most I see the Eagles doing is applying the franchise tag on him.  It's difficult to envision them giving him a long term deal at this time. (Chance of returning: 7, only under franchise tag)
Antonio Dixon-DT: The Eagles missed Dixon's run stuffing ability after he tore his triceps in Week 4 against the 49ers.  He is the only restricted free agent and likely will receive a minimal tender.  (Chance of returning: 8)
Derrick Landri-DT: Landri probably should've made the final cut over Trevor Laws after the last preseason game.  Four weeks later after Dixon went down, he was re-signed.  Landri's return hinges on whether or not Jim Washburn returns as the defensive line coach. (Chance of returning: 9, only if Jim Washburn stays)
Trevor Laws-DT: The past two years, Laws has shown a few flashes of why he was a 2nd round pick in 2008.  Those flashes will be displayed on a different team in 2012.  (Chance of returning: 2)
Vince Young-QB: Forget the "Dream Team" statement.  The worst part about Young's signing was 9 interceptions and 2 fumbles in 6 games.  He threw away any chance at starting somewhere next season. (Chance of returning: 1)
King Dunlap-OT: Backup quarterbacks are very difficult to find, but reserve offensive tackles (especially left tackles) are nearly impossible to locate.  Most fans probably don't care if Dunlap returns or not.  His key to returning to Philly is his versatility.  (Chance of returning: 4)
Jaqua Parker-DE: Until this season, the Eagles have tried to keep Parker in a reserve role.  The less snaps he played, the more consistent he was.  Turning 34 with the success of Jason Babin and the hopeful rehab of Brandon Graham, Parker's services won't be needed in Philadelphia any longer.  (Chance of returning: 3
Owen Schmitt-FB: Schmitt was an excellent in-season pickup after Leonard Weaver was lost to a gruesome injury.  Unfortunately, his offensive skill set is limited and he cannot be counted on in short yardage situations.  The Eagles will seek other options.  (Chance of returning: 1)
Evan Mathis-OG: It has been argued that Mathis should have received a Pro Bowl nod for 2011, not allowing one sack.  In addition to that, he did not allow one in his previous two seasons as a member of the Bengals.  At the age of 30, he deserves at least a 3 year deal to help keep the offensive line intact. (Chance of retruning: 9.5)