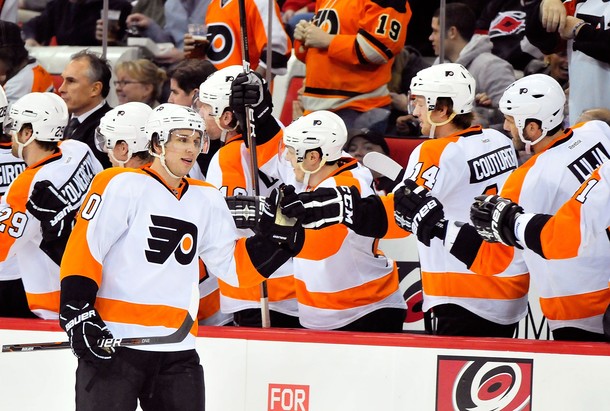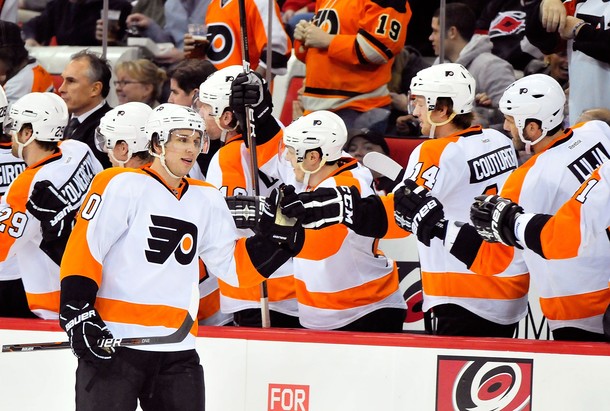 If you take a step back from the game-to-game highlights, it's impressive that the Flyers accumulated 56 points thus far considering they had only played at home nine times since November 9.
With a 5-1 win over the Minnesota Wild tonight, the Flyers have gotten off to a very good start on a stretch that sees them play eleven of the next fifteen games at home.
"When you look at it sometimes in the summer, it doesn't have the bite when you're living it real," said coach Peter Laviolette. "The twenty on the road out of twenty-nine and what we just went through was a lot for our group.  We talked about it.  It was good to get through that and still be in decent shape for where we sit right now. We did talk about this. We met yesterday and did not necessarily circle one game but just talk about, alright, we made it through that and here we go. It sets up now where the home games outweigh the road games and we get a chance to come back and take care of some business at home."
Claude Giroux opened the game by drawing a penalty on Wild forward Matt Cullen at the 1:14 mark of the first. Despite the first minute and a half looking terrible, Kimmo Timonen scored on the ensuing powerplay with an assist from Giroux and Jagr. The assist would mark G's 200th point in the NHL.
Give credit to the Flyers for staying very disciplined throughout the game. They found themselves in the penalty box just once while drawing no less than 12:00 from the Wild, 8:00 of which came from Cal Clutterbuck in his attempts to draw the Flyers to the penalty box with him.
On the lone powerplay for the Wild (where Andrej Meszaros was called for boarding), Sean Couturier and Matt Read combined for a backbreaking shorthanded goal that increased Couturier's goal streak to five games.
Couturier remained modest about the feat in the locker room. "With goals, I don't… I don't even know if I had that in juniors.  Usually I think more about passing but I guess lately the bounces are going my way so I'm just trying to put pucks on net," said Couturier.
Laviolette elaborated on his success further, stating, "He's not above the play, he's from underneath the play. He is in position; he's smart that way. His goals have been impressive. The one tonight didn't have the zip on it the other three or four had, but just to get that give-and-go on the shortie, it was a good heads up play by both players."
Former Flyer Darroll Powe cut the deficit to one goal roughly a minute later with an impressive wrister that beat Ilya Bryzgalov glove side. It had appeared on the replay to have been redirected by Meszaros' stick, but Bryzgalov did not use that as an excuse, clarifying, "No no no, I just missed the puck. I wanted to catch the puck perfectly with my pocket without rebound and I just put the glove a little bit lower."
Despite losing the shutout bid, it was pleasing that it was Powe who scored for the Wild.  Wild head coach Mike Yeo started the game with Powe similarly to how Laviolette used Jaromir Jagr and Max Talbot in their first game back at the CONSOL Energy Center in Pittsburgh. It would also be the lone goal the Wild scored.
Braydon Coburn and Scott Hartnell padded the lead in the second period with even strength and powerplay goals, respectively.  Jake Voracek tallied the final marker with support from Danny Briere and Talbot to close the deal.
I stated on Sunday that this was a good game in which to start a stretch of games for Bryzgalov. The Wild were so bad that even their reporters in the press box were badmouthing them all game. I was told (paraphrasing), "Ten. Ten wins is the over/under for how many more wins they have this season," a depressing (if not realistic) comment for a team that was leading the Western Conference just a month ago.
Bryzgalov was asked by a reporter after the game if this win helped his confidence. He replied, "I don't want to talk about that." For what it's worth, I have no idea what he would have said to that otherwise. It was a question that, had he answered it frankly, would have given fodder for people to spin it further in whatever direction they wanted. It shows progress that he's learned to stay away from those kinds of questions.
He was very kind to the fans who came, though. "It's nice to see your own fans who give you full support. They kinda miss us and we miss them too. It's very nice. I'm glad we win the game and fans enjoy the night, man."
The New York Islanders will be in town on Thursday.  They shut out the Washington Capitals 3-0 tonight, as goaltender Evgeni Nabokov stopped all 17 (?!?) shots. They will be rolling in with a lot of gusto, but if the Flyers play a complete game with support from their special teams like they did tonight, they should be able to grab another two points.
For the latest Flyers news and updates, you can follow me on twitter (@JoshJanet).