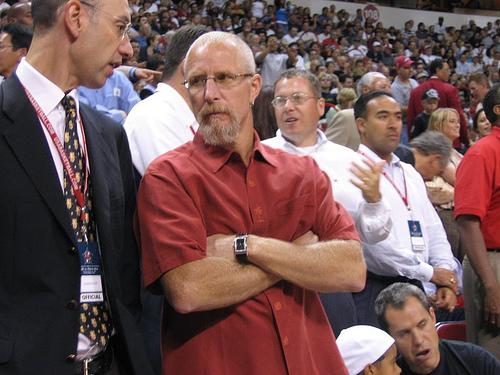 He has zip lined through the jungles of Costa Rica, survived a motorcycle accident, wrote multiple NY Times best sellers, and has scuba dived to pirate ships, sounds like the description for the man in all those Dos XX commercials, but the activities describe the life of former 76ers president Pat Croce.
Croce has kept busy since he stepped aside as 76ers team president in July of 2001. He recently started his own physical therapy consulting company named Meditka. He holds a majority interest in three Key West bars, the Rum Barrel, Island Dog's Bar, and the Green Parrot. He opened up the St. Augustine Pirate & Treasure Museum which initially was located in Key West, but since has relocated to St. Augustine FL. Croce has been fascinated by pirates since he was 8 years old, but it wasn't until after he left the 76ers that he acted on his passion.
"I started pursuing the pirate brand after I left the 76ers in 2001 because I am all about taking action on your passion, whether it's sports medicine or basketball or pirates. I believe everyone should take action on their passion; if they get to the end goal or not, the journey its self is rewarding," Croce said. Remember everyone that who achieves their dreams leaves clues. Read their bios, read magazine articles, find out how they achieved their dreams and then take steps in pursuing yours. You've got to identify your dream, make a plan and take action on that plan."
In October of 2011 Croce's pursuit for his passion of pirates led to his discovery of the wreckage of the lost ships of the English Vice Admiral and pirate Sir Francis Drake.   "It was pretty far up there on the excitement Richter scale," Croce replied when asked about his excitement level on discovering the fleet. "It might not have been as good as when we made the playoffs or beating Orlando after the first round in '99 or the birth of my kids, but it was pretty far up there."
It is hard to believe but it has been 12 years since the Croce led Sixers made the playoffs for the first time, and over 10 years since Croce stepped aside as team president. Croce claims he hasn't wondered what life would have been like for the past 10 years if he had remained the 76ers team president.
Even as the team fell into NBA purgatory, Croce claims he never wondered if he could have righted a ship which had gone so wrong. "I was definitely more focused on achieving my own dreams and goals," Croce responded when asked if he ever thought about if he could fix the Sixers. Croce remains concentrated on his goals, but he still follows Philadelphia Sports.
Croce was excited as most Sixers fans were when Comcast sold the team to Josh Harris. "It makes me feel good. As a Philly sports fan, I love to see the resurrection of a sports franchise that we once brought to the top. I'm happy that there's new ownership that's passionate about the product has taken over," Croce said.
The martial arts expert, now 57, appears to be quite content with his current lifestyle; he enjoyed the challenges of being an NBA team president, but prefers his current business ventures. "The other businesses I have in Florida are predicated on profit and loss while an NBA franchise is measured in wins and losses. But they're both about customer service, a high quality experience and exceeding expectations," Croce said. "I prefer the lifestyle I'm leading now, otherwise I would be doing something else. I do what I prefer to do. The more challenging one is definitely the NBA because you can never control the final outcome of the game. My businesses are start-ups, but with the 76ers, I took a bad team and had to re-brand it. One is creating the brand and the other is re-branding."
It is clear Croce has had a busy decade since he left the Sixers, in the past 10 years pirates seemed to be the theme of his passions. As the second decade begins in his post Sixers life it appears Pat's passions are heading back towards the world of physical therapy, however, Pat did leave the door open to a return to the sports world when asked about the next 10 years of his life.
"I'd like to find Captain Morgan's ship the Oxford; I still would like to have a championship parade under my belt; I'd like to show my grandkids the world according to Pat Croce; and I'd like to help reignite the physical therapy world," Croce replied. " I got my start doing PT for the Flyers and the 76ers and then I built 40 centers from the ground up, so it's hard watching a lot of PT clinics struggle now because of the economy. I'm getting back into it on the business side with my new company Medkita to help them figure out how to streamline operations and cut costs, still offer great service, and make a profit."
Croce describes himself as a guy with a small rear view mirror, who rarely looks back at what he has accomplished, he instead looks ahead at what he has yet to accomplish. In the article Croce stated he prefers the life he lives now, but also mentioned he still wants a championship parade under his belt. Croce fans are left to wonder if they will ever see the Walt Whitman Bridge climbing, scoreboard repelling Croce involved with another Philadelphia sports franchise again, to that question Croce simply answered, "I never say never."