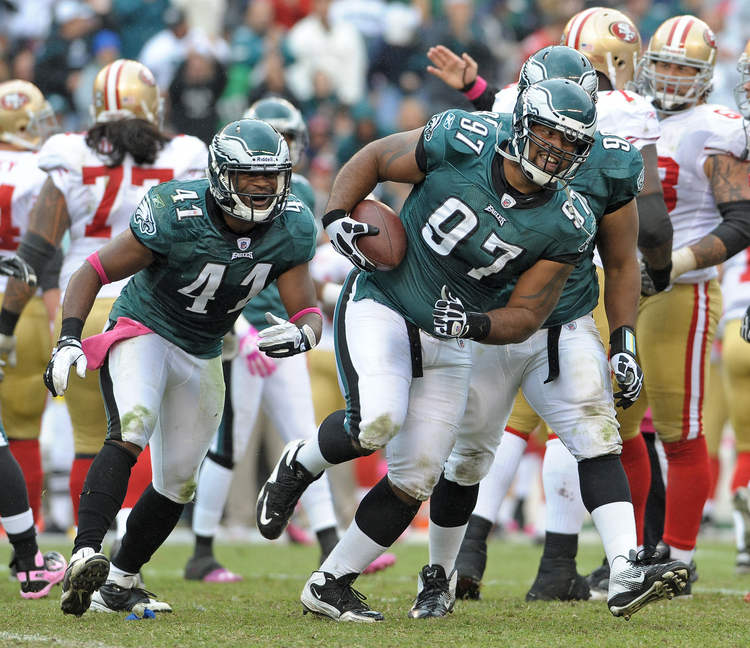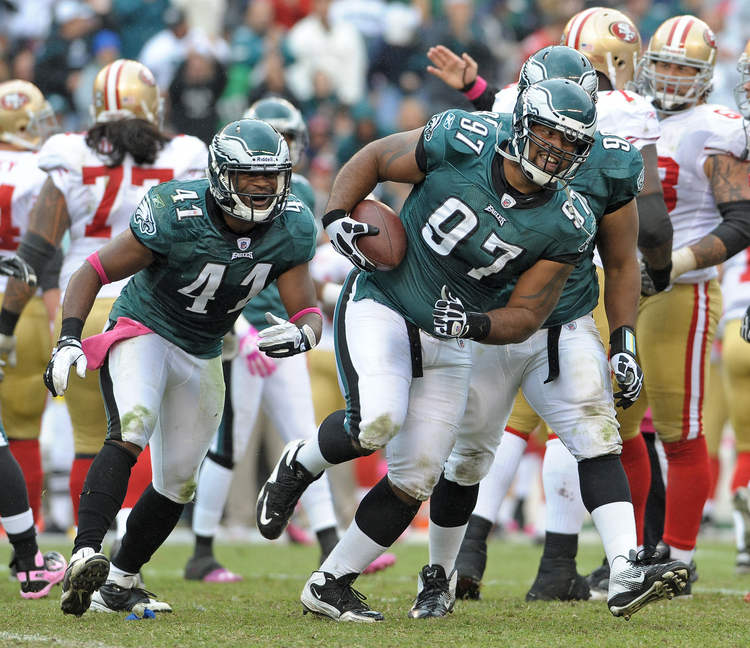 The Green Bay Packers are at home now for the rest of the playoffs and their defense, especially their lack of a pass rush is a big part of the reason.  Many of the Packer players as well as the Packer coaches are saying that a big reason for the fall off defensively was the absence of defensive lineman Cullen Jenkins.
Jenkins had a good year for the Birds as he registered 5.5 sacks from the defensive tackle position but even more importantly he was able to generate pressure against double-teams.  His pass rush pressure from the inside restricted quarterbacks from being able to step up into the pocket and it had a lot to do with the success of the Birds defensive ends.  It was one of the reasons the Eagles were tied for the league-lead in sacks with 50.
"Jason Babin, I'm hoping he got Cullen a good Christmas gift because he's probably been his biggest asset there," quarterback Aaron Rodgers said.
"I don't want to get into who we missed, but let me just tell you something: Cullen's a rare bird," defensive line coach Mike Trgovac said. "He is a rare bird. There's not very many guys like him. But, in this defense, still, you can create some things that'll give you opportunities (to generate pressure on the quarterback). And we obviously didn't take advantage of them as much. We didn't have that type of guy."
"You lose a Nick Collins, you lose a Cullen Jenkins, you just may have to cut back on some things you do", Packers cornerback Tramone Williams said. "Obviously, the caliber of players we're talking about, it makes a difference in any defense. I think the defense took a hit with it, but like I said earlier, when it happens, you just expect the next guy to step up and do the job."
"If you look at some of the things Jenks did last year, we has able to play around the defense", defensive end Mike Neal said. "I think some of the things he did, he was able to create rushes when he didn't have opportunities to rush (in the scheme)," Neal said. "I think that's just experience. He's played here, he understands football. We have a young defensive line, we really don't have guys as athletic as Jenks and really understand this defense like Jenkins did. I think that showed."