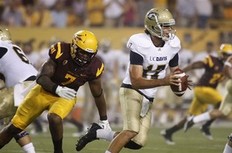 It is official Draft Season in the NFL!!!  The deadline for underclassmen has passed.  The first All Star/Scouting even, the East-West Shrine Game, will be played Saturday afternoon in St. Petersburg, FL.
How will the Philadelphia Eagles approach the NFL Draft this year?  There have been several questionable picks in recent years that have caused fans to lose trust in the front offices player evaluation.
The various draft day head scratchers are too numerous to list, so I'm going to keep looking towards the future.  The Eagles currently have ten draft picks (1st round-1; 2nd round-2; 3rd round-1; 4th round-2; 5th round-1; 6th round-3)
I have put together a mini-mock draft based the Eagles current picks.  Of course, this is by default.  The 2012 NFL season still has to start, allowing player/draft pick trades and free agent signings.  The NFL Combine will be certain to cause changes to various teams draft boards.  At the end of March, compensatory picks will be announced which will shuffle the draft order.
As of now, here we go:
1st Round:  Marc Barron-SS (Alabama)– Although the Eagles have used a 2nd round pick on a safety the past two years it's quite obvious there is still a glaring hole at this position.  Barron is by far the best safety in the 2012 draft.  He has great size (6'2", 220lbs), adequate speed and a championship pedigree.
2nd Round: Vontaze Burfict-LB (Arizona St)– A lot of scouting reports have Burfict as a 1st round pick, but there are always one or two guys who slip a round or two.  Because of his 2011 stats and reputation for penalties, the talented former Sun Devil is likely to still be available on Day 2.  With this selection, the much needed upgrade at linebacker (particularly MLB) will be addressed.
2nd Round (from Arizona): Brandon Thompson-DT (Clemson)– With Trevor Laws likely leaving via free agency and Mike Patterson's salary making him a potential cap casualty, the Eagles are going to address defensive tackle in the draft.  Thompson's size (6'2", 310lbs), pass rushing ability and strength fit the Eagles' type of DT.
3rd Round: Lucas Nix-G/T (Pittsburgh)-Nix is a versatile O-lineman whose strength is pass protection.  Even if the Eagles re-sign Evan Mathis, he could be groomed to be the left guard of the future.
4th round (from Tampa Bay): Omar Bolden-CB (Arizona St)– The Eagles need to address cornerback not because Asante Samuel is likely to be traded, but Joselio Hanson has one year left on his contract and probably won't be re-signed.  Bolden's physical style could make him the Eagles' next nickel back.  He's also a capable return specialist.
4th round:  Jarius Wright-WR (Arkansas)– Wright has the speed to keep opponent's secondary units concerned.  Even if DeSean Jackson were to stay, the former Razorback could still replace Chad Hall.
5th round: Danny Trevathan-LB (Kentucky)–  One of the main problems with the Eagles defense was tackling.  Fifth in the nation in tackles, Trevathan is a wrap up tackler with the quickness to make an impact sideline to sideline.
6th round: Evan Rodriguez-FB/TE (Temple)– Owen Schmitt was an excellent in season replacement to Leonard Weaver, but he was a very limited weapon.  The Eagles need a fullback who can line up in the backfield and as an H-back.  Rodriguez would give the Birds that extra weapon.
6th round (from Denver): Brandon Bolden (Mississippi)- LeSean McCoy and Dion Lewis may become a decent tandem, but the Eagles need to replace Ronnie Brown with a 220-230lb back who has pass blocking skills and is a threat to catch the ball out of the backfield.  Bolden seems to fit that mold.
6th round (from New England): Donte Paige-Moss-DE (North Carolina)- An Eagles draft wouldn't be right without a late round pick on an injured player who otherwise would have been a Day 1 pick.  Paige-Moss could definitely be that guy touted as an excellent "fastball" once healthy.