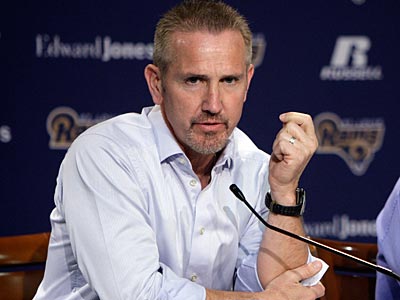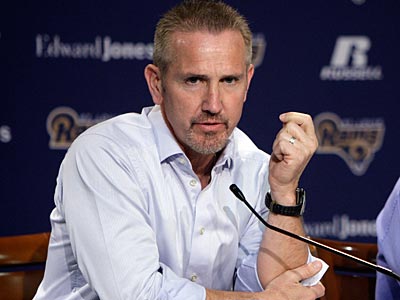 Many of us thought he was coming back to Philadelphia. Many of us thought it was all about to fall into place. A perfect scenario took shape for Andy Reid and the Eagles when the Rams fired Steve Spagnuolo as their head coach at the end of the season. It was too good to be true.
The Eagles, fresh off a season where they missed the playoffs and underachieved in a major way on defense under first year defensive coordinator Juan Castillo finally caught a break and they didn't even have to get on the field. The man who learned under the legendary Jim Johnson and led the Giants defense to an improbable Superbowl title in '07 against the Patriots became available.
It was a scenario that was too good to be true for Eagle fans. Spagnuolo knows how to maximize talent on defense when he has it available to him. Just ask the team playing Sunday that resides just up the Jersey turnpike. It was a perfect storm happening right in front of our very eyes. Spagnuolo would come home to the Linc and take these underachievers and show everyone just how great this defense can be when they have a leader in place that knows a little something about defense.
They would bounce back from a horrendous 2011 campaign and be a major reason why the Eagles would go on a deep playoff run possibly all the way to the Superbowl against some powerhouse AFC team like the Patriots. Dare I say Spagnuolo would even pull off the miraculous and repeat his magic of 07 by capturing another Superbowl title as a defensive coordinator?
But let's face it in Philadelphia we live in football hell and the football gods wouldn't let us dare have such a scenario come true for us. Spagnuolo instead of making a triumphant return home instead chose to sign on as defensive coordinator with the New Orleans Saints and why shouldn't he.
The Saints are a team with a win now mentality. They just won a Superbowl two seasons ago and appear to be poised to win another sometime in the next few seasons. They have Drew Brees who is without a doubt a top three quarterback in the NFL. They have a solid defense already in place and a head coach that has solidified himself as one of the best offensive minds in the game today which would allow Spags to have total control on defense. In today's NFL world that's a scenario few would be able to pass up.
So what's the significance of this move to the Eagles? For starters it means clearly the Eagles are not a destination of choice for top tiered coordinators around the NFL. Somewhere along the way the Eagles have become an unattractive place for the best minds in the coaching business to end up at. When you see a head coach coaching the same team for 14 seasons it should signal stability and success to others around the league. It should signal longevity and the possibility of a stable lifestyle for yourself and your family.
The only problem is currently the Eagles don't signify any of that to coaches. In fact I'll go as far as saying the way the Eagles and their coaching staff performed in 2011 it's the last place any coach wants to end up at right now. In my opinion to coaches around the league the Eagles resemble that pretty girl you see at the club when you're out on the town. Everything looks good from across the room when the lights are off but as soon as you get closer and the lights come on at the end of the night you can't believe what you're seeing. You're shocked and disgusted by what you see in front of your eyes.
The Eagles right now show no stability. For the first time ever Andy Reid is clearly on the hot seat. The team itself is a unit made up of high priced egos that have trouble coming together as a team when the pressure is on. Why would any of the top coaches around the league want to walk into such a scenario when other, more stable options exist with greater chances to win now.
In this scenario Andy Reid is to blame for Spagnuolo not coming back to the Eagles. Whether or not he even reached out to Spags about the defensive coordinator position is a different story but the fact is he hasn't spoken to the media or addressed the 2011 season at all since it ended. Instead he bolted for vacation and is nowhere to be found.
I'm not sure about everyone else but before I step away for a long vacation I usually update my clients, customers, and superiors about the status of where I'm at on things and what our action items are for when I return. The fact that Reid has bolted town and hasn't said a thing to anyone leaves me scratching my head because it clearly cost us any chance of making a major upgrade on defense.
It seems as if every January Andy Reid has the ability to do something really stupid. Last year he chose to hire an offensive line coach as the defensive coordinator and this year he managed to find a way to disappear after a dreadful 2011 campaign. Its one thing to come off a disappointing season but it's another to show no initiative for improvement.
The Eagles have had a month head start on the other elite teams around the league because they're still playing ball but instead time is passing with no effort to improve. Reid should have been knocking on Spagnuolo's door begging him to come back to town like his job depends on it. Wait his job does depend on it if Jeff Lurie's words hold true and Reid comes up small again in 2012.
This all leads me again back to scratching my head because Reid clearly must know his job is on the line going into 2012 right? You'd think knowing that if job security is an issue he'd be rounding up the best possible coaching staff for 2012. Lurie himself even said the last month of the season was fools gold. I know the defense improved the last month of the season but let's be serious if you're job is on the line you need to bring in the best to make sure you keep your job at the end of the day.
The question now becomes is Reid out there planning an exit strategy for the end of the 2012 season? No one knows for sure because he hasn't spoken to anyone yet. The time has come for Andy to speak and explain why he let such a golden opportunity pass by.
As far as Steve Spagnuolo goes he'll be successful in New Orleans. The Eagles have the Saints on their schedule at some point next season in New Orleans and most likely we'll be seeing Spags defense dominate our offense all day. The problem is that defense could have been on the other side of the field working with our offense instead of dominating us if only Andy didn't let another opportunity pass by.