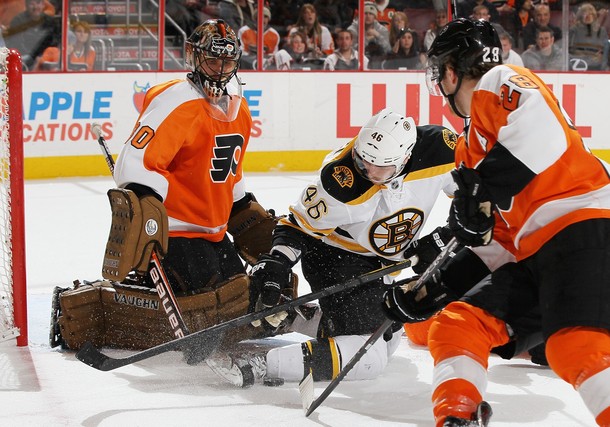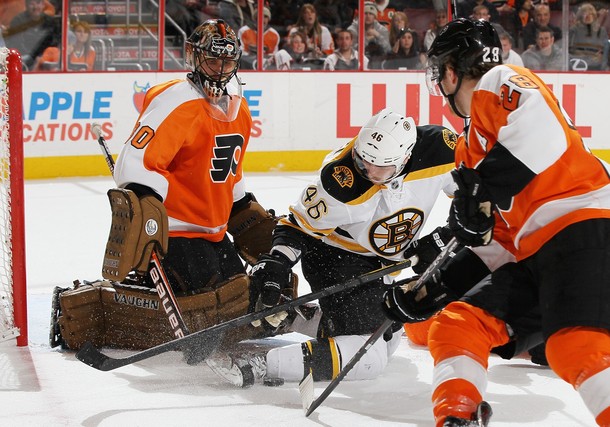 The Flyers entered this afternoon's game against the Boston Bruins with a total of eight rookies in the line-up as a result of injuries yesterday to Jaromir Jagr and Danny Briere. The team could have easily used the injuries as an excuse for not playing up to the level of talent that the Bruins boast, but in spite of losing 6-5 in the shootout, they played an excellent game that showed why they are still one of the better teams in the Eastern Conference.
Not a single member of the team used the officiating as an excuse, but let's make this clear- it was flat out embarrassing.
Two of three first period goals for the Bruins were the direct result of referee interference. A phantom tripping call on Jake Voracek (which, despite what the Boston media says, was not a slew foot) at the 8:05 mark after he finished a check led to a Tyler Seguin powerplay goal. A blatant non-call on Nathan Horton for interfering with Braydon Coburn at the blue line allowed Milan Lucic to gain speed in the offensive zone and beat goaltender Ilya Bryzgalov up high.
Five penalties were called against the Flyers and three against the Bruins in the first period alone, as well as nineteen (!) minor penalties in total. Even Bryzgalov was given a roughing penalty for taking a couple swipes at Lucic when he clocked Bryz in the head after the whistle was already blown. I don't believe Lucic deserved a penalty there, but it's not as if he doesn't have a history of running goalies.
Claude Giroux said after the game, "We don't back down. We're a team that's not gonna quit." That tenacity was evident in the second period, when Scott Hartnell scored a natural hat trick to grab the lead back from the Bruins. Giroux assisted on all three goals while Brayden Schenn, filling in for Jagr, had one of his best games on that line as well.
"Five goals in two days is a good weekend for anybody, so I'll take it," said Hartnell. "Confidence is a weird thing. I've got a lot of confidence. I feel strong on the puck, I feel strong on the ice, my skating is good, and [when] Giroux makes those nice little passes to me, it's nice to go get a good shot off."
Coach Peter Laviolette remarked, "I think at first, everybody was using him to be a space maker. I don't think that's the case anymore. He's a key contributor and a key factor as to why that line is successful."
Laviolette's insight also helped to explain why Schenn was such a big factor in today's game. Since Hartnell can be relied on as more of a pure goal scorer, Schenn can be utilized as a space maker and more of a physical presence. Schenn was responsible for a booming open-ice hit on defenseman Steve Kampfer in the first period that knocked Kampfer into next Sunday.
Between both periods, Schenn, Tom Sestito and Jody Shelley each dropped the gloves with Bruins. Sestito may be getting a call from Brendan Shanahan after a late hit in the second period on Nathan Horton that took him out of the game, but other than that malarkey, Sestito looked decent.
The Bruins bounced back in the third period, grabbing two quick goals with a redirection from David Krejci and a wrap-around goal from Gregory Campbell that deflected off Erik Gustafsson. Schenn drew an interference penalty at the 9:11 mark from Shawn Thornton, though, and Max Talbot scored on the ensuing powerplay with a redirection of a Matt Carle shot.
Tim Thomas and Bryzgalov closed the door through the remainder of regulation and overtime, but Thomas won the goaltending duel with a strong shootout performance. Bryzgalov, who arguably played adequately today, looked lost against Krejci and Seguin during their attempts.
"It's tough. You can't put all the blame on Bryz all the time, or Bob for that matter," said Hartnell. "A couple of them were deflected. It's real tough to stop deflections no matter how slow or fast they're coming. You can't stop what you can't see…  I'm sure maybe he would like to have a couple of them back just like every other goalie. I'm sure Thomas would like back my second goal, floated in there by him."
The Flyers have just one more game before the All Star Break. They travel down to the Sunshine State on Tuesday to take on the "third place" Florida Panthers.  There has been no indication that any players will be back from their respective injuries, so unless Sestito gets a suspension, the line-up should look the same.
That means more ice time for the rookies.
Laviolette said it best: "With eight of them in the line-up, we'd actually literally kill the other guys if we didn't play them."
For the latest Flyers news and updates, you can follow me on twitter (@JoshJanet).