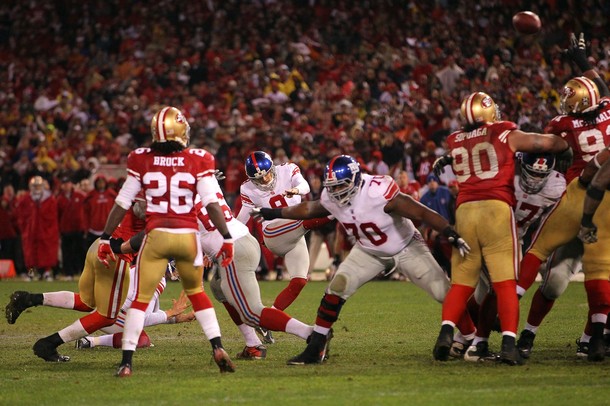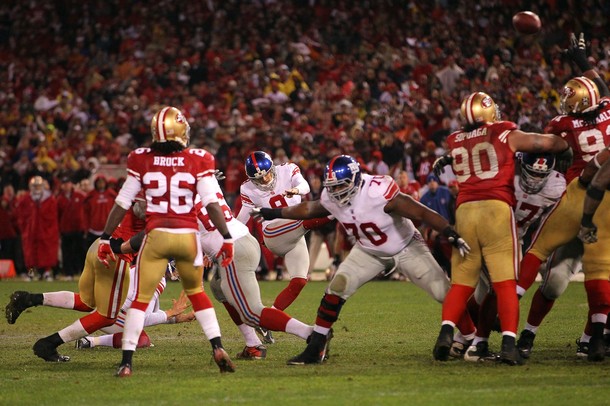 The more things change, the more they stay the same. What we saw tonight was what many thought would be a changing of the guard. Two brothers who ESPN and the NFL Network did multiple stories on. And well deserved. Both Jim and John Harbaugh are very good up and coming coaches. But both were taken to the woodshed by their elders and to me a message that there is a clear separation on a good coach and a great coach.
Tom Couglin is one of the most underrated coaches of the last 20 years. Most forget the work he did with an expansion team in Jacksonville before this by getting the Jaguars to the playoffs. Say what you want to about him being a disciplinarian or tough on his players. The guy is a winner. Bill Belichick if he did nothing outstanding today his game plan was to be around late and make Baltimore beat him. Both of the Harbaugh brothers made critical mistakes that I think directly cost them a trip to Indianapolis,
John had a 2nd and 1 inside 1:30 from the New England 15 yard line with one time out left. He was in total control of his team's destiny. Then for some reason ignored the fact he needed 3 feet for a new set of downs and 3 more shots at the win. What he did was throw 2 consecutive times that forced him to go for the tie. I was always taught to go for the win on the road. He had New England on the ropes and if he would have got the new set of downs I loved his chances. Instead he left the team's fate in a kicker's hands and the kick was missed and New England was off to Indy.
Jim flat out failed to make routine adjustments that would have put his team in a much better position to win. First Navarro Bowman was confused in the coverages called all day and was just beat up by the Giant receivers. That continued until the very end constantly extending Giant drives on 3rd down. Then, with one of the most accomplished collegiate punt returners of recent times, Michael Crabtree, kept on the bench after a bad muff that cost the 49ers the game in regulation.
We will never know but in my opinion Crabtree doesn't fumble that punt and it would have given Alex Smith a chance to get them downfield. That's assuming he let Smith throw the ball downfield because in the final minutes he literally put handcuffs on his quarterback, afraid to have him make a mistake that would cost his team the game.
Both Coaches played not to lose rather then to win. A critical mistake.
New England has opened as a 3 to 3.5 point favorite in the Superbowl and even though I think New York is the more complete team, right now Brady has revenge on his mind.
Peyton Manning best of all time ? How about unsure of the best in his family?
I think people are making a huge mistake comparing themselves to these two teams. They aren't even in the same league. The first thing that separates them is coaching. It's literally amazing that Tom Coughlin is always on the hot seat and Andy Reid gets a pass. Reid can't hold a candle to him in a few important areas. He just cannot make adjustments on the fly. He refuses to admit or address his obvious weaknesses and just has a terrible record at choosing personnel.
The next area is the quarterback. Both Manning and Brady are true pocket passers. Vick does not make as good as decisions on the fly and is not even close in accuracy. He hasn't demonstrated he can take a team on his back and win one in the clutch. The Giants defense has size, the Eagles defense has speed. The Eagles wide receivers have speed, the Giant wideouts have size. We all see what advances in January.
Again as I said the more things change the more they stay the same. As every team is making announcements everyday making changes to improve. The Eagles sit stubborn and quiet. With Marty Mornhinweg possibly headed to the Colts, Spagnola to New Orleans, seems like they have a different idea of where the gold standard is. They need to go through the motions the next 12 months as I expect they will. They will have trouble winning 8 games ( you heard it here first) Then blow this team up and get Bigger and Stronger.
And I hate to say it Vick lovers but find someone even dumber than them to take him off their hands. They will NEVER win with him or this coach. So I think it's time everyone in Philly joins me in the real world. This will get real bad next year. I will be shocked to see Reid make it to Thanksgiving. Again you heard it here first.