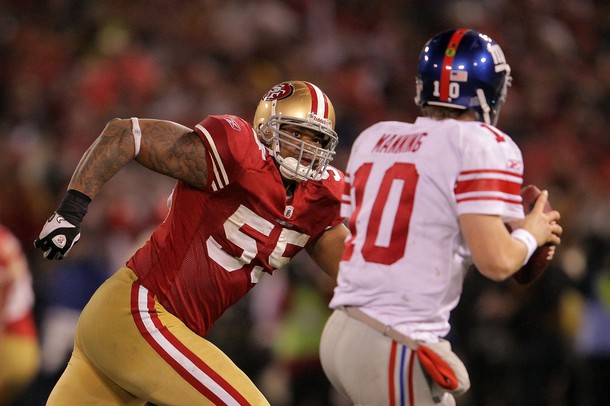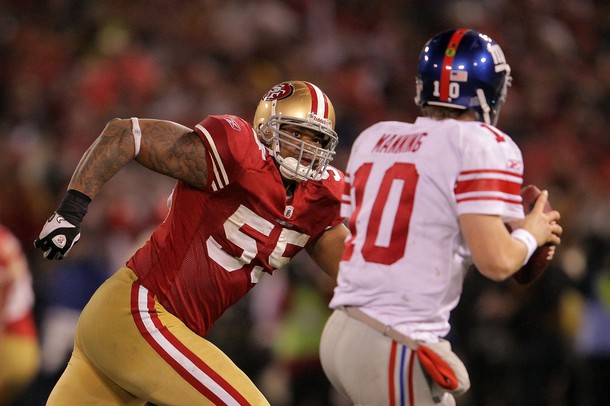 I've got to give Eli Manning a lot of credit because he's got great mental toughness in staying away from turnovers.  He got pounded by an excellent Niners defense.  He threw the ball down the field despite being under constant pressure.
His decision-making is on another level when compared to Michael Vick. He's one of the best five quarterbacks in the NFL and one of the best playoff quarterbacks of all-time.  He's better than his older brother Peyton Manning when it counts.
He knew if he didn't turn-it-over, somebody on the Niners was going to do it before long.  49ers punt returner Kyle Williams just flat out blew the game.  He cost them ten points in the fourth quarter and overtime.  Some people can play under pressure while others can't.
The New York Giants defensive line is another level when compared to the Eagles.  They may be better than the defensive line which led them to the other defeat of Tom Brady and the Pats.  They can dominate versus the run or the pass.
Again, I must also give Patrick Willis and the San Francisco defense a lot of credit.  They've got some great football players, Justin Smith and rookie Alden Smith.
Niners quarterback Alex Smith just couldn't get it done.  He made a couple of nice throws for touchdowns to an amazing athlete in tight end Vernon Davis, but you can't win a NFC Championship game by doing nothing but dumping the ball underneath to your running backs.  You've got to throw the ball down the field.
I must give Davis credit, he's a beast.
New England's Tom Brady wasn't himself yesterday in what was a poor performance against the Baltimore Ravens.  His accuracy was atrocious.  Brady can't be looking forward to his return the Super Bowl against the Giants and another awesome defensive line.  I guarantee the Giants are going to get in his face and make him move off of his spot.
That Patriots defense can't stop a good offense.  Right now the Giants have a very good balanced offense.  Rob Gronkowski should be able to go in a couple of weeks despite his injured ankle, but if he's not very close to 100%, the battle if over before it even begins.
The New York Giants are much more physical than the Patriots.  They'll be able to run the ball against New England and Manning will pick their secondary apart.  If Joe Flacco can pick them apart, you know Manning can get it done.
Flacco showed a lot of heart yesterday.  He played well enough to win it.