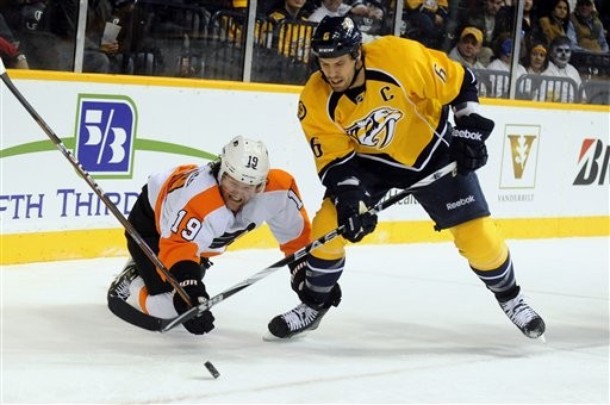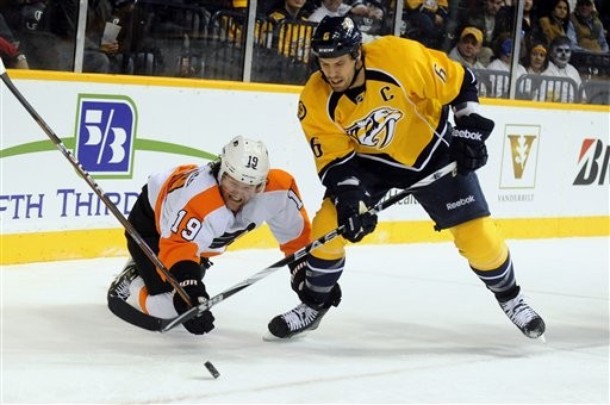 As the NHL trade deadline approaches, there has been much talk that the Flyers are holding out to see what happens in Nashville.
Defenseman Shea Weber, currently on a one-year $7.5 million contract, is set to be a restricted free agent in the summer. Defenseman Ryan Suter is set to be an unrestricted free agent. Having already dedicated $7 million per year on goaltender Pekka Rinne, there is a legitimate question of whether the Predators can afford to sign both All Stars in the offseason.
While it would be amazing to see either player in a Flyers uniform, the truth is that it doesn't make good management sense to trade for either one of them at this time.
Weber is as close to untouchable as you get. The Flyers would have to offer Claude Giroux if they even wanted general manager David Poile's attention.
Suter on the other hand? He could be available at the deadline for a price, but unfortunately, it will also require a lot of assets going the other way.
The Predators are sitting in sixth place in the Western Conference. They aren't going to trade a top four defenseman away while competing for a Stanley Cup playoff position unless another one is coming back the other way.
The Flyers have already signed Braydon Coburn to a four-year, $18 million extension. Matt Carle, however, is set to be an unrestricted free agent at the end of the season and is due for a raise in the $4.0 to $4.5 million range. Many fans think Carle's contract isn't worth the paper it's printed on, but he actually compares favorably to Suter (who currently has a cap hit of $3.5 million compared to Carle's $3.4).
In 47 games played this season, Carle has 4 goals, 24 points, a +1 rating and an average time on ice (ATOI) of 22:58. In 45 games played, Suter has 5 goals, 25 points, a +7 rating and an ATOI of 26:31. Carle also has a positive "Corsi" rating, meaning that when he is on the ice, more shots are directed at the opponents' net than his own. Suter has a negative Corsi rating.
The Predators could likely afford to re-sign Carle instead of Suter, but then that raises the question- is Suter, at a future price tag in the $6+ million range (and knowing Paul Holmgren, a ridiculously lengthy contract), really worth the added expense?
In addition to a top four defenseman going the other way, it has been suggested by some outlets that the Flyers would also have to add a top six forward along the likes of Brayden Schenn or James van Riemsdyk to the deal to make it work.
At ages 20 and 22, respectively, both players are still too young to properly evaluate their potential. JVR hasn't broken out yet during the regular season (and is currently sidelined with a concussion), but Schenn has been improving ever since he scored his first NHL goal at the Winter Classic. Sunday's game against the Bruins was another breakout performance for Schenn, who looked a lot like former Captain Mike Richards in his early days.
Throw in whatever prospect or draft pick you think Nashville would want and it becomes clear that, from a management sense, trading away the future on a rental player isn't the right deal.
At the very least, that's my take on the situation as well as my speculation on the value necessary to get a trade done.
Since Suter will be an unrestricted free agent on July 1, there's no reason the Flyers can't throw a boatload of cash in his general direction without losing any assets at that time.
Something else to consider- when NHL teams throw boatloads of cash at free agents, it has a tendency to bite them in the long run. Remember when the New Jersey Devils spent $100 million on Ilya Kovalchuk and, you know, missed the playoffs? They are now in serious financial debt and will likely not be able to re-sign superstar (and Captain) Zach Parise. Paul Holmgren would be wise to let some other team over-spend on Suter (assuming Nashville can't re-sign him) and then pick away at their assets when they inevitably become vulnerable. It sounds malicious, but it's just shrewd business sense.
For the latest Flyers news and updates, you can follow me on twitter (@JoshJanet).
Shameless plug: I was asked to participate in the semi-annual "Five Questions" series by Flyers Faithful that will be running all week. The first installment was published today.