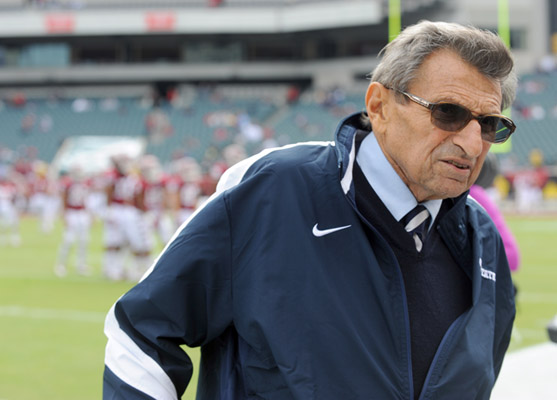 We grew up watching someone from our childhood to our adult life and we just picture that the person is going to live forever.  We all know that is not true and that eventually everyone must pass.  On Sunday morning former Penn State Head Football Coach Joe Paterno passed away from complications from lung cancer. He was 85.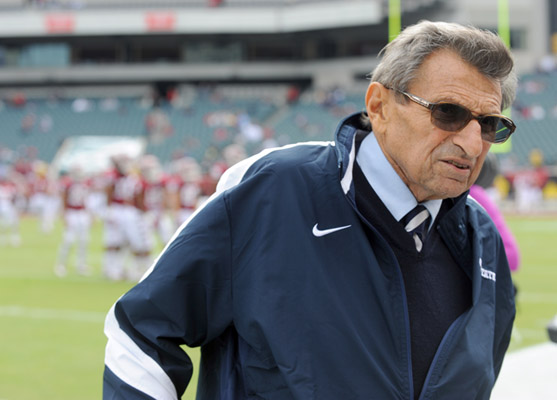 It was just a few months after he was fired as Head Coach because of a sex scandal and criminal charges filled against former assistant and friend Jerry Sandusky.  Paterno was the head coach at Penn State since 1965, that is 46 years and he has been at the school since 1950.  He has a career total of 409 victories which is tops all-time.
He coached 5 undefeated teams and in 2007 was inducted in the College Football Hall of Fame.  He also won two national championships in 1982 and 1986 and he led the Nittany Lions to 37 bowl appearances and 24 wins in those bowl games.
Joe became a beloved figure in all the college community and especially in Pennsylvania.
He was so well known for his game day image, his thick, square glasses.  He placed emphasis on ethics and moral conduct and his philosophy on football, toward athletes, and academics were signatures of Joe Paterno's coaching style.  He changed Penn State forever with his personal touch which totally affected his players, students, and everyday people.
Paterno earlier this past season was fired by the Penn State Board of Trustees because of the sexual abuse charges against his former long time assistant coach Jerry Sandusky.  There were people out there who thought that Joe should have done more.  It was his program and if he was this bigger than life figure than he should have known and done the right thing.  Joe did what he legallly was supposed to do according to Pennsylvania Law.
What is in question is did Joe do the right thing morally.
How will this scandal affect Paterno's legacy?  Really are you kidding me here. Here is a guy who has done more positive things for kids and young adults than any of us could imagine.  Is anyone perfect? Of course not, but people want to bring this man down because of this. Really.
Let me ask all you this, have any of you thought you really knew someone and they tricked you and were living another life.  Paterno was completely fooled by Jerry Sandusky.  He really thought he knew this man.  Say what you want but really this could happen to anyone of us.  Jerry Sandusky will have his day in court which he should according to our laws.  Sandusky will have to look himself in the mirror.
What Joe did was what any human being would of done.  He just could not believe that a person he thought he knew and was a part of his program for so many years could be this monster.  Paterno was in denial.
They are a lot of questions that remain to be answered.  Will we find out the truth? Why did it take the victims so long to come forward as well?  What did the Penn State Board of Trustees know and what did they hide?
All the critics out there will say that Paterno should have done more, especially with the stature he had at the University.
Paterno did a lot for so many people.  I was a broadcaster for one of the top Pennsylvania High School programs C.B. West who was coached by a legend Mike Pettine Sr.
I had talked a few times with coach about Paterno.  Penn State had recruited numerous West players and other players in the Bux-Mont area.  Coach Pettine molded his program from a blueprint of Joe Paterno's .   Scouts and other coaches came to the school during practices and games.  You could see the professionalism and the care they really had for the kids.
They were not your typical recruiters.  They never made promises they always talked about the opportunity of getting a good education.  Yes, you would be a playing for one of the top schools in the country in football but you were going to a university to get a good education.  People under someone are supposed to be a product of their boss.
You could really see why young men from high school went on to Penn State.  Trust me as a little kid I used to watch the Penn State Football Show which was on every week. Growing up in Pennsylvania most kids wanted to play football at Penn State.
This was the image that was put into place by Paterno.  Everyone loved him and to this day his former players love him.  That usually happens after you leave.  When you play for him it is well like hell.
The man is a perfectionist.  The record speaks for itself.  Broadcasting for the top Pennsylvania high school program I got a chance to run into many scouts.  You always knew though when Penn State coaches and scouts were coming.  There was a huge buzz going around.  I just wish that I had the opportunity to meet JoePa.   He did come to the school but I never had the chance to meet him.
Paterno's legacy will live forever.  He will have his critics but at the end of the day he was a positive influence on all young people and his true character will be challenged by the critics. Here is to all those critics and those who live a perfect life.
I walk the ocean everyday and I am looking for someone wearing sandals, a robe, and walking on top of the water. I am still waiting.  We all have skeletons in our closets.  Stop the judging. This man was a good husband, father, and educator.  He did so much for Penn State.  We can not judge this man on this scandal that ended his career.  That is just wrong.
This man was a major positive influence on so many.  Is he perfect. No but he is pretty damn close to it.