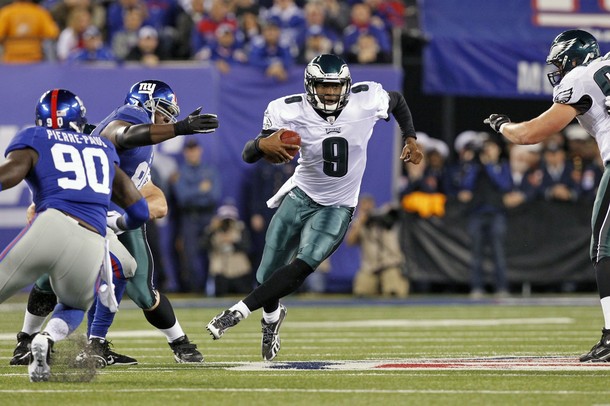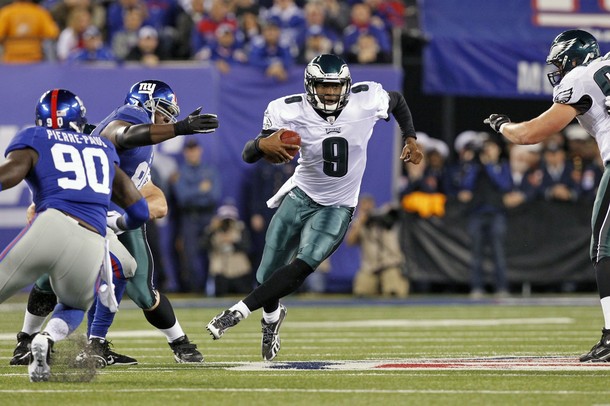 Before I even really get started here I still cannot believe that Bill Cundiff misses that field goal. Dude, are you kidding me? 32 yards! Wow. Another I did not get is how they did not even replay that would have been a touchdown by Lee Evans. Man, he was really close to having both feet on the ground. To me it looked like he did. It was under two minutes it was worth a replay. Joe Flacco out-played Tom Brady big time yesterday.  Just saying…
So I am watching the NFC Championship game between the Niners and the Giants. I am thinking to myself are these two teams that much better than the Eagles? I guess they are because they are playing right now. Though I would be lying to you if I were not totally convinced.
I mean the Eagles beat the Giants with Vince Young at quarterback. Mister I threw 5O picks in like five games Vince Young. Then the Niners in which the Eagles decided it was a good day to blow a 20-point lead.
I mean I am really not that bitter even though I sound bitter as hell. The Eagles have no excuses. They deserved what they got. You can blame Andy. You can blame Castillo for not putting players in the right spots, Nnamdi for not living up to the hype even though I think he will have a bounce back year. You can blame Vick for his turnovers and Roseman for looking past the linebackers again and spending that money on Steve Smith and Ronnie Brown instead.
I am sitting here watching MLB Patrick Willis making plays all over the field. Even at one point covering Victor Cruz on a play. Memo to Big Red and Roseman get one!! If I a fan notice what a good MLB does for your defense they have to right? You cannot blame the strike. Every team had to deal with it. Jim Harbaugh was a first year coach for the Niners and look at where they were playing. Are the Eagles really that far away from these? Were they last four games an illusion?
They did seem to finally get chemistry on both sides of the ball. Even though they only faced Matt Moore, Rex Grossman, Mark Sanchez and Stephen McGee after they knocked Romo out after only 2 passes.  All honesty I do not think they are that far away at all. If they do bring in a LB, safety and straight out the D-Jax mess they will most likely be right there. They still have a ton of talent.
I was hoping for Spags to come here but I cannot blame him for going to the Saints. He will have more stability and a guy named Drew Brees over there. If he were to come here he could be one and done. The only thing that may salvage Big Red's job is another Super Bowl appearance if not Later Big Red! Well at least to me that is the case. Andy better hope he was right about Castillo.  Paging Big Red! Paging… Have not heard from you in a while just letting you know that TIMES YOURS…
I still cannot believe that Eli Manning is back in the Super Bowl and has chance to have more Super Bowl rings than his brother. I really do not know how the dude does it. Eli can look so lost out there at times. He always has that dumb look on his face. The dude does get it done when it matters the most though. I just don't get how he does it.