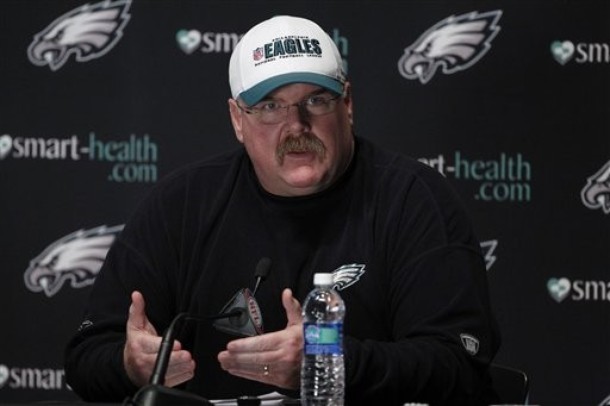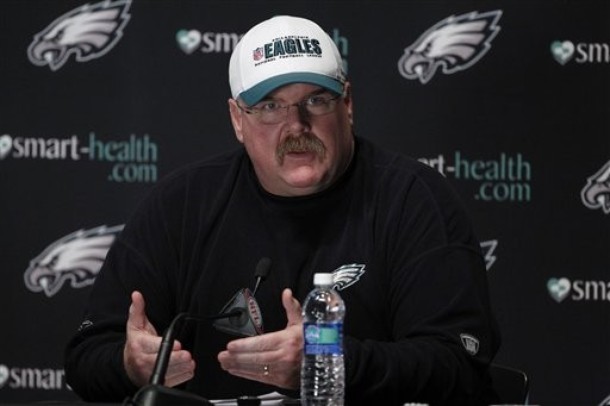 Just about a month ago the owner the Philadelphia Eagles Jeffrey Lurie gave his state of the Eagles address to the media and the fans. It was a strange news conference to say the least. Lurie was saying everything to make you think that a change at the head coach position was coming but he announced that the head coach of the Eagles Andy Reid would be coming back for his 14th season next year.
He also told everyone that the other coaching positions would be a decision made by Andy Reid.  Reid has been on vacation and has gotten back but in true Andy fashion he has made only some meaningless comments at the 76ers game the other night. The following is all he had to say about football to Matt Cord of the 76ers organization.
About the Pro Bowl:
"I try to watch every football game there is. I wish we were still playing and [LeSean McCoy, Jason Babin and Jason Peters] weren't playing in the Pro Bowl and they were in the Super Bowl. I will watch the Pro Bowl and cross my fingers that none of them gets hurt and that they win so they get a little bit of extra money to support their families."
About the Super Bowl:
"I'll watch it. I think it's a tossup for those two teams. It's going to be a great game. I'm a fan of the sport. I enjoy it. I want the Philadelphia Eagles to be in that game and to win that game, particularly for this city and for all our fans."
Cord: Must be nice to be at a sporting event and not have to worry . . .
Reid: "I sit here and I scout. I'm looking at tight ends, defensive ends and corners out here. There's some potential, I'll tell ya."
I guess he doesn't think it's a big deal that the Eagles fans have no idea what his plans are going forward.  All we can do is guess about what he's going to do based on what he's done before.
What it appears to be is the same old, same old Reid.  It appears that Reid is not going to make any kind of coaching changes within his staff and that is a mistake.  Juan Castillo, the current defensive coordinator is coming off his very first season as the Philadelphia Eagles defensive coordinator.
He was the Eagles offensive line coach for many years and when Reid announced that Juan would be his new defensive coordinator it raised a lot of peoples heads. Juan had no NFL experience on the defensive side of the ball. Many including myself felt that the Eagles should of gotten a guy who had NFL experience on the defensive side of the ball.
Well this promising season did not go the way that was predicted and many blamed it on the making of Juan Castillo the defensive coordinator and who made that choice.  It was Andy Reid.
Well, when the season ended the St. Louis Rams fired their head coach Steve Spagnuolo and there were a lot of speculations that the Eagles would bring Spags back as the defensive coordinator of the Eagles.  Well as many of you know by now, Steve Spagnuolo was named this past week the new defensive coordinator of the New Orleans Saints not what many in Philadelphia wanted to hear.
Also during the week current offensive coordinator Marty Mornhinweg interviewed with the Oakland Raiders but did not get the head coach position.  Marty appears to be heading back for another season as the Eagles offensive coordinator for the 2012 season.  It appears to be status quo for the Philadelphia Eagles or does it.
Reid has not come out and let the fans of the Eagles know what is going on.  There is a lot of speculation going on. Even defensive coordinator Juan Castillo has no idea if he is coming back.  The Eagles head coach had the opportunity to fix a mistake he made and a mistake it was to make Juan his defensive coordinator.
Does Reid think he does not need to come out and speak to the fans?  Andy Reid where are you?  If Andy was committed to winning than he would of brought back Steve Spagnuolo but he did not. The Eagles will not win the Super Bowl with Reid.
In fact the Philadelphia Eagles will not win a Super Bowl as long as Jeffrey Lurie owns the team.  Lurie has told the fans that the Philadelphia Eagles model themselves after the New England Patriots. That the Patriots are the blueprint to success.  Really Jeff, well the Patriots have won three Super Bowl titles.  How many do the Philadelphia Eagles have?
Don't you think that 13 years with Andy Reid is enough.  Andy can only take this team to a certain level but cannot get over the hump.  This team needed new blood, new system, and a new attitude.
Andy and Jeff just take a look up north on the New Jersey Turnpike and see who is playing in the game that the Philadelphia Eagles were predicted to be playing in, the New York Giants are there and not you.  Jeffrey and Andy the team that you model yourself after is also there as well.  Andy Reid you should of just realized that it was time to go but you are just too much of an ego maniac.
You had a chance to correct a mistake but you did not. It is going to be just the same old story.  Eagles fans do not want nor deserve that.  It looks like it is going to be 14 years and counting.