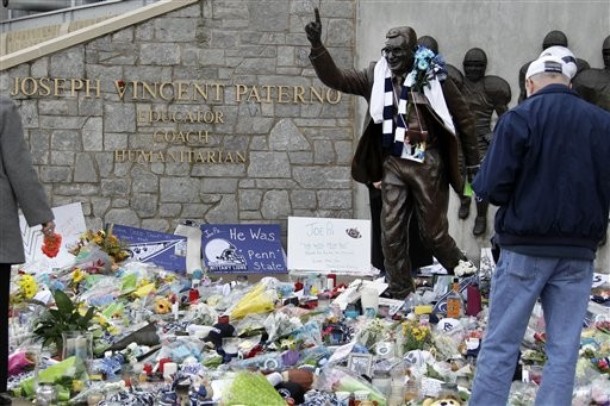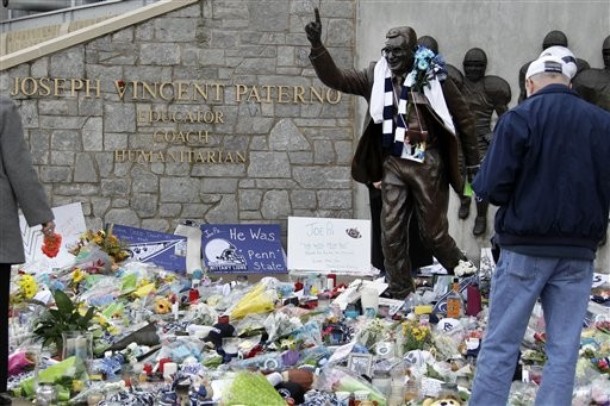 The most common response from Penn Staters to any criticism or indifference towards Joe Paterno this past week is: YOU'RE JUST JEALOUS OF US. Yes, Penn State is known for being a top party school, and yes Penn State has a good football program, but one could use the same description for Ohio State, and Wisconsin.
Are non-Penn Staters jealous of those schools too? Paterno did a world of good for Penn State, and he deserves all the praise he gets at Penn State, but the majority of what Paterno did benefited Penn State, so why should people not affiliated with the university care?
Penn Staters fail to realize the rest of the world is disgusted with Penn State University.  Prior to Paterno's death the public was sick of hearing about Joe Pa's connection to the Sandusky scandal, people were disgusted with the student riots over Paterno's firing, most of all people were disgusted and grossed out from hearing the name Jerry Sandusky.
Just a few weeks after the Penn State scandal talk dies down Paterno dies and for people not connected to the school, it's awkward. The initial reaction of course is condolences for the family, but that is the extent of it. To Penn State, Joe Pa was like their grandfather, but to the rest of America he was like the nice old man that lived down the street.
Non-Penn Staters are not jealous; they just don't care and are sick of hearing about all things Penn State. Just because he made a HUGE mistake, does not mean he shouldn't be honored at the university. He made a positive impact on many people's lives at State College and if those people want to honor him for it, they have every right to.
However, because of the big mistake Joe Pa made, he deserves to be forever linked to the Jerry Sandusky sex scandal.  He deserves to have that stain on his memory as head football coach at Penn State, and if people want to ridicule him for it, they have every right to do it.
It is not jealousy to question Paterno, it is logic. Should he have retired many years ago? Did he hold the football program hostage? Did he do enough when he heard of Jerry Sandusky's sex acts? They are all fair topics to question when discussing the legacy of Joe Paterno at Penn State. Joe Paterno was and still is Penn State.
He did a lot of great things for the school, but Paterno came up small when he had a chance to control the outcome of the biggest black eye in the history of college football, and as sad as that may be he will be remembered for it.