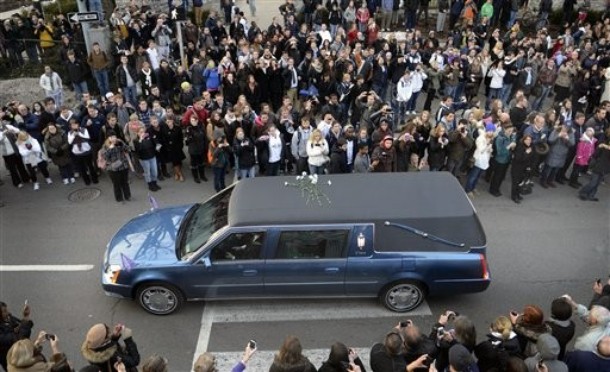 I believe it was Football Eve 2009 (the pep rally we had the night before our first home game) in which Joe Paterno said he would still be coaching 40 years from now. Knowing that would put him over 120 years of age, I knew that probably would not happen. The Penn Stater in me, however, wanted to partly believe it.
"Rest in Peace Joe Pa" was one of the first things I read when I woke up last Sunday morning. My subconscious was preoccupied for the majority of the day that was left.
Before I go on I would like to say two things. Joe Paterno should have done more. He has also said this. And to my knowledge, he is the ONLY one, I repeat the ONLY one, involved that has said this about himself. He should have done more.
Second, I would like to slightly disclose the personnel break down of the campus police system, and the surrounding area for those who do not know. There is State College and University Park. One side of College Avenue is State College, the other, University Park. Penn State is in University Park. We have three different levels of police. The Auxiliary Police, made up of the students, the Penn State Campus Police, and the State College Police.
According to their website, the Penn State Campus police have 46 armed officers, with others in more positions. The State College Police has 65 sworn officers. If these numbers were similar twelve years ago, it would seem to me that telling the Head of Campus Police would have almost as much clout as telling the Head of State College Police. But that is just my opinion, and I am in no way a "police expert."
He could have done more and he wished that he did.
Sunday night there was a candlelight vigil for Paterno. Thousands gathered around the same building that they did a few months ago to remember victims of child abuse. I missed the vigil due to being at the Paterno statue, which also had a group of people around it.
The Paterno family realized how many people Joe Paterno impacted during his lifetime and allowed for a two-day public viewing. I went Tuesday afternoon, and what I saw deeply touched me. Standing at the sanctuary's exit was Jay Paterno. He thanked and shook the hand of every person that walked through the door while he was there. Due to the amount of people, the line was cut off at 10 pm.
Over the 12 hours that the viewing actually occurred, approximately 36,000 people viewed the body according to the staff at the Pasquerilla Spiritual Center. Hundreds, if not thousands more were turned away.
Thousands of people lined the procession route Wednesday afternoon. For almost two hours, I stood with my friends as we waited to say our last goodbye to our hero. There was a buzz in the air, but as soon as the first police car was seen the air grew eerily silent. The loudest sounds came from the moving cars and the helicopter flying over. After the last car drove by, some hugged each other and looked wondering what was next.
I was not able to witness Thursday's memorial service in person, but I watched it on my tv in my room. It was a time to mourn, but also a time to share with the world the things that we learned from Joe Paterno.
Thursday night, I decided to visit the statue for the third time in less than a week. Flowers, signs, and other memorabilia, that were only a few feet in front of the statue on Saturday, were now inches from the actual sidewalk in front of the statue area. As I walked around the back of the statue, I saw other things including, cross necklaces and plaques with Joe Paterno's name written in Sharpie on them. Ohio State and West Virginia fans had also stopped by and placed items down.
I never had the opportunity to meet Joe Paterno, but I have walked through the Beaver Stadium tunnel with him. Even though I never spoke with him he has taught me so much. He was a man that happened to be a football coach. But it was not just about football to him. One of his most memorable quotes is "They ask me what I'd like written about me when I'm gone. I hope they write I made Penn State a better place, not just that I was a good football coach." And he did. I could list the dozens of stories that I've heard and read over the past week and some of you will agree with me while others will not. This is something I am fine with.
In lieu of flowers and other gifts, the Paterno family has asked that people donate to the Special Olympics, or THON. I have read several Facebook posts that due to the recent events at Penn State some people have decided to no longer donate to THON. There is no judgment from me, but if that is you, I encourage you to look into the history behind THON. THON is a 46-hour dance marathon that is a fight against Pediatric cancer. It is the largest student-run philanthropy in the world. Last year we raised $9,563,016.09. Since its start in 1973, we have raised over $78 million dollars.
This past week, the Penn State community lost a great leader, but the Paterno family lost a husband, father, and a grandfather. My prayers are with them.
Thank you Joe Paterno for everything you have done and thank you to the Paterno family for allowing him to do so.