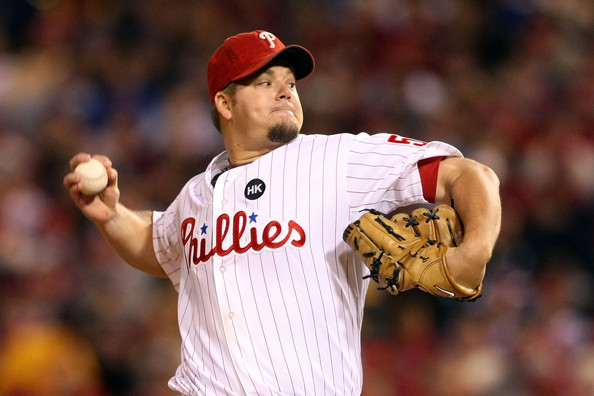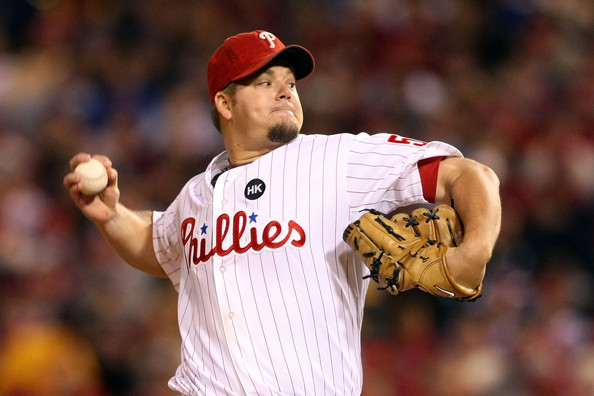 The Phillies have expressed interest in shedding some of their payroll and they plan to start with Joe Blanton. Blanton is due to make $8.75 million next season and if they could trade him and save a few million it would be more than worth it.
The Phillies rotation doesn't need a guy like Blanton, is he a good number five pitcher? Sure, but with a rotation centered around three of the league's best, Vance Worley, who had a great rookie campaign, and Kyle Kendrick still trying  to crack the rotation, unfortunately the 31-year-old is just dead weight.
The hefty righty was sidelined with nerve damage in his throwing arm which originally predicted him to miss 3-4 weeks, but left him ailing his right elbow for the rest of season. He had eight starts last year, but finished his short season with a 1-2 record and a 5.01 ERA.
Blanton's best year in Philly was during the '09 season when he posted a 4.05 ERA and tallied twelve wins in 31 starts. His highlight as a Phillie came in the 2008 Post Season, when he belted a monster homerun off of Edwin Jackson in the fifth inning of Game Four of the World Series.
After the game the odd slugger said, "I just close my eyes and swing hard in case I make contact." Blanton came home from that series with a ring and achieved something that not many players ever get to in their careers; hit a homerun in the World Series.
The peak of Blanton's career is over and with an elbow injury looming, questions about his durability are beginning to arise. The Phillies aren't looking to get much for the once solid starter, their main concern is getting rid of his contract, which I just don't see happening.
If Ruben Amaro Jr. can cut a deal that leaves the Phillies paying half of the overpaid Tennessee native's contract they have to jump on it. With an extra three million in the budget, the Phillies can either sign another starter, Roy Oswalt who hasn't been making much progress with the Red Sox or the free agent market at large, or address another of the team's issues, Third Base or the Outfield.
The best thing for the Phillies to do with Joe Blanton is to cut their losses and hope someone is desperate enough to pick up his poorly structured contract for its final season.