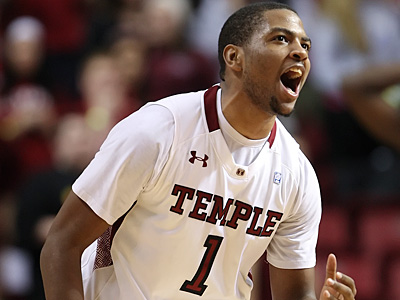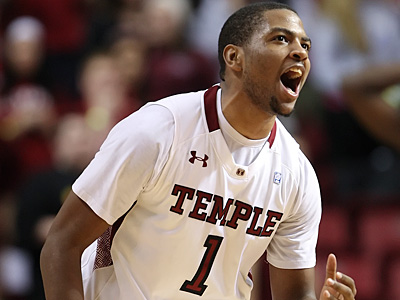 The Temple Owls (18-5, 7-2) overcame a 15-point deficit Wednesday night to defeat the George Washington Colonials (8-16, 3-7) 79-72 for its 7th consecutive win.
Temple earned its comeback win due to the team's success at the foul line. The Owls converted on 79% of their free throws, and were 18 of 23 at the line in the second half. Ramone Moore scored 10 of his game high 25 points at the charity strike, while the Owl's second leading scorer Kahlif Wyatt scored 12 of his 22 from the line.
The Owls took an early lead 11-10, but the Colonials took over for the remainder of the first half thanks to 22 points off the bench by junior forward Lasan Kromah. The Colonials began the second half the way they ended the first half, George Washington attained its largest lead at 49-34, after Colonial's guard Dwayne Smith converted a lay-up at the 16:53 mark of the second half.
It appeared George Washington was heading for an up-set over the A-10 leading Owls, but the Owls fortunes changed when GW was forced to remove point guard Tony Taylor from the game after he recorded his 4th foul with 12:42 left in the 2nd half.
The Owls capitalized on the Colonial's misfortune and went on a 36-15 run to end the game. Temple took the lead for good on a Ramone Moore three pointer with 2:53 left to play giving Temple a 71-69 lead.
Temple made the majority of the comeback without the services of senior point guard Juan Fernandez. Fernandez fell awkwardly on his hip in the second half. He made an attempt to return to play, but returned to the bench in pain.
Fernandez's status for Temple's game against Xavier this Saturday is unknown, but from the looks of it, the senior point guard most likely bruised his hip, Owls fans should expect to see him on the floor come 9pm Saturday night.